Party hard, but party responsibly, is the latest message Bacardi are trying to spread across India.
In partnership with Indian digital agency, Webchutney, the alcohol giants have come up with a digital sobriety test called 'Walk the Line'.
"The installation is placed at bars and clubs across the cities. After a night of partying the system is finally revealed to the crowd and each patron is made to stand on a yellow line after which the screen asks them to walk forward by placing one foot in front of the other in a straight line until they reaches the other side," explains Webchutney.
"If and when the patron reaches the end of the strip, a set of lasers further confirms that he/she is sober enough to drive. These lasers placed on either side of the strip detect deviations from the strip; triggering an alarm if the patron fails the test and offering him a chauffeur for a safe ride home."
Inspired by the thought provoking technology used in Hollywood blockbusters, Walk the Line derives its tech inspiration from laser security systems in Oceans Twelve.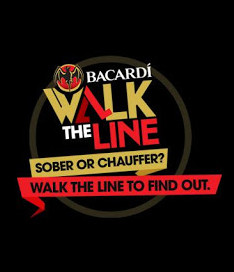 The same idea was modified for Walk the Line i.e. using lasers to see if a patron at a bar can walk on a straight line.
At the end of the day, the simplicity of the technology proved to be an asset, because it brought a complex idea to life in an easy and enjoyable way.
"What sets Walk the line apart from other CSR activities is that it not only sends out an important message to the youth today, but does so in a fun and relevant manner while generating real-time human responses," added the representative from Webchutney.
"With experiential advertising on its way to becoming the wave of the future, the idea was to bridge the gap between the physical and virtual ecosystems by generating an enhanced on-ground user experience with digital technology."
Currently 'Walk the Line' is only available in India. But both Bacardi and Webchutney are hopeful for a bright future for the installation.
"We intend to propagate this module and touch base with a large number of people. In the coming year we shall be taking this module to all party places across all key cities."