VIBE by Jet2holidays has coupled up with Wavemaker UK and ITV for an integrated campaign to celebrate its designation as this year's official travel partner of Love Island.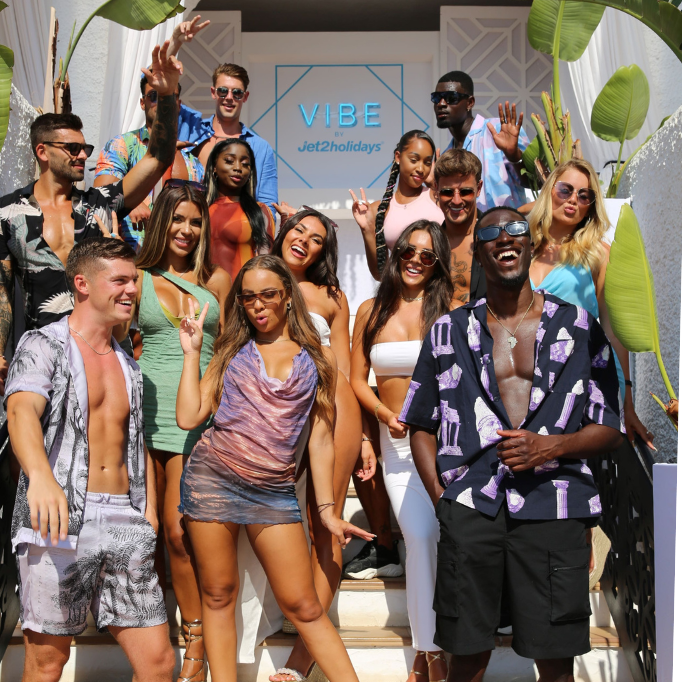 VIBE by Jet2holidays is designed for the growing millennial market and offers an extensive collection of over 160 hotels across almost 50 resorts. Whether laidback or lively, the offering promises to find 'your vibe' with packages suited to first-time holidaymakers, bucket listers, and the over-25s experience-driven market.
While Jet2holidays has partnered with Love Island twice previously, this year marks the first time that VIBE by Jet2holidays has been the official travel partner. The recoupling aims to raise brand awareness, showcasing its range and the advantages of booking a package holiday for a millennial and Gen Z audience.
As part of the campaign, VIBE by Jet2holidays turned heads during a rare day away from the villa with the Islanders partying at a branded beach club in last night's episode. Islanders and viewers alike were treated to subtle product placements, including a DJ booth, towels and poolside inflatables – all sporting the VIBE by Jet2holidays branding.
VIBE by Jet2holidays also introduced an exclusive new competition that will see four lucky winners given the opportunity to 'party like an islander this Summer'. The package is as good IRL as it is on paper – with a 7-night VIBE by Jet2holidays holiday for 2 and tickets to the exclusive VIBE weekender at the party resort hotel, BH Mallorca featuring live acts and an island VIBE pool party.
As well as integrating VIBE by Jet2holidays products throughout the episode, a bespoke 30-second TV spot narrated by Iain Sterling to launch and promote the competition was broadcast on ITV2 during the first subsequent ad break. Featuring multiple shots of branded merchandise and VIBE by Jet2holidays' official logo, the ad also begins with VIBE by Jet2holidays in the famous neon sign, aligning with the Love Island aesthetic. The competition kicks off now that entries to the annual Jet2.com-powered ITV competition – offering tickets to the Love Island final – is complete and promises a second chance for young party-goers to 'lay it on Factor-50'.
The competition showpiece forms part of a huge summer campaign for the duration of the eight-week show that will be supplemented by social media activations and wider product placement. VIBE by Jet2holidays, with media partner Wavemaker UK, has already cultivated a hive of reactive social activity to reach its key millennial demographic, utilising quizzes and key TikTok trends such as 'This or That' in which Islanders reveal their 'vibe' or holiday preferences.
The Islanders will also return to the UK with the award-winning airline, Jet2.com. The winners and finalists will be additionally welcomed home in early August to further raise brand awareness.
Gavin Forth, Marketing Director of Jet2holidays said: "Our Jet2holidays brand partnership with Love Island has been enormously successful in previous years, so we are thrilled to have VIBE by Jet2holidays as the official travel partner of the show this year. This partnership is the perfect way to show off all the unique qualities and experiences that make VIBE by Jet2holidays the go-to place to book some summer sunshine. Thanks to a host of activities and exclusive competitions, we will be enjoying fantastic engagement with a key audience right throughout the series, meaning customers can really love their summer vibe with us. As well as reaching this audience, we will be showing off our award-winning service to the Islanders themselves, as they will be flying back to the UK with Jet2.com."
Emma Slater, Regional Managing Director, Wavemaker UK added: "Wavemaker are immensely proud to partner with VIBE by Jet2holidays and ITV's Love Island for this media first activation. Series 8 has become the most streamed series to date, and with many Brits travelling abroad this Summer for the first time post-pandemic, Jet2.com couldn't find a better moment to showcase its incredible offering for those looking to get in on the action. We're Getting the Love Island experience is now easier than ever with VIBE by Jet2holidays. With everything you need to search, book and manage your holiday in one handy place – holiday-makers can crack on and enjoy their holiday, with less of the fuss. Quite simply, it's the ultimate Summer vibe!"
Jason Spencer, Business Development Director, ITV added: "Love Island continues to be the nation's favourite dating show. This year's new batch of singletons have definitely delivered the Summer vibe with our audiences. Series 8 has reached a record breaking number of streams, hitting the 100m mark earlier than it ever has before and is already ITV's most-streamed title of 2022. The show represents the ultimate summer experience and VIBE by Jet2holidays can deliver exactly that for their customers. It was fantastic to see the VIBE by Jet2holidays product placement integrated into such an iconic moment in the series. The seamless integration into the show is testament to the synergy and continued strong relationship between VIBE by Jet2holidays and Love Island."
Source: Wavemaker UK