Top Kino cinema in Mariahilf, Vienna, premiered a film on 5thSeptember starring famed Austrian actor Nicholas Ofczarek as the new wine ambassador of Burgenland Tourism. Ofczarek is more than a brand ambassador, for he embodies the characters of the six renowned wines of the six DAC regions in a series of six film clips.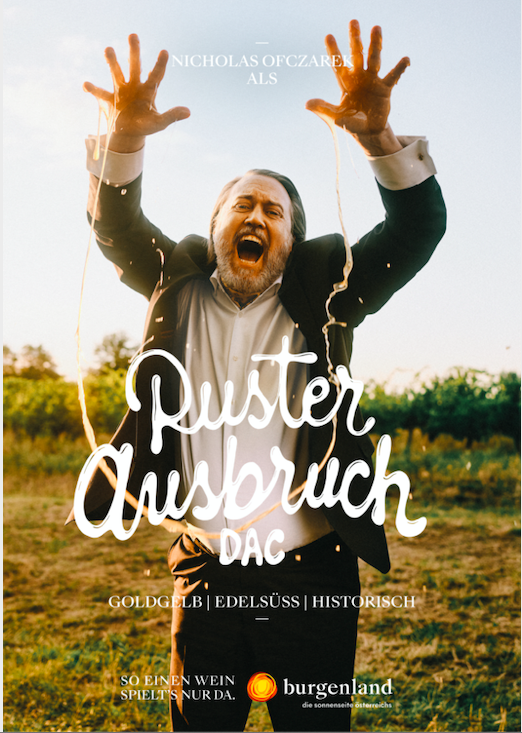 In the Pannonian climate of Burgenland, internationally renowned red, white and sweet wines with very special characters typical of the six Burgenland wine-growing regions are created with the heart and soul of the winemakers who live there, waiting to be discovered. These very special characters also deserve a very special communicative translation.
This was the impetus behind a new Burgenland Tourism campaign titled "So einen Wein spielt's nur da" ("Wine like this only stars here"), otherwise known as "Nicholas Ofczarek as The Wines Of Burgenland".) The campaign was conceived by the House of Communication Vienna, starring theatre actor and TV star Nicholas Ofczarek. In what is probably the most extraordinary role of his career, Ofczarek embodies the character of the wines themselves through his signature character acting.
Unusually for a wine advertisement, there is no Burgenland wine on display in the films, instead Ofczarek himself takes on the character of 6 renowned Burgenland wines, in six 17" spots directed by Tessa Kadletz (out of Production company Das Rund), a series of print ads and a social media campaign.
In the six spots, Ofczarek takes on the character of the six iconic Burgenland wines; Leithaberg DAC Pinot Blanc, Neusiedlersee DAC Zweigelt, Rosalia DAC Rosé, Mittelburgenland DAC Blaufränkisch, Eisenberg DAC Blaufränkisch and Ruster Ausbruch DAC. Ofczarek acts out qualities of the wines usually described by oenophiles using terms such as 'raw', 'edgy', 'velvety', and in one of the spots, which are all filmed in Burgenland vineyards, he bites a piece of flint found in the soil. He brings the skill of his acting to the campaign, and without dialogue conveys the character of each wine, such as acidity, tannins, body, sweetness and alcohol.
Stefan Kopinits, Creative Director at Wien Nord Serviceplan explains: "To have the character of wine portrayed by an actor is a nice idea. To have a master of his craft like Niki Ofczarek thrilled with it, even faced with a challenge, is even nicer. His commitment and talent make this campaign unique."
Verena Kehr, General Manager, Mediaplus Austria continues: "The cross-national campaign with a moving image focus makes it clear that the wines of Burgenland are not just products, but high culture. The individual advertising media pick up on Ofczarek's character portrayals and translate his acting to the respective medium in a way that is appropriate for each channel."
In addition to Ofczarek's expressive acting on TV, audio, web videos and on social media, print ads and posters also feature specially designed lettering that underscores the characters of the wines in writing as well, completing the multimedia creative concept.
"The fact that the idea offers potential for every touchpoint gave us the freedom to remain uncompromising in the creative implementation. At this point, many thanks to Niki Ofczarek and Burgenland Tourism Board, who recognized the boldness of the concept and went down this courageous path with us," says Matthias Piskernik, Creative Director at Wien Nord Serviceplan.
The campaign by the House of Communication Vienna, which launched across all channels on September 5th, was implemented in collaboration with film production Das Rund, photographer Felix Vratny, sound studio Blautöne and the illustrators from HFA Studio.
Credits

Client: Burgenland Tourism Board, Wine Tourism Burgenland
Creative Agency: Wien Nord Serviceplan, Now Serviceplan
Chief Creative Officer: Christian Hellinger
Creative Direction: Stefan Kopinits, Matthias Piskernik
Art Direction: Stefan Kopinits, Elisabeth Laggner
Copywriting: Matthias Piskernik, Josephine Gasser
Final Art: Stefan Löffler
Client Service Direction: Daniela Gullner, Kurt Kaiser
Account Management: Maria Simmer

Media Agency: Mediaplus Austria
General Manager: Verena Kehr

Film Production: Das Rund
Director: Tessa Kadletz
DOP: Flora Fecske
Producer: Jörg Bonner
Photographer: Felix Vratny
SFX: Blautöne
Illustration: HFA Studio
Source: Serviceplan