To mark the International Day of Human Solidarity, ActionAid Italia and We Are Social Milan have launched 'Save. For Real', to remind users of the other meaning of the word 'save' – the first time the platform's iconic feature has been used in a campaign this way.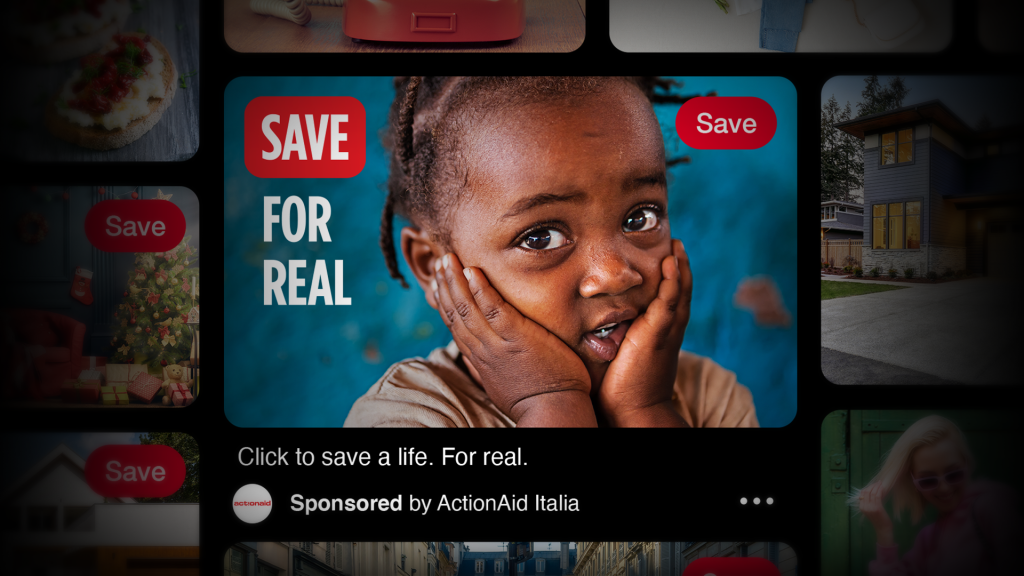 On December 20th, ActionAid will feature in the site's 'Today' section, encouraging users not to just think about saving ideas and images but also about how we save people.
They will be invited to visit ActionAid's Pinterest board, which features some of the inspiring work the charity carries out in its fight against poverty among children and their families across the world. Clicking on pieces of content will reveal how to help the real people in the images via ActionAid's child sponsorship programme. This lets supporters improve the life of a child and their community by providing funds for clean water, nutritious food and education.
ActionAid is an independent international organisation fighting for a fair and just world for all. For over 40 years its mission has been to defend people's rights and free them from the limitations that result from poverty, inequality and injustice. This is made possible thanks to donations from families, individuals and businesses.
More than 105,000 children in countries in Africa, Asia and Latin America receive support from the ActionAid sponsorship scheme, which in turn benefits their families and the communities in which they live. Overall, thanks to the contributions of its supporters, ActionAid helps over 5 million people in 46 countries worldwide.
Credits
Agency: We Are Social Milan
Executive Creative Director: Alessandro Sciarpelletti
Executive Creative Production Director: Daniele Piazza
Creative Director: Paulo Gonzalez, Mattia Lacchini
Mid-Weight Creative: Lorenzo Canazza
Art Director: Paolo Palazzo
Editorial Supervisor: Alessandro Romeo
Editor: Federica Mordini
Head of Client Services: Francesca Feller
Account Director: Mara Bonavoglia
Account Executive: Silvio Hu
Writer: Cosimo Fulceri
Source: We Are Social