adam&eveDDB can reveal the re-launch of the on-demand global streaming platform, STARZPLAY, owned by feature film company Lionsgate Entertainment Corporation, under the new brand name LIONSGATE+.
adam&eveDDB won STARZPLAY following a competitive pitch earlier this year, to relaunch the brand across Europe and Latin America.
Breaking today, "It Lives on LIONSGATE+" is an integrated campaign, spanning film, DOOH, digital and audio, that gives audiences a taste of all there is to experience on the platform, by focusing on the visceral, physical experiences of great entertainment.
The campaign is based on the insight that viewers are changing how they pick the shows they watch, with many of us choosing content that matches our mood. adam&eveDDB brings this to life in a 60-second film showing just how much goes on in our brains and bodies when we're gripped by a brilliant story.
The film, conceived by Mark Shanley at adam&eveDDB, blends real life action, from typical living room sofas, with animated graphics demonstrating the adrenaline hit we get from a super suspenseful scene, the belly laughs delivered by the funniest comedy, and the heart-stopping power of intrigue.
Wonder, excitement, thrill, audacity, passion, intrigue, drama, escape, amazement – these words and more all flash before our eyes, along with glimpses of a few of the shows you can see, including The Great with Elle Fanning and Nicholas Hoult, Outlander, with Sam Heughan, Mary J. Blige in Power Book II: Ghost, and Julia Roberts in Gaslit. The film ends with the line: "It lives on LIONSGATE+." (not all titles available in all territories).
The film was directed by Finn Keenan of RiffRaff films, known for his work on Nike, EA Sports and JustEat. adam&eveDDB worked with three post houses globally to give achieve different iterations of the body's emotions. UNTOLD developed the opening shot of the brain – a crackling, lighting bolt of stimulation, rendered in the LIONSGATE+ brand's teal colours; FUTURE DELUXE brought to life the Jeff Koons-inspired balloon stomach; and ABSOLUTE created the entrancing heart with golden flecks that pump with intensity. The intense film trailer style score was sound designed by 750mph in London.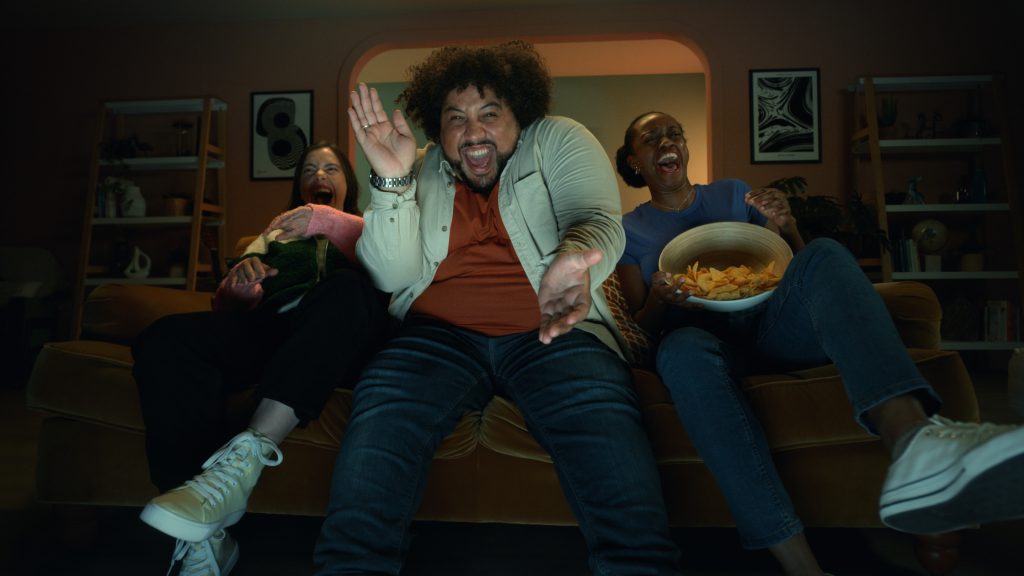 The team at adam&eveDDB in London collaborated closely with global partners DDB Latina and adam&eveNYC, to deliver campaigns tailored to each local market.
Linnea Hemenez, Senior Vice President, International Marketing for STARZ, said: "We wanted to take the opportunity to make advertising as entertaining as our content on LIONSGATE+. adam&eveDDB embraced this brief and made it into something truly powerful with their insights into what drives consumers in this market, and we're excited to get the message out there."
Mark Shanley, Creative Director at adam&eveDDB, added: "We wanted to make advertising that's as good as the movies and shows available on Lionsgate+. So we turned the camera around, away from the TV screens and onto the viewers, bringing to life their emotional reactions in a visceral way that is as bold, rich and provocative as the content on LIONSGATE+."
The global media strategy includes TV, BVOD, digital film and display, social, OOH and direct mail in the UK, Mexico, Brazil, Spain, France and Germany. 
CREDITS
Client: LIONSGATE+
Brand: LIONSGATE+
Project/Campaign name: It Lives on Lionsgate+
Client:
Superna Kalle- President, International Marketing
Linnea Hemenez – SVP International Marketing
Melissa Stankowski – VP, brand and creative
David Hutchin – International Brand Lead
Devon Sanceda – Head of PR
Candice Heath – Head of Social
Walker Smith- Director of International Media
Lacey Batiste – Senior Manager, International Brand Marketing
Omar Khan – Campaign Manager
Stephany Bustos- Digital Marketing Manager
Rama Crouch-Wong- Executive Creative Director
Kirk Fennel- Creative Director
Curtis Forristal – Managing Producer
Jessica Echavez- Senior Interactive Designer
Brighid Libitsky- General Manager
Nicole Tassio- Marketing Project Coordinator
Stephanie Nusenow- Creative Project Coordinator
FILM
adam&eveDDB
Creative Director/s: Mark Shanley
Lindsay Moyes- Film producer
Planner/s: Lisa Stoney
Managing Director: James Rowe
Business Director/s: Jo Lorimer
Account Director/s: Erin Brogan
Account Manager/s: Foula Schanche
Project Manager: Alice Southam (UK)
Chief Creative Officer: Richard Brim
CEO: Tammy Einav
CSO: Martin Beverly
Head of DE& I: Bukola Garry
Social content director: Camille Standen
Social executive: Osob Yusuf
Production, post production, sound:
Production company: Riff Raff Films
Executive Producer: Matthew Clyde
Producer: Kate Brady
Director: Finn Keenan
Cinematographer: Simona Chaudoir
D.O.P: Simon Chaudoir
Editing Company: Trim
Editor: Thomas Grove Carter
Post Production: Untold, Absolute & Future Deluxe
Post Producer: Untold – Ian Berry, Helen Chang, Nathan Hoad, Absolute – Lisa Vaughan, Future Deluxe – Catherine Terricini
VFX Supervisors/ CD's: Untold – Dave Fleet and Chris Redding/Absolute – Phil Oldham and Jonas McQuiggan/Future Deluxe – Adrian Lawrence
Colourist: Julian Alery
Audio Post Production: Sam Ashwell @ 750
Soundtrack name and composer: Alloy Tracks, composer – Elegy Music
Media agency: Local Planet
Localisation production output and translations:
Cain & Abel
Business Affairs: Jamie Hirst
Senior Producer: Alberto Boldini
Edit Producer: Ludovica Melica
Head of Language: Sarah Mrowicki
Translation producer: Maria Dilena
QC team: Stuart Moore, Chloe Maudsley, James Pyne
Editors: Jason Fox, Tom James
DDB Alma:
President//CEO: Isaac Mizrahi
Strategic Planning Director: Jorge Beccera
Tracy Locker Brazil:
DM9:
CBO: Anita Souza
Account Director: Valéria Cirello
Creative Director: Marcos Abrucio
Senior Copywriter: Jaque Juns
Senior Art Director : Marcio Pelense
DDB Mexico:
President DDB Mexico: Juan L. Isaza
VP Client Service: Montserrat Villafañe
Account Director: Carla de la Parra
Sr. Copywriter: Kathia Cervera
Sr. Copywriter: Maricela Ortega
OOH
Creative Director/s: Mark Shanley
Planner/s: Lisa Stoney
Managing Director: James Rowe
Business Director/s: Jo Lorimer
Account Executive/s: Keenan Moos (NY)
Nereida Valles- OOH Integrated producer
Kayla Rudess- Digital Associate Producer
Kimmy Harvey (NY) – project manager
Designer/Typographer:
Mitch Horton- Head of Design
Kelsey Plantas- Senior Graphic Designer
Chris Young– Designer
Brian Dalessandro– Designer
Media agency: Local Planet
ACTIVATIONS
Juliet Penn-Hughes, adam&eveddb
Gareth Evans – Cain & Abel
Source: adam&eveDDB