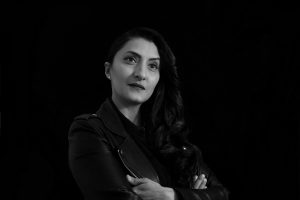 Barbarian, the digital creative agency backed by Cheil Worldwide, have announced the appointment of Resh Sidhu to Executive Creative Director, effective immediately. In her role, Sidhu will be responsible for driving transformational creative work that delivers business impact across all of the agency's clients. She will serve as a member of the Barbarian leadership team, reporting directly to Steven Moy, Global CEO, Barbarian.
Resh brings over 20 years of design expertise, technology experience, and impeccable creative craft to the role. She has proven, time and again her ability to solve business challenges with innovative creative solutions delivering impactful work. Her leadership approach has empowered her multidisciplinary creative teams to create breakthrough products, services and communications for brands like Nike, Volvo, and Coca-Cola in recent years.
In this role, she will oversee the creative vision of Barbarian's New York Headquarters, nurturing creative talent and creating influential work that builds emotional resonance.
"We are thrilled to welcome Resh to the Barbarian team as we look to accelerate our business and deliver ground-breaking work for our clients," said Steven Moy, Global CEO, Barbarian. "Her fearless creativity and innovative approach in designing digital experiences is a perfect fit for the future we are building here at Barbarian. I can't wait to see the incredible value she will bring for our clients and to the world."
Resh joins Barbarian from digital agency AKQA where she was Group Creative Director across London and New York. Her clients included some of the world's most admired brands from Nike, Volvo, IBM, and L'Oréal to Coca-Cola and Google. Previously, Resh served as Creative Director of the VR studio at Oscar-winning visual effects studio, Framestore. There, she led a multi-disciplinary team across a wide variety of experiential and immersive experiences, earning her critical acclaim.
"Barbarian has always had an amazing ability to imagine the future faster and is so well-positioned for the challenges our industry is facing," said Resh. "This is a moment of great disruption. We have a tremendous opportunity to challenge the status quo and reset the bar for creative excellence. It's the dawn of a new era. I am thrilled to join Barbarian and look forward to tapping into their vast capabilities and diverse talent to create transformational work for our clients."
Resh has received numerous awards and accolades throughout her career. She was also awarded an Honorary Doctorate from the University of Arts London in recognition of her outstanding contribution to the field of digital, film, immersive technology and advertising.
Source: Barbarian