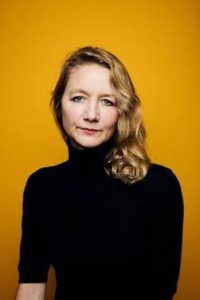 VaynerMedia London announced today that Becky McOwen-Banks will be joining the agency as its first Executive Creative Director. McOwen-Banks joins from FCB Inferno, where she was Creative Director for over five years creating award-winning work for UEFA Women as well as BMW, Nivea, NS&I and The Girl Effect. She will assume her new role on 9th March and report to VaynerMedia London's Managing Director Sarah Baumann.
McOwen-Banks' appointment is the latest announcement as VaynerMedia London bolsters its management team following the hire of Baumann in June 2019. During this time, the agency has garnered attention across the local market with diversified creative work across a number of clients including NatWest, Shell, 7UP and UNICEF.
"Becky joining VaynerMedia London at this point in our journey is incredibly exciting," said Sarah Baumann, Managing Director of VaynerMedia London. "Her approach to creativity and leadership play well into VaynerMedia's core values. She has a strong focus on diversity, an obsession with exploring new communication and business models built for the now, and finds innovative ways to disrupt the old order and understand audiences – she is the final piece we need to complete our leadership team in London. Becky has a strong creative reputation, great global experience, knowledge of the market and is all-round a fantastic person. She is the perfect fit for our culture and we can't wait to hit the ground running!"
Rob Lenois, Global Chief Creative Officer of VaynerMedia, added: "The creative momentum we've experienced across the board recently has been phenomenal. Hiring Becky as our very first Executive Creative Director for the London market speaks volumes to where we are going.

As we continue to boost our creative offering and output across our global locations, we couldn't be more energized and excited about the next chapter for VaynerMedia. We're thrilled to have Becky join the VaynerMedia family."
Prior to FCB Inferno, McOwen-Banks held creative director and senior roles at Iris Worldwide, Geronimo (now Psona Twelve) and as Executive Creative Director at New Republique in Sydney, as well as running her own creative consultancy. She was a founding member of Creative Equals with Ali Hanan and continues to be dedicated to driving change and promoting and celebrating diversity.
In addition, Becky is currently a scholarship student at the Berlin School of Creative Leadership prestigious MBA program and is a frequent judge and panelist at Cannes Lions, D&AD, Creative Circle, the Drum, IPA and TedX speaker.
"I am thrilled to take the next step to Executive Creative Director as part such an innovative agency. It was clear from our first conversations that Sarah and the leadership team echo my excitement and dedication to creating communications for today, and are willing to explore how we can do that. It is the perfect opportunity for me to bring together my learnings from my MBA, my curiosity for innovation, and my personal ongoing commitment to changing advertising for the better ­- to be an exciting and open industry for all." said McOwen-Banks on her new role.
Source: VaynerMedia