Known for the Hottest Food Products Worldwide, Blair's Teams With Japanese Powerhouse Brand Yonex for New Snowboard Model in 2013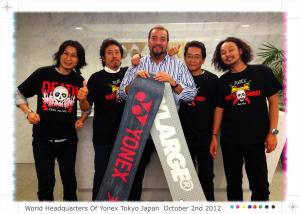 Blair's Sauces & Snacks' position in the fiery foods marketplace is well established, both domestically and abroad. When you take a look at the brand's popularity in Europe, Australia, and Japan, it has consistently earned them a spot on top of the mountain of hot sauces available worldwide.
While the number of heat seekers grows across the globe, nowhere is the taste for heat more popular these days than in Japan. And now, following founder Blair Lazar's recent sojourn to Tokyo and Osaka, Blair's Death Sauce will not only be melting mouths, it will be melting mountains.
Introducing "The World's Hottest Snowboard." In a creatively bold and mountain-shredding move, Lazar has teamed with Yonex, the legendary Japan-based sporting goods powerhouse, for a Blair's-branded snowboard. Decked out with the look of Death Sauce, the Blair's-edition snowboard is destined to be their hottest product yet!
Available in Japan in 2013, these handcrafted, limited-edition boards are sure to add a sizzle to the 2013/2014 snowboard season. Blair's will also have a limited run of Blair's/Yonex "signature boards" specially created for those outside of Japan. The "signature boards," also available in 2013, will be found in a specially marked section of the Blair's Sauces & Snacks website, extremefood.com.
Says Lazar; "I could not be more honored by the incredible success that Death Sauce is achieving thanks to my incredible chili pals from Japan and around the globe. Now, with the pairing of Blair's and Yonex, I have realized a dream of expanding my brand in unique ways that almost no one would expect! With the introduction of this snowboard, I could not be more excited for the future, and for the 2013 snow season to begin. See you all on the mountain!"
About Blair's Sauces and Snacks
Blair's Sauces & Snacks (www.extremefood.com) is a New Jersey-based, leading gourmet food manufacturer, specializing in hot sauces and spicy snacks. Blair's is dedicated to providing the highest quality products, where incredible heat meets intoxicating flavor in a variety of death-defying combinations. Blair's Death Sauces range from the modest heat of "Sweet Death" to the extreme heat of "Ultra Death." All Death Sauces are packaged with Blair's famous dangling skull. Blair's Death Rain Potato Chips, Death Rain Dry Rubs, Blair's Heat Collection, dips, and a variety of other hot products are available at retailers worldwide and online. Blair's Sauces and Snacks are currently available in 31 countries and are printed in 6 languages.