Boost, the dedicated pay-as-you-go energy supplier, launches its new brand campaign highlighting that with a million things to take care of in family life, thinking about your energy does not have to be one of them.
Creative developed by SNAP LDN, Boost's lead creative and strategic agency.
Campaign launches 1st February 2020 across TV, digital and social.
: Boost, the dedicated pay-as-you-go (PAYG) energy supplier, launches a new campaign celebrating the lives and efforts of busy families, who are juggling work, a household, family life and their pay as you go energy. The campaign leads with the new brand line "we love your energy".
Founded on the belief that people want the freedom to top up their energy when and where they would like, the new campaign follows a real life family and their superhero levels of coping. Boost moved the family into a house over a period of five days, rather than a production set, to capture the natural and touching moments seen in the adverts. All set to the iconic soundtrack Mama Said by The Shirelles.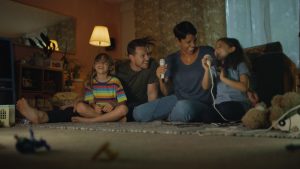 The campaign shows the family powering through a huge number of everyday tasks and distractions. From the moment the kids wake them up jumping on the bed, to having breakfast, brushing teeth, the school run, doing the shopping, and bedtime stories, we see a real day-in-the-life that families can relate to.
Justin Cockerill, Managing Director at Boost, said: "At Boost we believe in energy that helps make our customers lives easier and makes a difference to families across the UK. We've created a dedicated energy brand that delivers greater control and a better experience for prepay customers.

"Boost has listened to our customers and provided new innovative solutions, such as the Winter Wallet, to help give people complete control over their pay-as-you-go energy. We're excited to launch the new campaign helping to inspire households who want to save time, money and have less hassle in their everyday lives."
Louisa Fielding, Managing Partner at SNAP London, said: "Boost thinks modern families are brilliant. They do a million things at once and make the impossible possible. We wanted to capture this at times frantic, but fundamentally joyful family life in a series of films that are less like ads and more like real life. By working with a real family we've hopefully captured this in an authentic way that will make people smile and see themselves in it."
Boost offers a range of SMART PAYG+ products and services to help busy families save time and money in their day to day lives. Boost features the UK's first truly smart prepayment platform, which removes the need for inconvenient trips to the shops to top-up a key or a card.
The campaign launches on TV, digital and social on1st February 2020. Media planning and buying is by The Specialist Works, with Digital media by Merkle.
Source: SNAP London