Canon Nordic and Uncle Grey Copenhagen have launched a new initiative to prevent press photographs from being co-opted for fake news and to allow photographers to protect the true story behind their photos.
Canon Nordic and Uncle Grey Copenhagen have created a global database, called Truthmark, where photographers and photojournalists can upload their photos along with the real story behind the image.
The photographers can mark their image with Truthmark using a tool that gives it unique digital fingerprint. The images are the copyright of the photographer and once the images are uploaded to the database they are encrypted, along with the story behind the image.
Journalists and members of the public who want to check the authenticity of images can perform a free image search on the platform to discover the origin of the image and the context in which it was taken.
The aim of the Truthmark Initiative is to protect democracy by reducing the misuse of photos worldwide and ensuring that the truth is protected. There are many examples of photos being co-opted to support the spread of fake news, including more recently an old photo collection of empty Norwegian hospitals used to fuel an untrue story about COVID-19 being non-existent in the country.
Uncle Grey Copenhagen programmed and designed the Truthmark database using a digital fingerprint technology, which can recognize images – even if they have been slighty altered. So, if an image has been tampered with, users can still find the original image and true story in the database, if the photographer has uploaded the original.
Uncle Grey has created an online campaign to launch the database, featuring interviews with World Press Photo-winning photographers, Ivor Prickett and Johnny Haglund, and Pulitzer Prize winner Daniel Etter.
Before creating the launch-film, Grey interviewed these three photojournalists about their fear of having their images exploited and used in the wrong context. These interviews were used in the final film and these award-winning photographers' images are now in the database.
The campaign, which will run on social channels – where the majority of the problem originates – will easily lead people to the online tool, aims to make the general public aware of and question the context they see images in, and ultimately guide them to find out if the image is used to support an untrue story.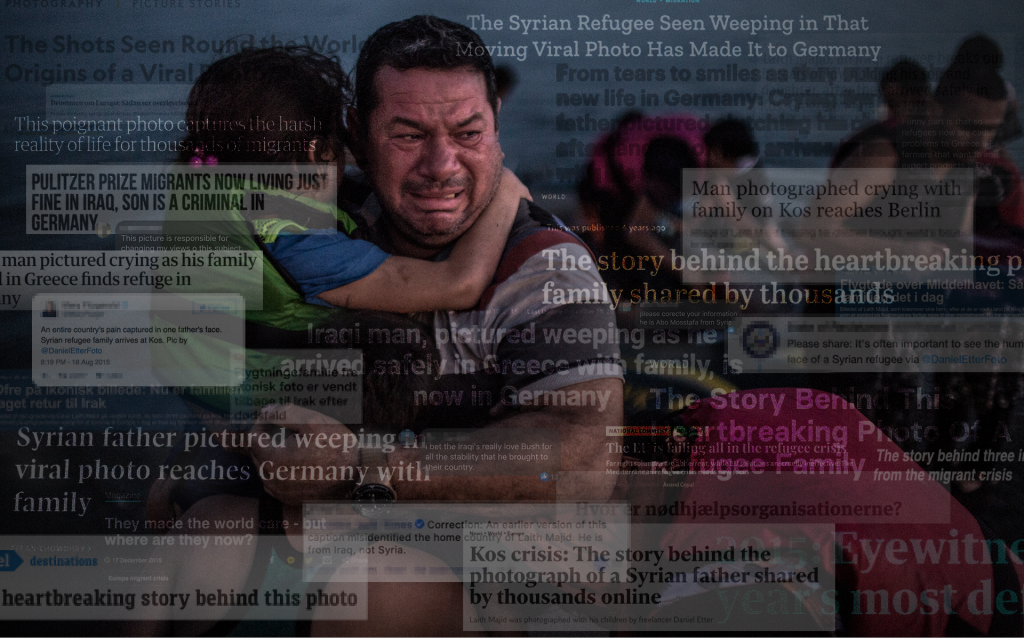 Ivor Prickett, award-winning freelance photojournalist, said: "Pictures can be used for the wrong reasons so easily these days and there is nothing more frustrating as a photographer – and that's what we're constantly trying to combat now, to be sure our pictures are being used in the right way and in the way that we intended them to be used."
Jenni Lindström, Marketing Director, Canon Nordic, said: "At Canon Nordic we are often met by photographers with the same experiences as Ivor Prickett. We want to put a stop to the misuse of pictures to fuel fake stories. The world deserves the truth more than ever right now – and that is what Truthmark will push for."
Lars Samuelsen, Creative Chairman, Uncle Grey Copenhagen, said: "In these times of uncertainty and misinformation, it has been a privilege to work with Canon on this innovative initiative created to ensure that images are being used in the way that they have been experienced and intended by the photographers. Truthmark has the potential to increase truthfulness and transparency, and bring authentic storytelling to the forefront of an increasingly complicated media landscape globally."
Clara Prior-Knock, Associate Creative Director, Uncle Grey Copenhagen, said: "The misuse of images is a problem in culture that could be solved with creativity – a problem that is only increasing in size. Mostly because social media is now a part of the news diet of an increasingly large share of the population, and too often social media is also allowing an agenda to be promoted, rather than news to be reported. And unfortunately, that's where we see lies travel just as fast as the truth – that's why we wanted to make a tool that could help both readers and photographers combat this misinformation."
Source: Uncle Grey Copenhagen