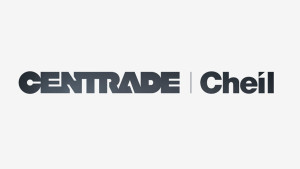 Centrade Integrated and Cheil are pleased to announce a strategic partnership for Adriatic and Balkan region. Following 20 years representing Saatchi & Saatchi and after a full year as the leading independent agency in Romania, Centrade is bringing their extensive network of clients and award-winning creative performance to the region – an ideal partnership embarking on the next stage of operations. Cheil is expanding its operation in South East Europe by aligning with strong historical local partner to leverage and service its increasing client demand.
The relationship between Centrade and Cheil is a strategic partnership which does not involve equity participation by either company. Centrade Integrated will assume the role of licensed operator of Cheil for Romania, Bulgaria, Hungary, Serbia, Croatia, Slovenia, Montenegro, Bosnia and Herzegovina, and Albania as the Adriatic and Balkan region continues to be an important growth market for Cheil's global network and clients. The decision to partner the Cheil brand with Centrade Integrated underscores the approach to expand Cheil's network in the Balkans and to capitalize on the region's growing potential.
"We are delighted to be teaming up with Cheil. Their focus on technology and network proprietary tools for their clients is a perfect fit with Centrade Integrated's long local experience in Romania and the region. With the increased business demand in the Balkans and from abroad continues, I am confident that the combined strength of Cheil and Centrade Integrated will translate into increased performance for our clients," said Radu Florescu, CEO Centrade Integrated.
"As a fast growing network agency, Cheil has been looking for solution to build competitive presence in Adriatic and Balkan region, and Centrade is perfect for Cheil with its comprehensive capabilities, agile structure and mindset, long experience as a leading company in Romania, and very big ambition towards entire Adriatic and Balkan region not limited only in Romania," said Kevin Park, President of Cheil Europe. "It is the first time for Cheil to have licensed partner in its over 40 years history, and I strongly believe this case will give more options in Cheil's network strategy, especially in other emerging regions."
Centrade Integrated will trade under Centrade/Cheil throughout the region beginning January 1 2016 with opening its offices in Serbia, Croatia, Hungary, and will be managed jointly by CEO Radu Florescu and COO Mona Opran. The key leadership is already in place and the new team is poised to meet the challenge of growth and new business.
Centrade Integrated remains one of the leading agencies in Romania – with a broad range of skills and services across digital, content production and events. Cheil's technology-driven marketing background will provide the added impetus for engaging clients on a broader scale using technology and strong network experience to meet client's marketing needs.