'Chelsea Creates', the pioneering campaign which celebrates and spotlights the most exciting new creative talent in London, reached its finale yesterday after months of eye-catching collaboration across the worlds of music, art and design.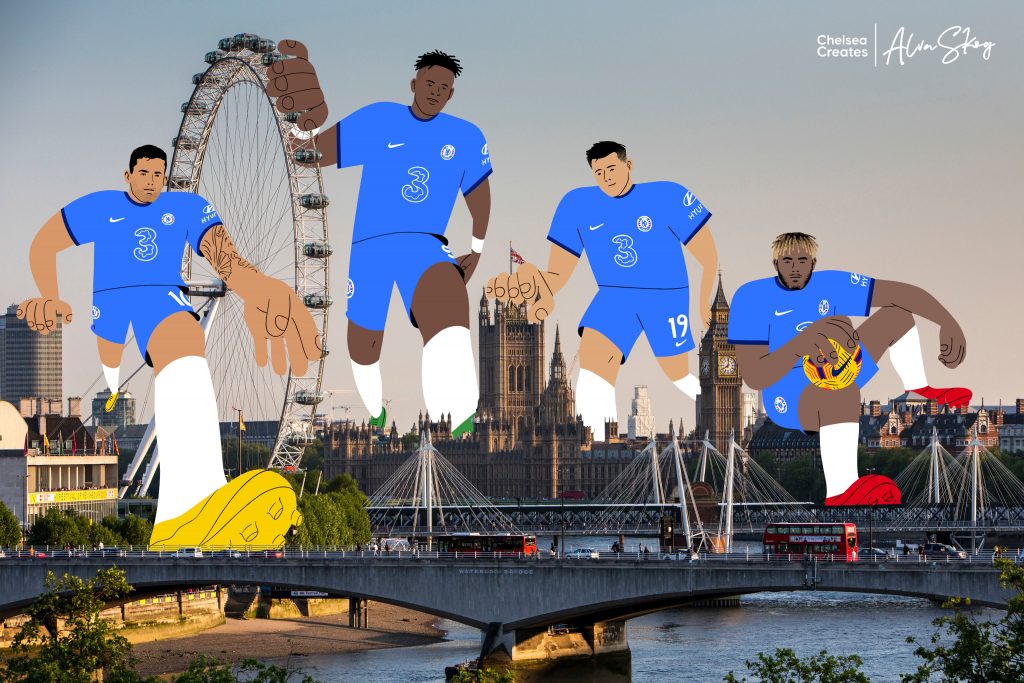 Spanning 15 weeks since the launch in February, the 'Chelsea Creates' project has seen Chelsea Football Club and COPA90 provide a huge platform to showcase and celebrate the most exciting emerging artists and creators from across the capital. The seven-part series has brought about unique collaborations from a variety of disciplines, from British singer and proud Londoner Sasha Keable, to emerging illustrator Alva Skog and acclaimed poet James Massiah.
The fan-engagement campaign has run in tandem with seven all-London fixtures for both the men's and women's teams, with inspirational new content and collaborations unveiled before each local derby. The series has been a colourful backdrop to a thrilling season on the pitch for all at Chelsea FC, set to conclude with both teams in their respective UEFA Champions League Final.
The final installment in the series sees the unique rivalry between Chelsea FC and Arsenal FC celebrated with limited-edition framed prints from the artist Chester Holme, who's captured some of the most iconic moments from the London derby with 20 one-off pieces exclusively shared with selected fans, creators and publishers.
The exclusively-curated content was showcased throughout the 'Chelsea Creates' series across Chelsea FC, COPA90 and collaborator-owned social channels. For each collaboration, COPA90 also published a 'Creator Journey' video that delved into the creative inspiration and process behind each of the collaborations, providing some amazing insights in to how some of London's finest young creatives create.
'Chelsea Creates' Collaborations:
ALVA SKOG – Chelsea FC vs Tottenham Hotspur FC
Central Saint Martins graduate and illustrator Alva Skog reimagined Chelsea FC stars including Mason Mount and Tammy Abraham as oversized and distinctive characters set against iconic London skylines.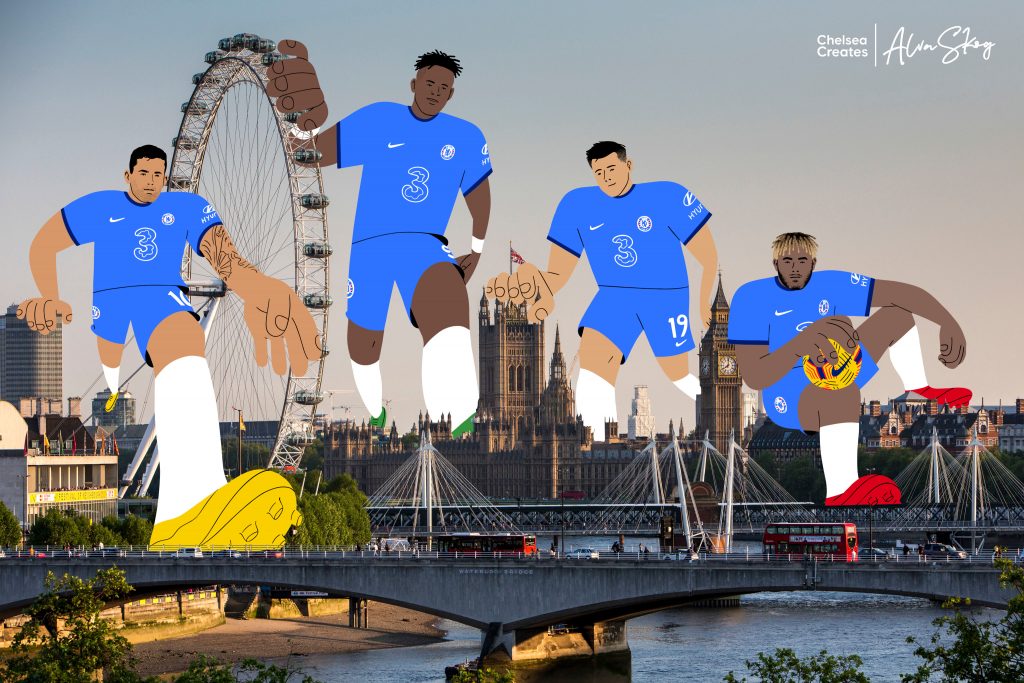 SAM PEMBERTON – West Ham vs Chelsea FC Women
University of the Arts London student Sam Pemberton created a series of visual artworks around goalscoring icon Sam Kerr, also celebrating the journey from West to East London in 'Away Days'.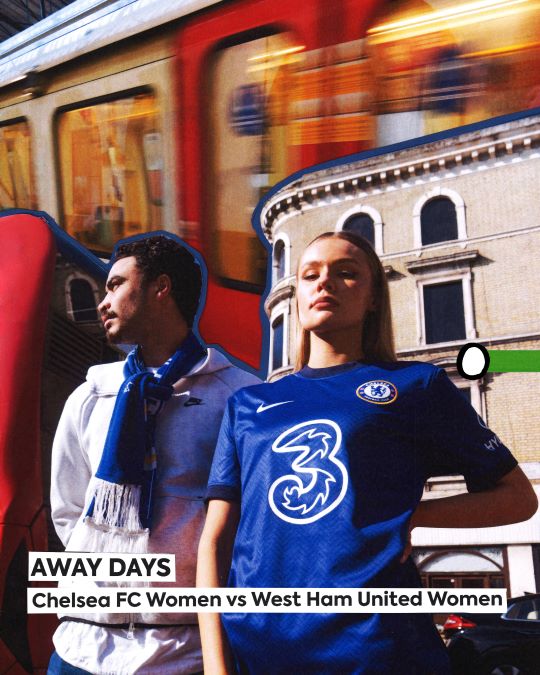 JAMES MASSIAH – Chelsea FC vs Crystal Palace FC
Filmed at an empty yet moving Stamford Bridge Stadium, celebrated poet and spoken word artist James Massiah delivered an emotional performance of his exclusively written poem 'Feeling Blue'.

REED WILES – Chelsea FC vs West Ham
London-based animator and illustrator Reed Wiles showcased his skills in an animated film which depicts Chelsea FC star Mason Mount trekking across the capital after missing the team bus.
SASHA KEABLE – Chelsea FC vs Fulham FC
British singer Sasha Keable treated fans to the first ever live-performance of her song 'Exception' from her upcoming EP, staging an emotional rendition from the gantry at the iconic Stamford Bridge Stadium.

KELLY ANNA – Chelsea FC Women vs Reading
Illustrator Kelly Anna unveiled a one-off design inspired by Chelsea F.C. Women, using powerful and silhouetted figures to represent the players in a special banner that encapsulated the 'Pride of London'.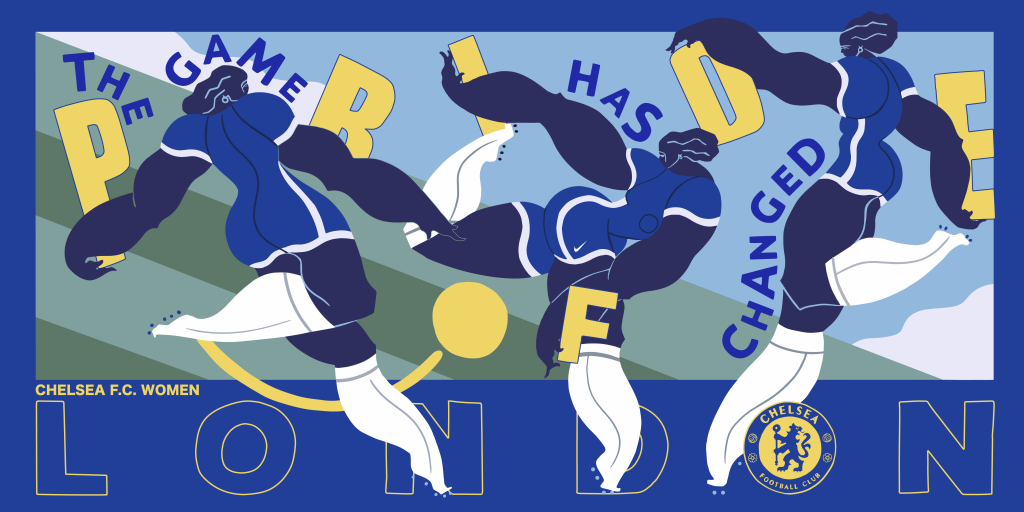 CHESTER HOLME – Chelsea FC vs Arsenal FC
Chester Holme created a limited-edition framed poster/print to celebrate the great rivalry between Chelsea and Arsenal, capturing some of the most iconic moments from this huge London derby.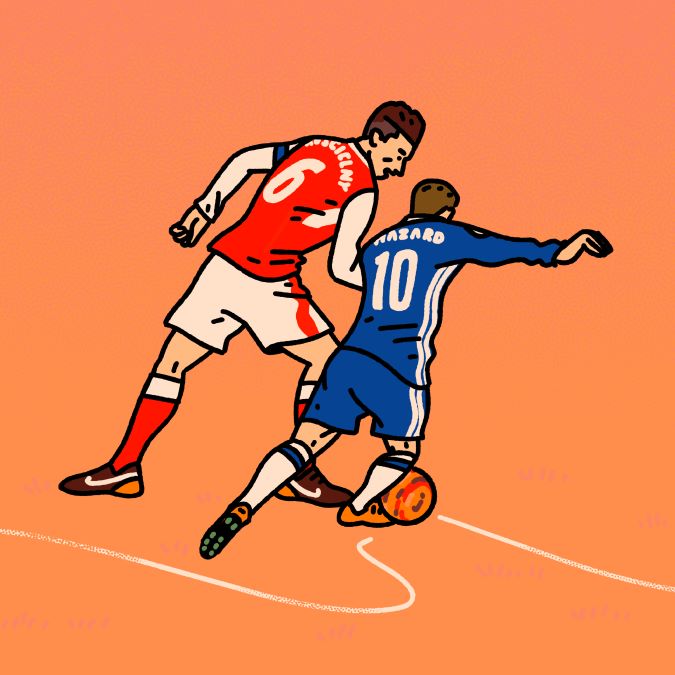 Gary Twelvetree, Marketing Director at Chelsea Football Club, said;
"'Chelsea Creates' has proven to be one of the most exciting and unique campaigns we've ran. We have been blown away by the incredible creative talent here in London across the fields of art, music and design. It has been inspiring to celebrate and showcase these amazing collaborations, representing the very best the city has to offer and a true embodiment of the Pride of London."
Source: Chelsea Football Club