This weekend the final of Europe's favourite sing-fest – The Eurovision Song Contest – returned to our screens in a musical celebration of the diverse range of music across 40 competing countries, hosted by the 2021 winning nation, Italy.
Eurovision's sponsor, market leading Italian cruise company Costa wanted to create a sponsorship campaign aimed at engaging a younger audience, an audience hungry for travel, and to show that Costa can help them discover the world, cultures, cuisine and of course music!
For the TV spots running on 10th, 12th and for the final on 14th May, independent creative network DUDE created 'Eliovision', a spoof contest with a variety of performances of French Rap, Finish Glam Rock, Brit-Pop, German techno, Irish Folk music and Spanish Latino-Pop – a musical array of European culture. The six different spots mimic the style of a live Eurovision style broadcast directly from the impressive flagship ship, the Costa Toscana.
One of Italy's most iconic and eclectic music artists, Elio e Le Storie Tese, performed the songs and transformed themselves into six different versions of themselves poking fun of music cliches and repurposing one of their most successful songs, "La terra dei cachi" (The land of the persimmon) originally about Italian cliches.
Francesco Muglia, Vice President Global Marketing: "The Costa-Eurovision activation is a benchmark of "creativity" both in terms of content and in terms of media approach. Standard advertising spaces have been transformed into a brand entertainment series. In a company of pioneers and explorers by definition, like Costa, exploring new routes is a must."
Livio Basoli, Chief Creative Officer & Partner: "This was such a unique project. Not only did we get to spoof one of the most iconic music events in Europe, but we did it by turning classic 30" TV Ads into a branded entertainment experience. A creative idea tailored on the sponsorship and an innovative media strategy ultimately made possible by a bold client ready to take their brand in new, uncharted, seas."
Media was handled by Mindshare Italy.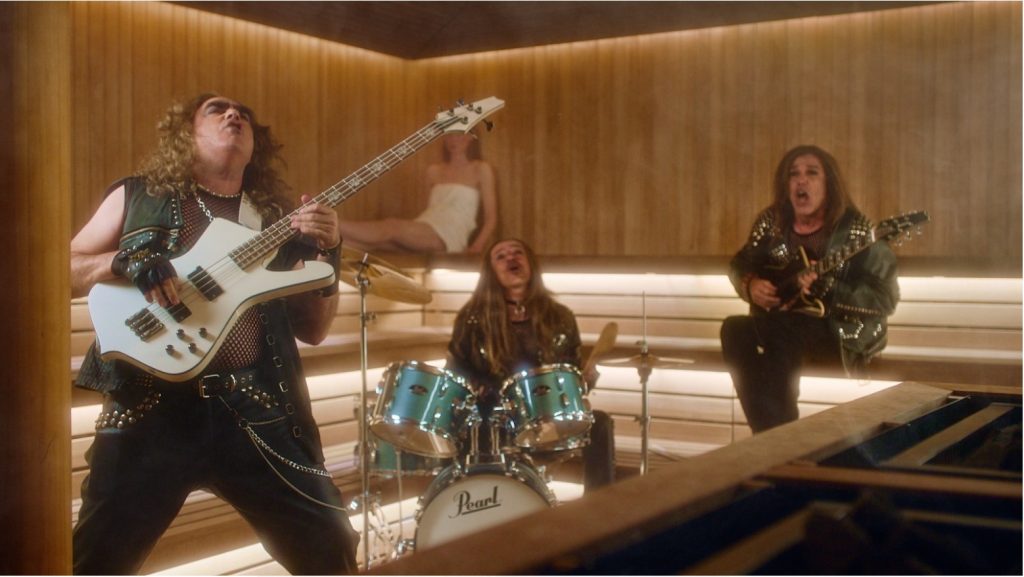 Credits
DUDE MILANO
Chief Creative Officer & Partner – Livio Basoli, Lorenzo Picchiotti
Group Creative Director – Selmi Bali Barissever, Chiara Monticelli
Creative Director – Luciano Marchetti, Davide Canepa
Art Director – Chiara Marino
Copywriter – Simone Maltagliati
Junior Art Director – Edoardo Serafini
Junior Copywriter – Paola Cecere
Client Director – Elena Panza
Account Director – Silvia Ghiretti
Account Executive – Antonia Martone
Integrated Production Director – Matteo Pecorari
Head of Physical Production – Simone Raddi
Senior Producer – Alice M. C. Garbelli
Junior Producer – Giovanna Distefano
Junior Production Coordinator – Francesca Di Donna
Head of Events&Special Projects – Laura Boy
Producer – Giorgio Zattoni
Special Projects – Martina Augelli
Junior Producer – Beatrice Latini
Post Production Supervisor – Seba Morando
Post Producer – Miriam Ottina
Motion Graphic Designer – Gabriele Frigimelica
Editor – Valentina Renna
Editor – Federica Ruggeri
HELLO
Business Director – Sara De Mattia
Creative Director – Marco Viganò
Creative Supervisor – Dario Lo Nardo
Art Supervisor – Alessia Bonito Oliva
Editor – Silvia Ferrari
Creative – Laura Moschella, Jacopo Trotta
Art Director – Luca Cantavenera
Writer: Clara Macor
Account Director – Nicolò Altizio
Account Executive – Vanessa Freckleton, Jessica Basilico
Producer – Alessandro Nidiaci
Strategy Director – Gabriele Naia
Strategist – Sara Pasquinucci
Research & Insight Supervisor – Aziza Ibrahim Ahmed
Research & Insight Analyst – Riccardo Locati
PRODUCTION
Director – Francesco Coppola
DOP – Fabio Casati
​​1st AD – Matteo Polo
2nd AD – Irene Belluzzi
Set Designer – Marco Monti
Costume Designer – Paolo Marcati
Stylist – Alessia Fornara
MUA & Hair stylist – Murciano Silvia, Fortuna Paola
Color grading – Orash Rahnema, Claudio Beltrami, Giorgia Meacci
Sound Design & Mix – FullCode
Music Production – Music Production
Sound Engineer – Antonello Aguzzi
VA CONSULTING
Production Advisory – VA Consulting
GM & Principal Consultant – Stefano Arbitrio
Production Advisor – Alessandra Pasquini, Simona Secondi
MINDSHARE
Roberto Binaghi, CEO Mindshare Italia
Tea Testa, Client Service Leader Mindshare Italia
Giovanna Loi, Chief Digital Officer GroupM
Source: DUDE