David joins from Nuffield Health where he was Director of Brand, Marketing & Digital – a role in which he was instrumental in Nuffield becoming the UK's most trusted Health & Wellbeing brand. He has over 25 years global strategic marketing experience, 10 years agency side with WPP, working with brands such as Mars, Pedigree, Anchor, Carlsberg and Bacardi, and subsequently 15 years international client-side experience across hospitality, food and beverage, retail and leisure sectors.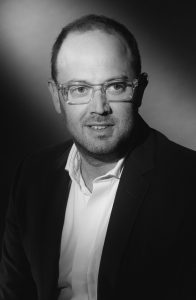 This depth and breadth of industry experience and expertise adds a new dimension to the 1HQ Global Senior Leadership Team – and is a strong strategic fit with its clients in both FMCH & FMCG categories.
David has previously worked with 1HQ when he was Director of Marketing & Strategy at Intercontinental Hotels Group (IHG) – appointing the agency to work across a number of its food and beverage brands. This work included the industry leading and award-winning Holiday Inn 'Food for the Brain' concept.
David says:
"I'm delighted to be joining the senior leadership team at 1HQ Global as their Chief Growth Officer working alongside our senior management team to develop and deliver our marketing strategy to grow both new and existing relationships across our UK, EU, USA & Asia businesses. 1HQ are one of the strongest agency networks I have had the pleasure of working with and I am very excited to be joining the team at this pivotal stage in 1HQ's growth."
1HQ's Global CEO, Mark Artus added:
"As we continue to integrate our expanding global network, we are excited to welcome David into this new role at 1HQ to lead our strategic marketing and new business development. As the reach and capability of our network grows, his recent experience in senior client-side marketing roles for global businesses such as FTSE 100 IHG, Value Retail and Nuffield Health as well as previously leading agency groups (WPP) will be invaluable. Now, more than ever, businesses like ours must evolve and adapt to meet the changing needs of clients and their brands – and David will be instrumental in helping to shape our marketing and business development activities to build on our reputation amongst new and existing clients alike."
Source: 1HQ