Dinosaur have created a behavioural change campaign for NHS Greater Manchester. 'Get to know where to go' aims to help people decide where to go when they need medical advice, help or treatment – this winter, and beyond.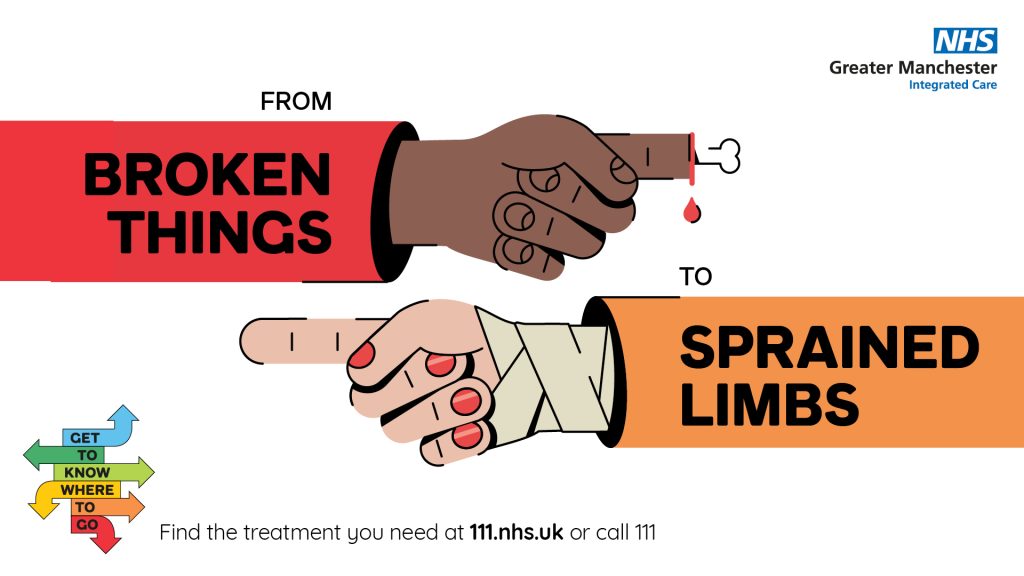 This brand new campaign has been informed by insight from patients and NHS staff from across Greater Manchester's healthcare system. It focuses on enabling better, more effective decisions with straightforward and easily accessible information, that also celebrates the breadth and depth of expertise in the NHS. With pressure across the health service increasing over the winter months, this year more than ever, the challenge was to encourage people to be part of the solution.
Mark Beaumont, CCO of Dinosaur observes:
'If people use health services in an inappropriate way it's because they're anxious and often confused by a complex system. Our insight work showed that people don't want choice – they need clear information to help them to make effective decisions."
The result is an eye-catching, illustrated campaign highlighting the different NHS resources available. Bold arrows and a strong, directional feel help to reinforce that this is a campaign about informed decision-making.
Claire Norman, Director of Communications and Engagement, at NHS Greater Manchester Integrated Care comments:
"Our NHS always comes under pressure during the winter months, but the Covid-19 pandemic has added an additional dimension and we now find ourselves facing 'winter pressures' all year round. This new challenge needed a new campaign.
"The insight element was really important to us. It means we can be confident that the campaign, and the investment we have made, is underpinned by the views of the public and key stakeholders.
"The bold, eye catching designs will help to grab attention during the busy festive period. And gives us a strong foundation to build on in the months ahead, as the campaign grows."
Helping people access the right services, Get to Know Where to Go is currently running across OOH, PR, online and in health centres.
Source: Dinosaur