Who are you and what do you do?
I'm the CMO of Wunder, a new social media platform launching in June 2022. I joined in November 2021 and it's been non-stop since then, creating a marketing plan, a marketing strategy, appointing creative agencies, building out a go-to-market plan (alongside our paid media agency), helping the company founder Jay Boisvert put an exec board together and, crucially,eating some terrific 'aldesko' lunches. Our office is in Shoreditch, London, which means the lunch choices are ridiculously good. Although my increasingly tight shirts are now screaming for mercy.
Does the world need another social media app? What makes Wunder special?
It was born from the belief that social media should be a positive force,
Clearly social has helped to change the world. It's started movements and brought us closer together. But it also inflames anger and increases polarised opinions. We believe it's time for an update. Time to boot out the trolls and raise up the changemakers. To build a platform that works for the world we live in today.
With fully verified users, a focus on positive content plus its unique in-app currency, Wunder revolutionises social media and the world of giving.
To explain further, the app, currently in beta testing, allows users to gift in-app currency (with real world value) to causes and projects that they care about. They can buy this currency or earn it by interacting with advertisers' branded content displayed in the app. Organic content created by users will have a positive 'good news' slant and, thanks to rigorous user verification, Wunder will be a safe, fun space for its Gen Z and early Millennial audience. In other words, you leave Wunder happier than when you arrived.
Or to put it more bluntly, it's a place where you WON'T have your attention monetised by the wealthiest people on earth who game an algorithm to destroy your psyche so they can sit on an ever-taller pile of money until they reach Mars. Instead, Wunder is social media for social good.
What's your backstory?
At my heart, I'm an editorial guy – a storyteller. I spent the first half of my career as a magazine editor and newspaper journalist, sitting in the editor's hotseat at publications as diverse as Loaded, Ministry of Sound magazine and BA's High Life. I've also written for most of the nationals, from the Sunday Times to the Telegraph, the Standard and more. I even had a couple of newspaper columns for a while, writing about nightlife and also dating. And yes, I've heard all the Carrie Bradshaw gags, thanks.
I co-founded a luxury content agency and ran that for a couple of years before I was headhunted by Ogilvy UK to set up its content division. I joined as director of content in 2015 and oversaw global content programmes for Nokia, Rolls-Royce, Centrica, Inmarsat, Barclays Private Bank and many others – heading up a super smart team of creatives and strategists.
What's great is that now I'm at Wunder I'm across every aspect of the marketing mix – product, brand, content, communications, social media, distribution, growth and user acquisition – and ensuring there's synergy between them.
I'm working side by side with Jay (founder and CEO) to create maximum awareness and sign-up for Wunder when it launches in the UK in June. And obviously keeping the story going as we expand out to other regions next year.
This is your first CMO role. How are you finding it?
In terms of management, it's fine. I've previously run strategic and creative teams of 30-40 people, so it's great having a tighter team at the moment. We are pipelining new hires though, so expansion is imminent.
As we're a small team, I'm currently wearing a few hats. Besides marketing, I'm also acting as a CCO and CSO. Not CTO though, thankfully, as my tech know-how is minimal to say the least. We have a great ops director who can translate app developer speak for us and who keeps on top of the tech build.
Adaptability is one of the most important skills for a start-up CMO, I think. Markets change, other platforms act in ways you didn't anticipate and, all of a sudden, it's a whole new ball game. It's also important for a start-up CMO to roll up their sleeves to get the job done. In the last week, I've helped to create a video script, commissioned some motion graphics, negotiated budgets, written an article and had a long, slightly tortured chat about what sort of office art we might like. We are still all in disagreement on the latter but, honestly, it's not top of the agenda so that's fine to be parked for a while.
Finally, I've also being doing a lot of listening. To other experts in the same space, to lawyers, to investors and, most importantly, to our target audience through focus groups and data analysis.
Because when you think about how to approach engaging with potential users in the right way, it has to start with listening, empathy and understanding. The mistake that many brands make is they immediately jump to: "Look at this stuff I can sell you." My approach is exactly the opposite. What is it you need? How can Wunder be useful to you?
What's the first thing people say when you tell them what you do?
"Are you trying to take on Facebook/Instagram/Snapchat?". And "Are Wunder coins crypto?"
Short answers are no and no. We know that people will still use other platforms. We just want them to think of Wunder as a 10 minute antidote to doomscrolling. Their happy place, if you like. And Wunder coins are just a way of transferring funds from users to charities. Nothing to do with crypto – their value doesn't fluctuate, for example.
What's the best piece of advice you've ever been given, and did you take it?
Be curious and never stop asking questions. From journalism to marketing, this maxim has served me well over the years. It was instilled in me by my first editor at a great little listings magazine in Bristol called Venue and I've never forgotten it.
Great CMOs have this mindset too. Though they might not know everything about SEO, user acquisition or multi-audience ECRM campaigns, they want to understand how these strategies work, how they fit into the bigger picture and how they can be improved. Successful CMOs are always looking for ways to improve themselves, their teams and their processes.
We need to keep asking those "What if?" and "Could we?" types of questions.
What's been your career highlight?
Well, my journalism days saw me travelling the world with rock stars and supermodels. Sometimes I didn't even have to carry their bags. One moment that does stand out is when we projected a front cover of Loaded magazine on to the MI6 building in London. It took roughly two minutes for a blacked-out Range Rover to come speeding towards our projection van parked on Vauxhall Bridge. Four angry undercover police officers emerged and told us that what we were doing was very, very stupid. 
On a more professional note, building Ministry of Sound magazine up from an ailing circulation of 20,000 to become the world's biggest dance music magazine was pretty sweet – all within the space of a year. And more recently, creating Ogilvy UK's first in-house editorial content department, which was integral to pitch wins for the likes of Rolls-Royce and Barclays Private Bank, among others.   
If you could go back and edit part of your past, what would it be?
A financier friend of mine once strongly advised me to buy Bitcoin when it was $50 per coin. I ignored him. He's retired now. Let's leave it at that.
What's on your reading list?
Well, I have a huge book pile by my bed, much to my wife's annoyance. Currently near the top is A Child Of The Jago. Written in 1895, it's a fictional account of life in one of London's most notorious slums. I bought it as the Wunder office is in the heart of where the novel is set and it's fascinating to take a walk around the streets and try and connect places with scenes from the book. 
I'm also making my way through How To Get Rich by Felix Dennis. I'd met the former Dennis Publishing magazine guru a couple of times before he passed away, and he was always entertaining and very sharp. The book is basically a distillation of his business wisdom but done in his inimitable amusing way.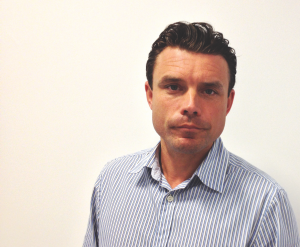 Finally, what's one thing people don't know about Wunder but they should?
I could give you a load of PR guff here but frankly it's just a brilliant, fun place to work. I've laughed more in the few months I've been here than I did in six years at Ogilvy. (No offence to Ogilvy, you're all lovely people). Yes, we work hard at Wunder but we enjoy ourselves too. Now that many of us are back in an office, at least for a few days a week, quality of work-life is more important than ever.
Scott Manson is CMO of Wunder