VMLY&R COMMERCE has promoted Elke van Tienen, Chief People Officer (EMEA) to Global Head of People with immediate effect. Elke joins the VMLY&R COMMERCE Global Executive Committee. She remains UK based.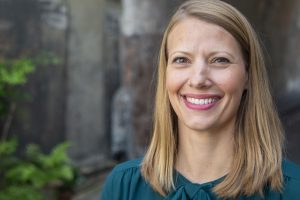 The appointment is the latest in a series of moves by VMLY&R COMMERCE CEO Beth Ann as the new company innovates and scales delivery of its end-to-end creative commerce solutions globally.
"Culture, diversity and inclusion have always been at the heart of our business and our talent is critical to helping our clients flourish. What the pandemic hasn't changed is that people, wherever they work, want to feel connected and engaged. Elke's exceptional expertise in creating empathetic, people-first initiatives, along with her intuitive empathy, make her perfect casting to this global role," said Beth Ann Kaminkow, Global CEO, VMLY&R COMMERCE.
Elke van Tienen comments, "Our commitment remains to inspire our people to bring their best and authentic self to work.  This requires a real focus on fostering a culture where everyone feels supported and a sense of belonging as we drive true-value and business impact across the organization." 
Under Elke's leadership, Geometry [now VMLY&R COMMERCE] has won recognition for focus on learning and well-being, landing IPA Continued Professional Development (CPD) Gold Accreditation two years running. In addition, the agency has been listed as a top 10 employer in the Outstanding Employer category at The Ethnicity Awards 2020.
With over 15 years' experience as a talent professional, Elke has created and delivered initiatives through critical phases of agency transformation while cultivating open and inclusive cultures. Recent initiatives include: 'The Incubator': work experience program offering students from diverse backgrounds an opportunity to operate as a mini agency;#CreativeComeBack, in partnership with Creative Equals, a returners program fast-tracking women back into the creative industry; and, 'Pitch Your Passion', a quarterly contest spotlighting employee inspirational side-hustles.
A distinct company within the VMLY&R family, VMLY&R COMMERCE officially launched on Jan 1 2021 bringing together the scale, expertise and commerce talent of WPP agencies Geometry and VMLY&R.  Elke will work in collaboration with VMLY&R Global Chief People Officer Ronnie Felder to create a connected culture and employee experience that harnesses the strengths of the company's 12,000 people worldwide.
Source: VMLY&R COMMERCE