A new integrated global campaign for Mānuka Health New Zealand serves to raise awareness for the many natural benefits of its rare Mānuka honey line.
Launching this month, this first global campaign by VSA Partners for the brand looks to educate consumers on the complex differences and natural potency of Mānuka honey, and position Mānuka Health NZ as a supportive partner of those on the lookout for ways to improve their health and wellbeing. 
The campaign, featuring bold typography and an optimistic palette of highly saturated warms and cools, will deploy in cross-device display ads, leveraging custom data segments, mobile interstitials, social media, online video and digital out-of-home to communicate how Mānuka Heath NZ's natural Mānuka honey line offers more than just a way to sweeten tea and toast.
Inspirational copy lines such as "A Spoonful of Seize the Day", "Nature Up, Game On", "A Honey As Potent as Your Potential" "Stack Your Wellness Bench with New Zealand's finest" and "A Daily Dose of Get It Done" and "Meet Your New Wellness Wingman" convey motivating, confident yet relatable messaging on how the brand's natural Mānuka honey can help consumers as part of their daily health and wellness regimen.
"This isn't just any honey, so we wanted the creative to have a look and tone that reflects how great this product makes you feel," said Evan Thompson, Creative Director, Writer, VSA Partners, based in Chicago.  "The bright colors, layering and bold type all help to give Mānuka Health NZ an ownable point of view in the crowded health and wellness space."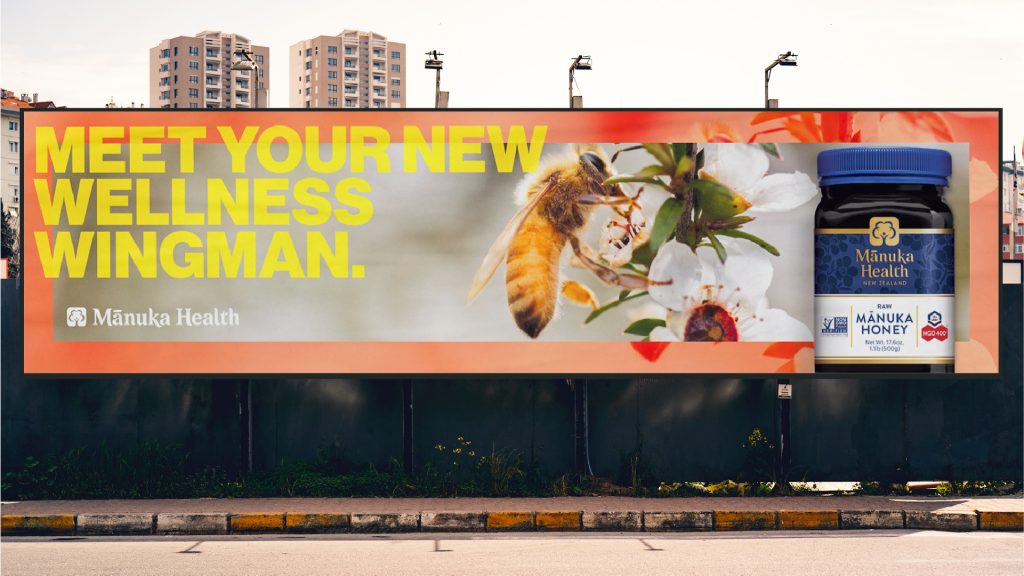 "The power of Mānuka Health NZ honey is in its natural potency, and this campaign is about giving people the confidence to embrace their true nature and live to their full potential," said Anya Saikkonen, Global Marketing Manager, Mānuka Health NZ.  "We are delighted to work with VSA Partners to help educate consumers on the benefits of our special natural product in a vibrant and approachable way."
The special honey is made from the nectar of the native Mānuka plant, and highly valued for its distinctive natural properties. It's also rare, originating only from New Zealand and produced just a few weeks a year — weather permitting — when the Mānuka plant is in flower.
Mānuka honey is a delicate resource that requires careful handling and processing to ensure its special natural properties are retained during the extraction and packing process. Unlike most suppliers, Mānuka Health NZ owns the full process from the hive to jar, from its 20,000 beehives to its own extraction and processing facility and in-house quality testing laboratory.
The campaign is the first global work for the brand by VSA Partners since the agency won the account in January. Additional strategic design and communications initiatives are in the works for roll out later this year.
CREDITS:
Agency: VSA Partners, Chicago, New York, San Francisco
John Sheehan, Partner, Client Engagement
Kim George, Senior Project Manager
Joe Nio, Associate Partner, Strategy Director
Marisa Rondinelli, Associate Strategy Director
Chandni Shah, Strategy Director, Media
Linda Vo, Strategist, Media & Analytics
Josh Witherspoon, Associate Partner, Creative Director
Chrystine Witherspoon, Associate Partner, Creative Director
Evan Thompson, Creative Director, Writer
Gustavo Delgado, Designer
Tarek El-Mofty, Associate Partner, Creative Services Director
Thomas Horne, Motion Editor, Director
Melanie Trombley, Art Producer
Production: The Voorhes, Motion Photographers, Austin
Adam Voorhes, director, photographer
Robin Finlay, Stylist
Source: VSA Partners