Following the social distancing advice from the British government during the current Coronavirus crisis; Free The Birds, the London-based independent design agency, understands that not everyone is able to visualise what two metres looks like without an external reference. It has created a series of illustrations that can help support people taking steps to limit social interaction.
Two metres is the distance that the health authorities are advising the British public to maintain between themselves and anyone outside their own household, as the country fights to 'flatten the curve' – or slow the spread of COVID-19.
In a series of four illustrations, Dwayne 'The Rock' Johnson is the star of one of the images. Measuring 1.96m, the Hollywood superstar is shown lounging on a sofa with one person perched on each of the arms.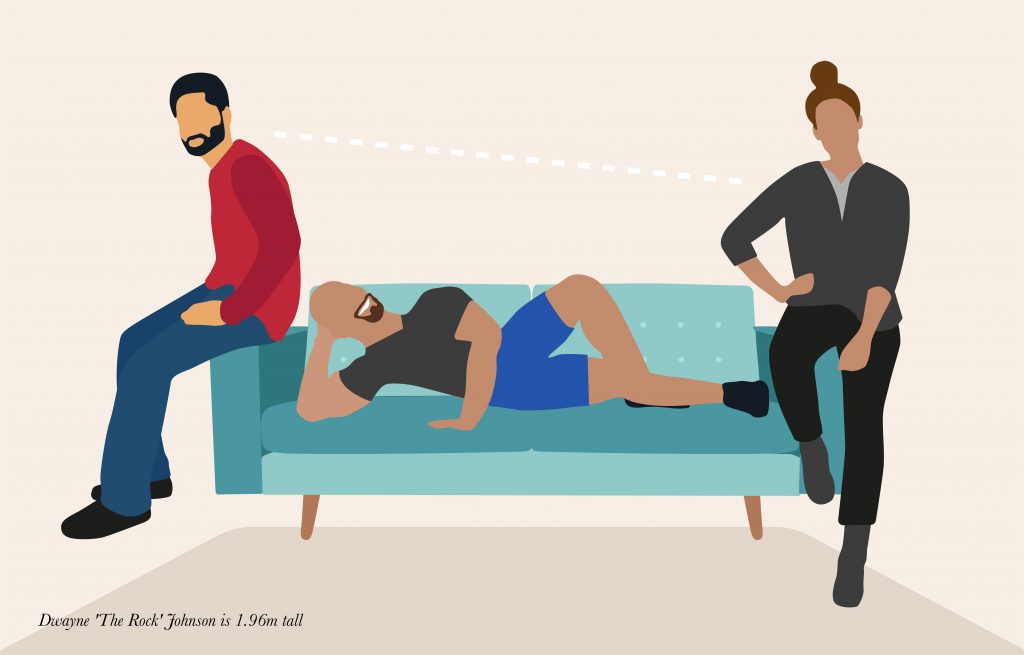 Other visual prompts in the illustrations include a Smeg fridge/freezer (1.9m), a Harley Davidson Street Rod (2.1m) and a dairy cow (average 2.3m).
Katie Harbord, a designer at Free The Birds, who illustrated the campaign said: "We were discussing what two metres looks like in one of our Zoom meetings and someone said, 'I bet Dwayne The Rock Johnson is about that size'. I thought, what a great visual! I wanted to keep the illustrations light-hearted and colourful, to brighten things up a little."
Emily Ingram, Marketing Manager at Free The Birds, said: "Social distancing is a crucial tool in slowing the spread of coronavirus but as anyone who has to leave their house will have discovered, not everyone has a clear idea of what two metres is. So we hope that people will take these illustrations in the spirit in which they are intended – a moment of levity, albeit a useful one, in the midst of crisis."
Source: Free The Birds