Brand transformation company FutureBrand North America, today announced the appointment of its new Chief Strategy Officer, Eliza Yvette Esquivel, effective immediately. In her role, Eliza will lead and build client teams across the agency, while developing and executing transformative strategic work for their global roster of clients. She will serve as a member of FutureBrand's leadership team, reporting directly to the organization's President, Simon Hill.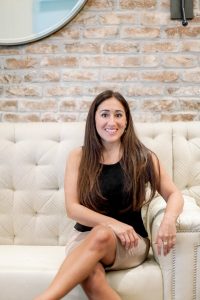 Eliza brings 20 years of marketing experience to the role, having previously served as the Senior Director of Global Brand Strategy at Microsoft. During her tenure at Microsoft she led a senior team of global strategists and partnership managers that managed the company's robust productivity software portfolio. At Mondelez International, Eliza served as the VP of Global Brand Strategy, nurturing a $36 billion portfolio of high growth brands like Oreo and Cadbury. On the agency side, she has driven creative and progressive campaigns for numerous brands such as Coke, Nike, McDonald's Clinique, Philips, Accenture and Skittles.
"Eliza is a passionate nurturer of talent and highly collaborative creative partner," said Simon Hill, President, FutureBrand North America. "Her optimism and entrepreneurial mindset blend well with FutureBrand's culture and values, I'm excited to see her unique perspectives and experience translate across both our agency and clients."
As Chief Strategy Officer, Eliza will demonstrate the agency's expertise in strategy, design and innovation to transform brand businesses for growth across a variety of industries. Her past experience positions her well to carry out the agency's mission to bring connected brand experiences to the core of traditional marketing.
"I am excited to join a creative futures company," said Esquivel. "I love thinking about and creating the future and see a huge opportunity to innovate the way that's done. I believe in the power of creativity to drive commerce and culture. With today's dynamic shifts in all areas of society, creativity is more crucial than ever."
Eliza currently serves as a Board Director for The Advertising Club of New York and was named on Business Insider's Most Creative Women in Advertising list. She has also spoken at a number of highly acclaimed events and conferences within the advertising and marketing industries, including 4A's StratFest and Advertising Week.
Source: FutureBrand