The leading technology PR and marketing firm, Grammatik Agency has appointed Siobhán Hofma as Account Director. Hofma joins the senior leadership team, bringing a wealth of knowledge and experience gained in the motion capture, games, animation and VFX, cross reality experiences and TV broadcast sectors.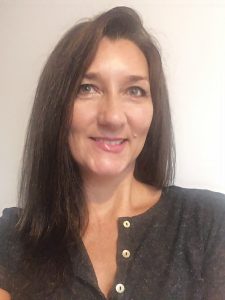 Siobhán has been in the media industry for over 20 years and specialises in realistic digital humans and interactive virtual characters. She launched her Communications business helping technology clients discover their next big idea, showcase their talent and launch products to market. Siobhán was one of the first employees at real-time animation software firm IKINEMA where she spearheaded the Marketing, PR and Creative division, and contributed innovative technology ideas; the company was acquired in 2019. She has worked with teams like Microsoft Studios, Epic Games, Xsens, Tencent NExT Studios, The Void, NVIDIA Holodeck, Framestore, Vicon, NASA Hybrid Reality Lab, MANUS VR, Digital Domain and many more.
Grammatik Agency is a team of smart PR and marketing specialists for the technology, creative and computer graphics industries. Its global roster includes VFX and creative studio Goodbye Kansas, global internet provider Expereo and motion capture suit specialist Xsens in The Netherlands.
Grammatik has worked with more than 50 clients since its inception in 2014, delivering campaigns on a retained or project basis for Amazon Web Services, Cubic Motion, disguise, Google Cloud Platform, Luxion and many more.
As Account Director, Hofma will work with Grammatik to further expand their portfolio, develop client relationships, reach new audiences and build upon their exemplary reputation.
Hofma said:
"With my deep industry knowledge and Grammatik's diverse client portfolio brings a great synergy which I'm looking forward to developing even further. Having worked with incredible clients and technology partners over the years has seen my involvement with talented teams and all styles of pioneering projects from games through to immersive experiences.
The development of the digital human in live demonstrations such as the first ever real-time performance during e3 2015 for Hellblade: Senuas Sacrifice by Ninja Theory and Epic Games; Digital Domain's TED Talk 2019, 'Digital Humans That Look Just Like Us' performed by Doug Roble; the fascinating virtual YouTuber phenomenon with GREE and Wright Flyer Live Entertainment, and everything in between, are only a few of my career highlights. I'm excited to again bring even more talent to the forefront with Grammatik."
Grammatik Agency Managing Director Glenn Matchett said:
"2020 has been a period of growth for us and I'm delighted to welcome Siobhan on board to help continue that trajectory. As part of our senior team at Grammatik she'll add a new depth of knowledge and expertise with her first-rate experience across verticals like games, VFX and mocap."
Source: Grammatik Agency