The mobile app is a key part of everyone's digital lives. No matter who you are, or what you're looking for, you can guarantee that 'there's an app for that'. Over the last decade, the digital industry has grown and evolved at an exponential rate, yet apps have maintained their role as a key revenue stream for the industry.
At first, this may be surprising. It's true that the majority of people prefer to use free apps (or the free version of the app), rather than pay for it. Just look quickly at your own phone – it's likely that you don't pay for a high percentage of your downloaded apps. Despite this, the app industry has had its highest revenue year in 2019.
So, how has this happened? Which apps play a larger role in generating app revenue? What are the different trends across the world? And does Apple vs Google matter?

We've pulled together data from Apptica (one of the leading mobile apps analytics companies), to piece together a comprehensive review of the mobile apps industry in 2019.
The Apple App Store Vs. The Google Play Store
Before we get into the major mobile apps revenue contributors in 2019, it's important to look at the differences between Apple and Google. While Google dominates in the number of downloads, Apple tops the revenue charts. This is likely to be down to Apple's strong overall presence in the high-revenue markets of the United States and the United Kingdom. Google, on the other hand, dominates the emerging markets – this seems to be great for download numbers, but not revenue. Or at least it appears that way in 2019.
The two stores also differ when it comes to the types of apps. When it comes to Apple, the more powerful iOS hardware means they have been pushing the limits of app development for many years. You only have to look at the high-performance graphics cards in the new iPhones to understand this. Due to this, the paid for apps that were expensive to develop often find themselves on the Apple store, as the apps will be showcased at their best when downloaded onto Apple devices.
The Google Play Store, on the other hand, is much more widespread than the App Store. With over 2 million apps at the start of 2019, they far surpassed Apple App Store in diversity and variety. As we discussed above, however, while this leads to more downloads, it doesn't have the same effect on revenue.
Who Were The Top Contributing Countries by Revenue, in 2019?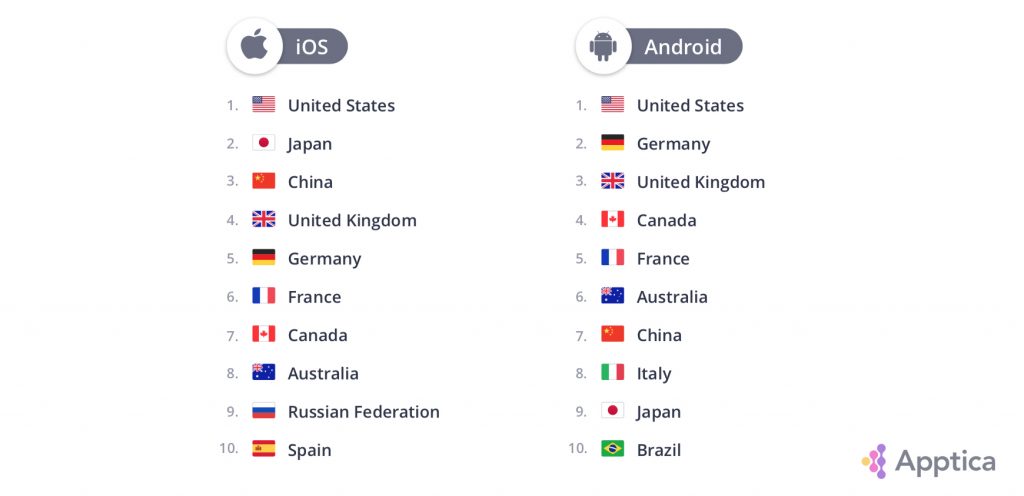 Top Contributing Countries in 2019

Above are the countries that have spent the most on mobile apps in 2019. This is through a contribution of paid apps and in-app purchases.
This data is important to the industry, as it tells which counties app developers see as a targeting priority. Afterall, the more money a country is likely to spend, the more developers are likely to create apps for them. It's no surprise then to see the United States at the top of the table, for both the App Store and Google Play, for a consecutive year running. It is highly likely they will remain up there in 2020, as long as developers continue to direct paid for content their way.
Who Were The Top Publishers by Revenue, in 2019?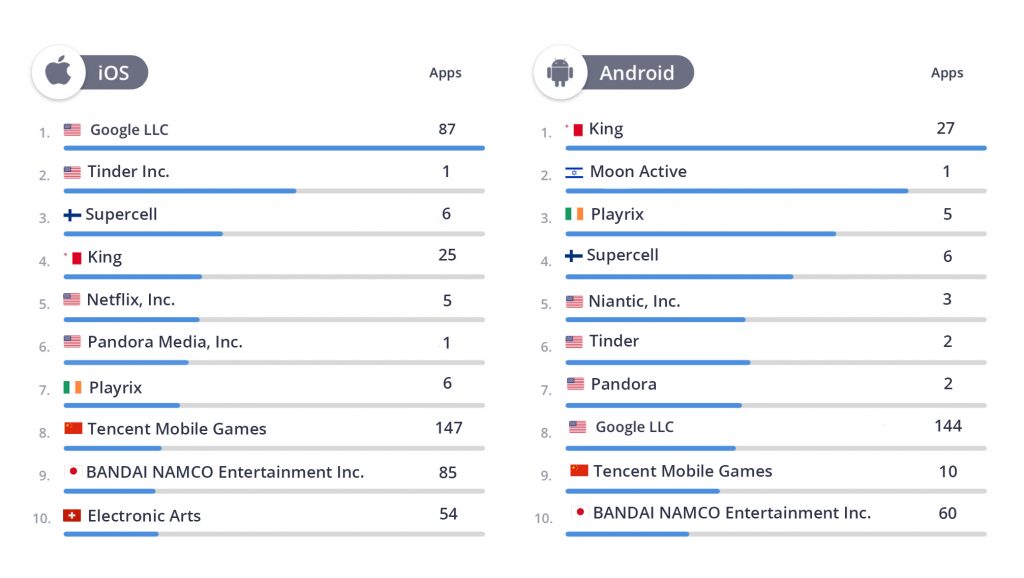 Top Publishers by revenue in 2019

Above are the app and gaming publishers that have generated the most revenue in 2019. Both are dominated by mobile game publishers, which is unsurprising when you consider that game apps have been the highest generator of revenue in the industry for years.
Despite this, the App store is definitely more varied. Tinder coming in 2nd (compared to 5th on Google), and Netflix at 4th shows that Apple users are more concerned with other digital areas, such as streaming. Android users, on the other hand, are clearly far more likely to spend their money on mobile games.
What Were The Top Revenue Apps, Across Regions, in 2019?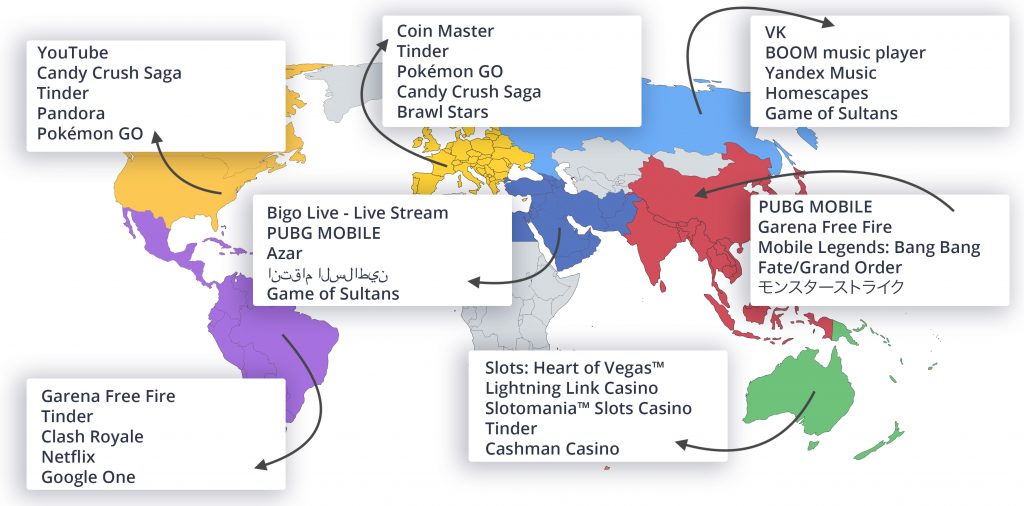 Top Revenue Apps Across 7 Regions in 2019
When it comes to global and regional mobile app trends in 2019, mobile game apps don't always come out on top. Although Pokemon Go and Candy Crush have kept their momentum as the mobile games that generate the most revenue globally, the main global trend is that Tinder tops the rating in almost every region (especially in North America, South America, and Europe).
When it comes to regional trends in 2019, there are some clear differences in where people are choosing to spend their money. People in Australia and New Zealand are far more likely to spend in mobile casinos, and in the Middle East there are a higher number of video chat apps compared to elsewhere. The Americas, Europe and Asia are each more focused on mobile game apps, whereas Russia is the only region where a social media app comes out on top.
What Does This Mean For 2020?
As stated at the start, the online and digital world is constantly changing. With advances in technology such as VR, as well as changes to monetization, it is likely that 2020 will see big changes to the mobile app industry. Not only in the type of mobile apps that generate revenue but also in how Apple and Google collect and generate revenue from these apps. One thing can be sure however, the app industry is showing no signs of slowing down.

Written by: Natalie Stepanova
Natalie is Head of Marketing & PR at Apptica.com, she leads marketing activity and turns analytical data into comprehensive market reports being a source of insider information for any kind of mobile experts.
Source: Apptica