Covid19 has taught us many valuable lessons, but perhaps the most valuable of all is the importance of having access to a strong, well-prepared healthcare system. This is the mission that for the past 40 years Médecins du Monde has been campaigning for, universal and inclusive access to health care. Present in France and in 39 countries, the association is committed to treating the most vulnerable populations, to bear witness to the obstacles in accessing healthcare, and to denounce attacks on dignity and human rights. 
"Our slogan, la santé avant tout, at first glance obvious, takes on its full meaning today in the context of the global pandemic. On the front line since the start of Covid-19, we have been able to observe the deepening social inequalities exacerbated by the crisis", comments Dr. Philippe de Botton, President of Médecins du Monde. "The right to universal health protection and effective access to healthcare for all must no longer be the utopia of a few, but an absolute necessity," he adds. 
The virus has proven to be an unstoppable force, crossing borders, reaching the old, the young, the powerful and the vulnerable. Much like Medecins du Monde themselves, who go above and beyond to make sure nobody's left out.
In this unprecedented year, the association wished to reaffirm its role by declaring that if a disease could reach everyone without distinction, then so would Médecins du Monde. And that is the promise of the campaign directed by Jessy Moussalem (Phantasm), with Julien Poupard as director of photography (nominated for the César for Best Photography for Les Misérables) and signed by the Marcel agency.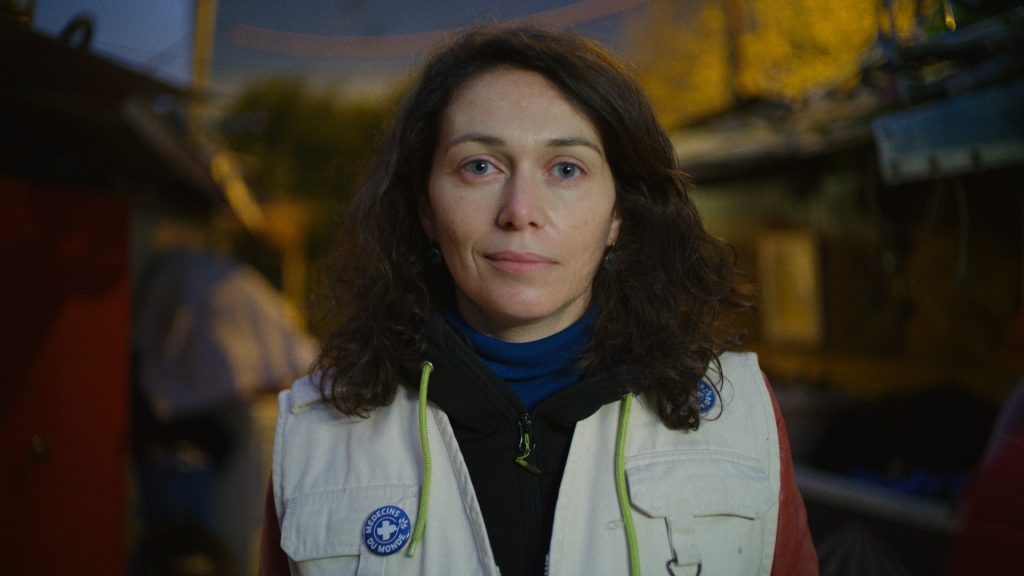 French actor and Cesar award nominee Denis Menochet, guides us through a series of striking images many of which we're all familiar with: families glued to their screen, people fleeing their homes, the elderly isolated, closed borders…His speech echoes through the scenes like that little voice in your head that with absolute certainty states: "No matter who you are or where you're from, I'll get to you." But what appears to be a message of despair is in fact a message of hope and reassurance.
For Menochet's voice is not that of the virus, but that of the workers from Médecins du Monde. The tvc features the real people of the association, not actors, so that the world can discover the faces of those who fight tirelessly.
The film broadcasted on tv, from 17th to 31st December, and social media is supported by a print and outdoor campaign that acts like a declaration of intentions for the association, encouraging people to donate.
In the midst of a global crisis Médecins du Monde's message and commitment has become even more meaningful, they'll get to you no matter what, because for them championing and protecting the right to healthcare, is above all else.
To donate >> https://dons.medecinsdumonde.org
CREDITS 
Médecins du Monde
Marketing director: Jean-Baptiste Matray
Communication manager: Amélie Churlet
In charge of advertising campaigns: Justine Roche
Social media project manager: Lou Maraval
Marcel
CEO: Pascal Nessim & Charles Georges-Picot
Creative director Publicis France: Anne De Maupeou
Executive Creative Director: Gaëtan du Peloux, Youri Guerassimov Creative director: Clément Sechet
Artistic director: Hugo Wahledow
Copywriter: Claudia Illan
Strategic planning: Benoit Dumeunier
Consulting director: Fanny Delaunay
Account manager: Claire Sioufi
Project manager: Mathilde Vernier
Head of TV Production: Cleo Ferenczi
Business Affairs (Prodigious): Cécilia Neyroud, Catherine Oger
Director producer: Jessy Moussallem Head operator: Julien Poupard Production: Phantasm x Object & Animal Producers: Olivier Muller, Anthony Bargis Production director: Pierre Signoret
Post Production: Prodigious
Post-production manager: Céline Genty Editor: Benjmain Weill, Tianes Montasser Calibrator: Mathieu Caplanne
Edit: Everest
Sound: Prodigious / Boris Nicou, Boris Jeanne
Photographers: Viktoria Sorochinski, Ye Aung Thu / AFP, Olmo Calvo
Art purchase: Mélanie Coupey, Laurène Ametowoglo
Print production: Suzanne Pereira Dias
Model maker: Matthieu Andrieu
Motion designer : Maxime Philippeaux
Source: Marcel