With isolation and separation continuing to affect the creative industry, there is a sense that Blue Monday might impact people's mental health even harder this year. This is the driver behind the SheSays 'Blue Monday – Lighten The Load' campaign, which aims to support the SheSays community – and anyone else who needs it – by creating a supportive, non-judgmental online space for Blue Monday 2021.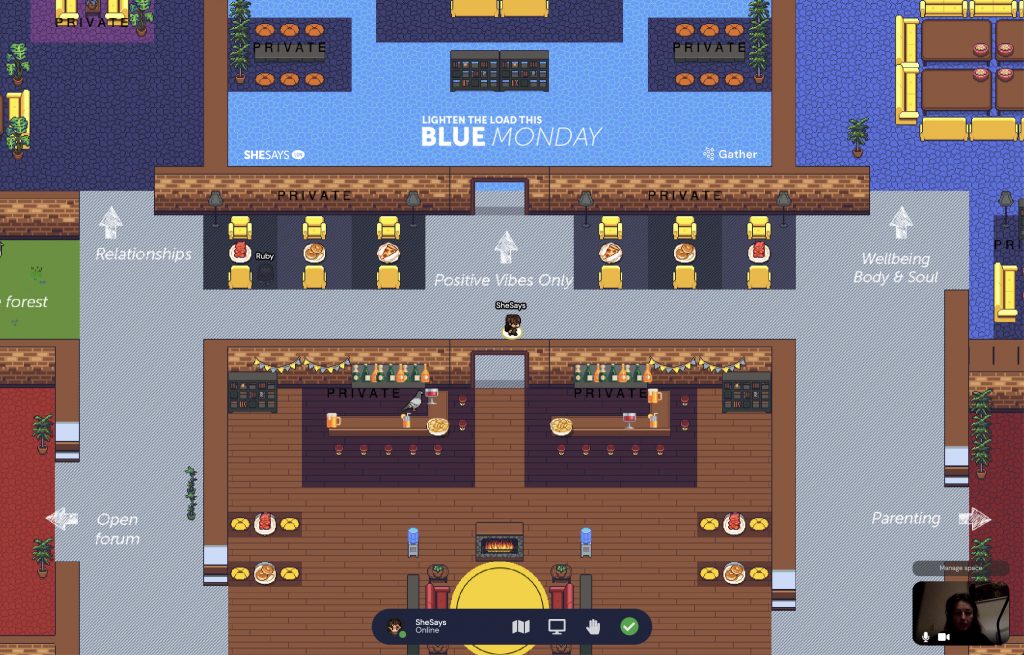 SheSays has always promoted supporting each other, so this Blue Monday they are offering a space to anyone, of any gender, who fancies a chat or even a little networking. They've got rooms for people to talk about everything from finances to parenting. Attendees can join the 'Positive Vibes Only' room for a #warmandfuzzy or have a good old moan in the 'Whinge Forest', and get it all off their chest.
To ensure their virtual space feels as authentic and inclusive as possible, SheSays have joined forces with new video-chat app and platform Gather. Gather is designed to be fully spatial, so that 2D avatars can wander around a 2D map and join (or leave!) conversations at will. If an avatar is near someone else's, a video chat window will open to facilitate spontaneous conversation that is more akin to real-life interactions. And with fewer people accidentally spilling their beer on you. What's not to like?
By choosing to host a 2D virtual event instead of relying on the usual video-conferencing tools that most remote workers are now familiar with, SheSays is aiming to facilitate more meaningful and real-world-style connection between community members, on a day where they might benefit from it most.
Joyce Kremer, UK President of SheSays said: With people more isolated from each other, mental health has become more important than ever before. We think it's important our community has a safe and non-judgemental space to chat and share how they're feeling. That's why SheSays reached out to gather.town, a really exciting new company who are creating virtual spaces to socialise more effectively online. It's kind of like The Sims meets the pub (but with fewer people spilling their beer over you) and we think it could really help people feel more connected at a time where they really need it." 


The SheSays virtual space on Gather.town will be open to the SheSays community, but also to anyone of any gender, who may feel in need of good conversation and a supportive, non-judgmental environment. Virtual doors will open at 18.00 GMT on Monday 18th January. Tickets are free and available through Eventbrite:
https://www.eventbrite.co.uk/e/shesays-lighten-the-load-this-blue-monday-tickets-136856025055
The Blue Monday virtual world will stay open after the event. So, if anyone at any time wants to chat to someone new, they can. 
Blue Monday – Lighten The Load was created by: Melissa Wong, Jayshree Viswanathan, Ruby Norman-Curran, Ewa Dominiak, Gareth Clarke, Deenisha Bhikha, and Joyce Kremer. 

Source: SheSays