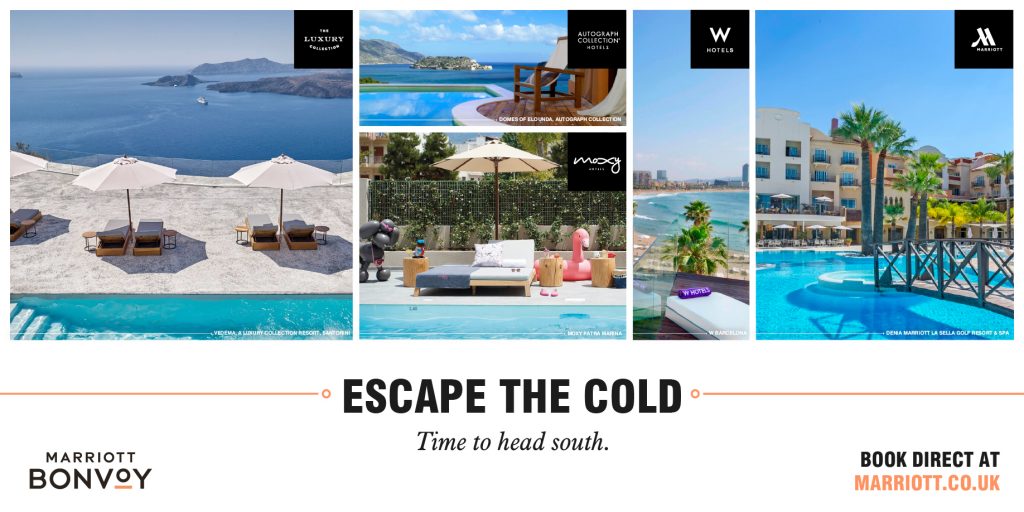 Publicis Media's bespoke client model Marriott 1 Media (M1M), has launched a new campaign for Marriott International using scented out of home and dynamic technology, tapping into moments when people are looking for escape from daily life.
Kicking off today – Blue Monday – the day labelled as 'the most depressing day of the year', Marriott's campaign is designed to get consumers thinking about booking their next holiday by bringing their portfolio of brands together to showcase the extensive range of hotels and destinations that are available to consumers as part of the Marriott Bonvoy travel programme.
Research shows that some of the biggest drivers of people booking a holiday is the idea of 'escaping something'. M1M used this insight to tap into key 'escape' moments including commuting and bad weather to drive their campaign. These escape moments are the centre of the plan, which is being carried out across out-of-home (OOH), radio, print, social media and digital.
As part of the OOH element, from the 27th January, Marriott is taking over Oxford Circus tube station, using all five tunnels in the underground with the added feature of various scents to match the key destinations being profiled and transporting commuters to their past and future dream holidays. For example, the advertising that shows Greece will have the summery scent of coconut, Dubai will smell of oud, while the image of Spain will give off the scent of sweet oranges.
The exotic smelling ads will also appear in print magazines. Audio, display and social ads will focus on connecting with consumers during the key escape moments using geo-targeting software in proximity to the OOH sites. This will be paired with dynamic creative to deliver relevant messages based on time of day and weather conditions. So when it's cold and raining outside, the creative message will reflect this and suggest somewhere warm for the consumer to fly to. This allows Marriott to engage with consumers during moments when they are looking for an escape from the daily drudge of winter and the January blues. It aims to provide true integration and connection between touchpoints using data and technology to enhance relevance of messaging to media and moment.
Christina Purnell, Senior Director, Performance Marketing – Europe, Marriott International said: "This campaign is the perfect opportunity for Marriott to reach potential travel bookers while they're on their daily commute. Research shows that 'needing to escape from something in your life' is one of the biggest triggers for people booking travel and holidays. January and February are the times when the post-Christmas and January blues are the strongest and we believe that the sensory experiences will trigger that desire for a holiday."
This is a European campaign and will run in the UK, France and Germany across all media channels from Monday 20th January for six weeks. M1M is responsible for developing the overall strategy, with PSI handling the planning and buying for OOH, along with creative agency Radical Path who designed the assets for print, social, digital and OOH. Publicis Media agency, Digitas UK, the connected experience agency, produced the audio creative, in partnership with A Million Ads, to deliver a dynamic element to personalise to weather, time of day and various different traveller profiles.
Source: Publicis Media