If 2020 has cemented anything, it's that real heroes don't wear capes; they wear scrubs.Allegheny Health Network (AHN) and Marvel Comics agree. Marvel, the iconic media brand, has collaborated with AHN to celebrate real-life healthcare heroes through a brand-new comic book, developed together with advertising agency Doner.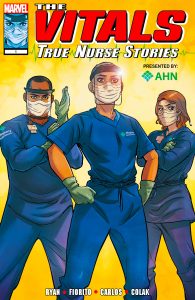 Today, AHN is introducing The True Nurse Stories, a new Marvel comic book about real-life nurses and their heroism. Each character and story stems from the experiences of real people who provide healthcare throughout AHN's 13 hospital facilities in Western Pennsylvania, serving as amalgams of the dozens of nurses who shared their stories.
"Throughout the COVID-19 pandemic, we have been in awe of the courage and resourcefulness of our nurses, who put their own health at risk to care for these vulnerable patients," said Claire Zangerle, DNP, Chief Nurse Executive, AHN. "We are so proud of them, and we want to make sure they know how much we appreciate their exceptional work. We hope that in seeing themselves as real Marvel Comics super heroes, they can take a moment to look back in pride on their exceptional work and compassion during an exceptionally difficult time for our communities." 
These comic books will be distributed throughout AHN hospitals and at recruiting events, with an e-reader available for digital distribution on Marvel.com. Additional campaign components include online video, social media, and cinemagraphs.
"At Marvel, we tell stories about heroes every day. But this story is special. It tells a story about our everyday heroes – the nurses and healthcare professionals working tirelessly and courageously to save lives." said Dan Buckley, President of Marvel Entertainment. "Along with AHN, we are honored to help tell these stories, which we dedicate to the real heroes who are saving the world."
As part of the campaign launch, a video was created featuring the children of AHN nurses describing their parents. When the children saw the Marvel comic book, it made for memorable and emotional moments.
"In our work with AHN, Doner has had a true insider's view into the world of first responders," said David DeMuth, CEO of Doner. "We've been continually inspired by the heroism and selflessness of the nurses we've met. Through this collaboration with Marvel, we've found a powerful and accurate way to bring to life the stories of these real-life heroes."
Source: AHN