For the second phase of their sponsorship campaign of The BRIT Awards 2022, Mastercard is giving the ultimate #ShoutOut to the next generation of The BRIT School creative talent – a unique free school that nurtures the creativity of 14- to 19-year-olds while they study towards a formal state education.
Using the diverse range of subjects they study at the school, from Film and Media Production to Interactive Digital Design, the class of '22 students were given the opportunity to interpret Mastercard's Sonic DNA in a range of different media: from films, to animations, to dances to costumes.
Along the way, the students were mentored by The BRIT School alumna and multifaceted creative Gemma Cairney, and the McCann team, helping them gain an insight into working in the creative industry.​
Their creative journey can be discovered on the Mastercard UK IG account, and their final work will be revealed in broadcast idents on ITV and in OOH around the O2 Arena during The BRIT Awards on 8th February.
Agnes Woolrich, Head of Marketing & Communications at Mastercard UK & Ireland, said: "Over the last two decades Mastercard has proudly celebrated the successes of artists at The BRIT Awards, and through our support for the Awards we have also championed the nation's next generation of creative talent too. So this year, we wanted to shine a light on the stars of tomorrow, and through our #ShoutOut campaign, give students at The BRITs School a platform coupled with British music's biggest night of the year. We're proud to be connecting creative talent to Priceless possibilities."
​Ciara O'Meara, Creative Director & Managing Partner at McCann UK, said: "We are beyond delighted to have been able to give this opportunity to the immense talent inside The BRIT School. Each and every one of the students were a joy to work with it. It was heartwarming to see how excited and passionate they all were about being given this challenge. As for their work, it speaks for itself – it's fantastic."
​
The campaign idea was by Amy McGowan and Georgina Devonport at McCann with film and poster artwork by The BRIT School students. All films were directed by Blake Claridge for Craft. Media by Carat, with social implementation by Big Group.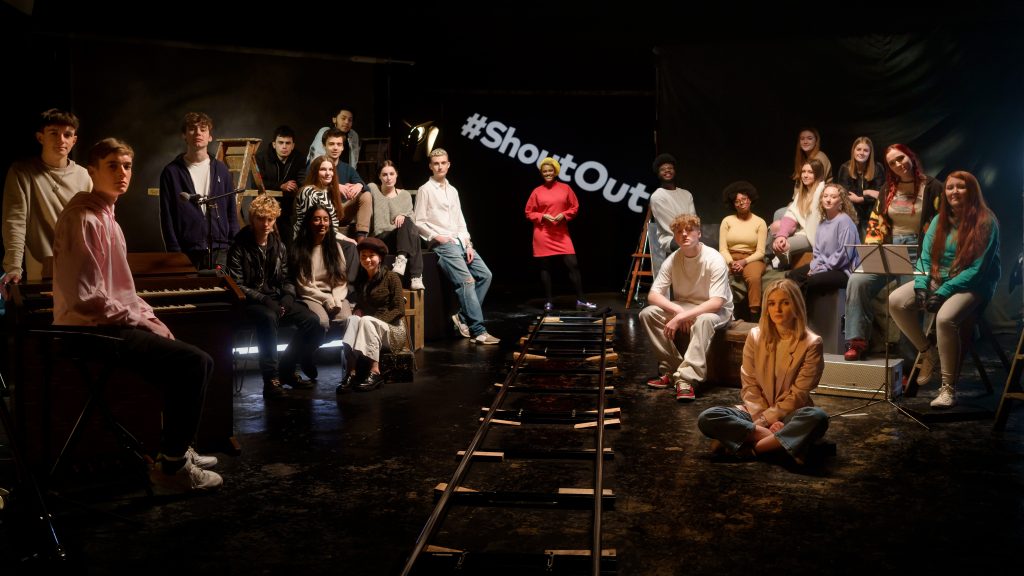 BRIT School student credits:
OOH:
Theo Craig, Jack Moreland, Felix Mintah-Boapeh, Jada Thompson, Shaniya Mohammed, Elizabeth Dada, Branden Doughty, S. Law, Daisy Potter, Ruby Elms, Dominic Shah and Lanna Pereira Da Silva.
Film:
Chloé Vaughan, Seren Spurgeon, S. Law, Sam Hillier, Max Glegg, Alex Shepherd, Holly Fernandes, Emily Tran, Branden Doughty, Luca Wood, Jack Lloyd, Jay Lynn, Leona Mae, Jess Vousden, Ruby Wardlow, Polly Dunne, Annie Pinder, Lottie Hawkins, Melody Weston-Shaw, Leia Harrington-Coye, Leighton Price, Evania Woolnough, Rhys Else, Joanna Nortey and Nathaniel Moses-Lindsay.
Production Credits:
Creative Director: Ciara O'Meara
Art Director: Amy McGowan
Copywriter: Georgina Devonport
Designer: Jason Liu
Head of Design: Karl Cacchioli
Business Director: Claudine Gueriaux
Account Director: Kris Chay
Senior Account Manager: Valdo Dos Santos, Antonella Bartalotta
Project Manager: April Forsyth
Strategy Director: Gary Armitage
Head of Social: Kate Evans
Production Company – Craft Worldwide
Head of Integrated Production – Sophie Chapman-Andrews
Director – Blake Claridge
Lead Photographer – John Martin
Photographers – Rob Lozano and Yiannis Katsaris
Executive Producer – Alec Christie
Senior Producer – Zara Balfour
Creative Producer – Dan Skinner
Stills Producer – Julie Hughes
Senior Print Producer – Liam White
Print Producer – Bill Greenwood
Producer – Zakiya Petty
Head of Post Production – Pedro Pinto
Post Producer – Francisco Penedo
Business Affairs – Hayley Littlewood
Director of Photography – Catherine Derry
Production Designer – Ruta Staseviciute
Art Director – Paul Zabhi
Production Manager – Jo Fogarty
Music & Talent Supervision – Freckle Music
Hair – David Wadlow
Make up – Charlene Williams
Stylist – Laura Parke
Editors – Matt Dollings, Andy Williams and Carrie Skinner
Documentary editors – Marvin-Jay Alvarez
VFX – Ray Merritt and Jamie Rathbone
Colourist – Jessica Vile @ Vile Colour and James Gilmore @ Pollka Post
Sound Engineer – Will Frances
Source: McCann London