Agency veterans Jeanette Palmer and Lizzi Weinberg have become the newest Partners at NAIL Communications, according to Managing Partner Jeremy Crisp of the advertising, design, and branding agency.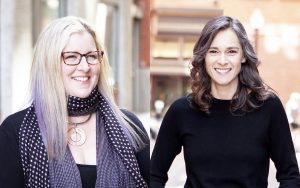 Weinberg, who joined the firm in 2007 as NAIL's first producer, will oversee process and performance initiatives for the agency. Her previous roles include stints as Head of Production and Managing Director for NAIL, and as a manager for Pixar.
Palmer, who joined the firm in 2010, will continue to bridge the internal and external worlds of the agency where no two challenges are ever the same. As a partner, Palmer will lead business development, strategy and partnerships. Her previous positions were as Managing Director and Head of Client Services for NAIL.
"Much of our evolution as a business has been helped hugely by Lizzi and Jeanette, who have imagined and introduced new standards at NAIL, especially regarding how we run our business. They've independently been important influences in our agency direction, but even more impactful when working together," said Crisp.
Source: NAIL Communications