HERC the agency has had the honour of repositioning, restructuring and redesigning the brand Jobbird.com from scratch. Today sees the official roll-out of the '100,000 fantastic normal jobs' campaign for the job vacancies website.
The owners of recruitment agency YoungCapital acquired Jobbird at the end of 2018, seeing international potential in the brand, convinced they could run it in their own distinctively bold way.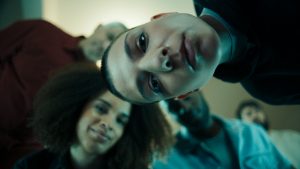 HERC is now breathing new life into the relaunch of Jobbird.com with an unmissable 'diverse' campaign that places the focus on normal work: Over 100,000 fantastic normal jobs. / Jobbird.com / Jobs. Not birds.
At a stroke, it transforms Jobbird.com into the Levi's jeans of job-vacancy websites, as the client and agency join forces in making an important statement about society: normal is just fantastic.
Something different
Rogier de Bruin, Creative Director and co-founder of HERC: 'In an age when everyone has to be extraordinary and wants to become an influencer or travel photographer, our campaign pays homage to normal, everyday work. It's actually quite fantastic. You make a living from it – what could be more important than that? With almost every other player in the employment market focusing on standing out from the crowd and personal career development, it's time for something different.
Diversity is also a key feature of this colourful HERC campaign, both in terms of its creators and the casting. In this sector, diversity is yet to become fully normalised, unlike in real life.
'The cinematography reflects the high-end style of Netflix and HBO series, as part of our effort to make the normal into something special. The young and talented director of the ad, Sharif Abdel Mawla, also makes films and music videos. That's a good match for our agency, and our attempt to connect with popular culture – a culture that just happens to be shared by large numbers of people in very normal jobs.'
Carte blanche
Niels Heimens, Account Director and HERC co-founder: 'What makes this campaign particularly special for us is the fact that we had the opportunity to build the new Jobbird.com brand from scratch, from brand strategy and visual identity through to an international campaign. That's a dream for an agency like ours. It's very rare to be given carte blanche in this way.

It was also an expression of confidence in our abilities, which is always a good sign. In any case, the owners of Jobbird.com and YoungCapital are bursting with confidence and ambition. That's reflected in this campaign – we don't pull any punches, it's a campaign brimming with self-confidence.'
Conquering the world
Margriet de Kroon, Marketing Director for Jobbird.com and YoungCapital: 'YoungCapital already has around twenty job boards for students and other niche groups, but wanted to expand our portfolio with a more general job board targeting a wider group of people. Jobbird.com had already made a name for itself, but was still not sufficiently distinctive for us. Research revealed that all job boards actually tend to opt for safe colours and place the emphasis on the "right match", when they're ultimately all really just offering jobs. It's for precisely that reason that we opted for a characteristic, distinctive brand identity.'

She laughs: 'Fortunately, creating work of extraordinary impact is just a normal day's work for HERC and they've done a fantastic job – they've managed to visualise these "normal" jobs really successfully in the film, outdoor ads and online.

Ultimately, the aim of the campaign is to achieve genuine international appeal. We're starting in the Netherlands, but will soon also be launching in Germany before aiming for an international roll-out. With this eye-catching style and campaign, we're ready to conquer the world with Jobbird.com!'
Source: HERC