Launching on World Heart Day (29th September) and continuing into October to raise awareness for National Cholesterol Month, Benecol, the No 1 cholesterol lowering product, has partnered with Heart, the UK's biggest commercial radio brand, to encourage the nation to get tested and find out their LDL-cholesterol number.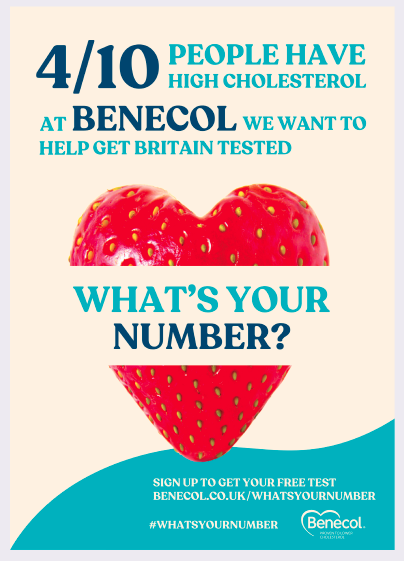 Elevated LDL-cholesterol (the bad cholesterol) is a risk factor in the development of coronary heart disease, which affects approximately 4 in 10 adults in the UK, with 23 million Brits unaware as there are no visible symptoms of high LDL-cholesterol.
As part of Benecol's® new national heart campaign, Heart presenter Zoe Hardmanwill encourage radio listeners to visit the Benecol® website where they can register for a free Medichecks test to identify their LDL-cholesterol number. I In addition, they can learn more about the Benecol range, how to lower cholesterol and find tips on how to maintain a healthy heart and win a fabulous wellness prize.
The 5,500 free tests have been developed in partnership with Medichecks and are available on the Benecol® website* to help raise awareness of this silent disease and get the nation tested to know their number. Tests are easy to perform at home and results take just a few days. Once you know your LDL-cholesterol number, you can take action to lower cholesterol levels, or keep them in the healthy range. Tests are also easy to access at pharmacies and via your GP surgery.
The new national heart campaign launches on World Heart Day (29th September) via PR, digital and across broadcast on the Heart network, as well as being supported by social and influencer activation, to drive awareness and buzz across multiple channels, throughout National Cholesterol Awareness Month.
Benecol® has a great range of delicious tasting products that contain a unique ingredient, plant stanol ester, which is proven to lower cholesterol. By introducing Benecol foods into your diet and having a regular exercise routine, you are in a better position to lower your cholesterol in just 2 to 3 weeks.
Sneahmoyee Banerjee, Brand Manager at Benecol® comments; "We're hugely excited to be partnering with Heart this National Cholesterol Month and launching the #Whatsyournumber campaign with them on World Heart Day. This is a really important issue, with approximately 4 in 10 adults in the UK living with high cholesterol, with sometimes no visible symptoms. Our research suggests that this silent disease is often something that gets forgotten about or goes unnoticed. Our goal is that this new campaign will help to address this and raise awareness
"Benecol® wants the nation to get tested and know their cholesterol number so that they can make healthy diet and lifestyle changes to lower it if needed. As well as supporting the nation's health, we also hope this campaign will help to grow the cholesterol lowering category and encourage younger, more health-conscious audiences into taking action earlier to address their heart health."
Catherine Tilson, Head of Business Development at Medichecks comments; "We are pleased to be partnering with Benecol to distribute over 5000 free cholesterol testing kits. We're helping to shine a spotlight on this important heart health issue, as high cholesterol is often overlooked as there are no visible symptoms. The free tests can be easily accessed via the Benecol website, with results provided within a few days. So, if your number is higher than you expected you can start to make changes to your diet and lifestyle straight away."
Join Benecol® and Heart this October, to discover what your number is and take control of your cholesterol for National Cholesterol Awareness Month. Benecol® is encouraging the nation to join the conversation by telling us their number on the Benecol® Instagram page or tagging us & using the hashtag in your stories to help raise awareness of this important topic! #whatsyournumber.
For more information on cholesterol, coronary heart disease and how to lead a healthy, cholesterol-lowering lifestyle, visit the Benecol® website to download the 'Keeping Your Heart Happy' patient information booklet for free.
Source: Benecol