The campaign is a joint project of the nature conservation organisation WWF Germany and Publicis Groupe Germany, together with partners Max Penk, Blockchain Advisory & Consulting Robin Hellmann, Meet Pablo, Moonpay, Polygon, Unifty, Moonwolf, the Digital Artist, and Charles-CMO Etienne Kiefer.
Using blockchain-based Non-Fungible Token (NFT) technology, which has become popular in the art market in recent months, WWF is offering the artworks of ten international artists for free sale, including Bosslogic, Freehand Profit, Eric Peters, Lea Fricke Romulo Kuranyi, and Etienne Kiefer. They were all inspired by endangered species: each of the crypto-art works represents an animal threatened with extinction. The number of works for sale is accordingly limited to the number of recorded specimens of the species still living in the wild. The works are unique, limited-edition virtual collectors' items for which a digital, non-exchangeable certificate of ownership is purchased via an NFT. The proceeds from the sale benefit WWFprojects to protect endangered species. For the so-called sourcing of the cryptos, a special token within the blockchain "Polygon" is also used, which has a drastically lower energy consumption – especially compared to other tokens – and is thus sustainably more environmentally friendly.
Within the framework of the joint project, the agencies of Publicis Groupe Germany worked together entirely in the spirit of the Power of One idea. Saatchi & Saatchi stands for the creative idea behind the project and took over the development of the communication for various channels. Digitas Pixelpark developed the campaign website, which, in addition to all information about the campaign, above all allows the direct purchase of the NFTs directly on the campaign page without having to switch to the usual platforms. This means that not only crypto experts but also crypto novices can buy the WWF NFTs and make their contribution to species conservation. MetaDesign developed a corporate design, especially for this special project. The experts at MSL are responsible for strategic campaign messaging as well as PR, media relations and networking with influencers and opinion leaders.
Dennis May, Chief Creative Officer Publicis Groupe Germany: "This project is exciting on so many levels: the core idea, protecting endangered animals, is highly compelling. The artworks works from young talents to renowned digital artists are simply fantastic in their creativity and diversity. And the collaboration in a large team of different agencies and external partners is absolutely great. So it's not just an idea that has been created, but a shared spirit for a common goal."
"As WWF, we have a supporting role in social education. We want to show how close we are to the irreversible extinction of various species on this planet," Eberhard Brandes, CEO of WWF Germany, describes the aim of the campaign. "The NFA campaign will help to support our worldwide projects for these endangered animals and to preserve them in their natural habitat."
The official sale of "NFAs: Non-fungible Animals" starts on 2 November at 2 pm.
A preview of the artworks for sale and further information are available at wwf.de/nfa.
Art Work and participating artists:
1st animal: Vaquita | Artist: Lea Fricke
As an artist with a passion for marine biology, Lea has a very close relationship with nature and its inhabitants. The motifs in the artwork of this young talent from North Rhine-Westphalia also always stem from the sea. With her passion for nature combined with her outstanding talent, Fricke creates impressive and unique works of art.
2nd animal: Amur Tiger | Artist: Freehand Profit
Gary Lockwood, better known as Freehand Profit, is a Los Angeles-based artist who has been exploring issues of identity and materialism since 2010 by creating over 200 unique masks. These masks, often gas masks and usually made from iconic trainers, reflect a balance between the celebratory aspects of our humanity and culture, and an awareness that we are in a warring world plagued by injustice, oppression, and environmental degradation.
3rd animal: Mountain gorilla | Artist: Eric Peters
Peters is not only highly traded on the German art market but also on the US art market, among others. His work is characterised by great intensity and depth. Regarding the WWF campaign, he is already familiar with his subject: he painted ape backs for 2 years and published them in the volume, "Is there a future for the gorilla without man? (1994).
4th animal: Bushman Rabbit | Artist: Rocket & Wink
Rocket & Wink make design, art & awesome stuff. Since 2011. And still don't know how to lose the fun in the process. Because they just love to tease ideas out of things, build packages around things and think through design as a thing. Anyone who wants to snatch a piece of their soul is welcome to do so in their online shop. If you want to work with them, slip a confidential email under the door. On the other hand, if you just want to see their work, just open your eyes: they are in this world.
5th animal: Cross River Gorilla | Artist: Andres Ribon
The 24-year-old Ribon is one of the biggest rising talents on the Colombian art scene. With his committed and inquisitive attitude, he is a perfect match for the WWF campaign. For him, this is the first gorilla he has depicted with his art.
6th animal: Giant Panda | Artist: Romulo Kuranyi
For the artist, who comes from Brazil, the focus is always on telling emotions. His art is characterised by a pop art of heads and emotions and the recurring smiley motif and is reminiscent of the young Keith Haring. He is always eager to experiment and recently painted a Bugatti completely with his motifs.
7th animal: Baltic porpoise | Artist: Anna Rupprecht
Anna Rupprecht comes from Germany and is currently making a big name for herself in the field of illustration – one of the currently fast-growing metiers in art. The artist is not only extremely talented but also very fond of animals.
8th animal: Persian Leopard | Artist: Bosslogic
Hailing from Melbourne, Australia, Kode Abdo aka BossLogic is one of THE players in the "NFT Game". After humble beginnings creating "fan art" and posting on social media, he is now regularly commissioned by Marvel and DC to create artwork for their films. His NFTs regularly fetch 4, 5, and 6 figures. He loves animals and is proud to be part of this project.
9th animal: Giant Ibis | Artist: Vinzent Britz
Vinzent Britz is a Berlin-based art director and digital artist who focuses on computer-generated still and moving images. He combines abstract and photorealistic elements to create visual compositions in 2D and 3D.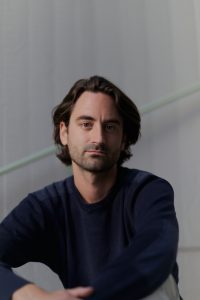 10th animal: Saola | Artist: Etienne Kiefer
Etienne is a digital artist and creative, always on the lookout for the latest technologies. With his art, he wants to depict the beauty of nature and technology in the future. 3D programs and computer games have always fascinated him. NFTs are the technology that ushers in a new era of owning digital art and giving it meaning. His motto: Let's use it for something good and help endangered species.
Source: Publicis Groupe Germany