Organic, the multi-award-winning entertainment communications agency that sits within Havas Entertainment, today announced several significant new hires and promotions in a move to cement the agency's position as a market leader in all areas of film and television publicity and social media.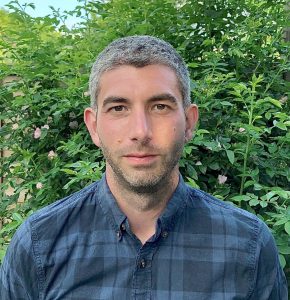 Ryan Davies takes up the newly created role of 'Head of Television', further strengthening Organic's specialism in full-service comms for the TV industry. Davies brings with him over 15 years of experience working across the creative industries, seven of which were spent at Channel 4 Television where he was responsible for the strategy and execution of publicity campaigns across Channel 4's scripted portfolio.
Most recently, working as an independent consultant, Davies managed the publicity campaign for Russell T Davies' seminal drama It's a Sin, and is currently working with SISTER on the BBC's highly anticipated adaptation of Adam Kay's This is Going to Hurt.
Whilst at the public service broadcaster, he headed up the scripted PR team, overseeing all consumer publicity campaigns across the drama and comedy slates, which included: James Graham's timely, noisy and politically-resonant film Brexit: The Uncivil War starring Benedict Cumberbatch; Jack Thorne's 4-part series Kiri, starring Sarah Lancashire, which rated as the most-watched drama for Channel 4 since modern records began; Shane Meadows' powerful and deeply-personal drama, The Virtues; Will Sharpe's BAFTA and RTS-nominated singular, cinematic and complex study of mental health, Flowers starring Olivia Colman and Julian Barratt; and the biggest Channel 4 comedy launch in 15 years, the outrageous, straight-talking Derry Girls. He also managed the launch campaigns for Jack Thorne's BAFTA-winning series National Treasure starring Julie Walters, Robbie Coltrane and Andrea Riseborough; epic 10-part period drama Indian Summers, also starring Julie Walters and Channel 4's biggest drama launch in 10 years at the time; the second series of Michaela Coel's BAFTA-winning hit comedy Chewing Gum; and the Emmy and Golden Globe-winning series Fargo, among other shows.
Davies will report to Organic's Managing Director, Caragh Cook who said: "Ryan joining our team feels like a huge milestone for Organic. Ryan is an extremely talented television publicity specialist with excellent taste and a genuine passion in forging strong relationships with filmmakers and stakeholders. He has a vision that is perfectly aligned with Organic's ongoing commitment to creating meaningful and lasting relationships with our clients and the creative talent we work with."
Commenting on his move to Organic, Davies said, "It's an incredibly exciting time to be joining Organic, and I'm beyond delighted to be part of a team (not just one of the smartest and most creative, but also one of the nicest, in the business) which so closely shares my ambitions, passions and sensibilities. I love TV, and I love working with the creatives and talent who make it, and I cannot wait to play my part in this exciting new chapter at Organic alongside Caragh, Tristan, Christina and everyone else in the team."
The hire of Davies comes 18 months after the appointment of respected senior television publicity consultant Christina Joyce, previously of Premier PR and BBC Drama. In the new look leadership team, Joyce becomes Executive Director, overseeing the development of Organic's broad television offering. Davies will work closely with Joyce continuing to build a stable of clients and a team that offers the very best possible services in publicity and social strategy for TV content across all forms of linear channels and streaming services. The team also recently recruited TV publicity specialist Jenny Heaton (previously Channel 4 and Fremantle) who joined as Account Director earlier this year.
Across the Atlantic in Organic's LA office, Kirsty Langsdale steps up to 'Senior Vice President, Global Publicity', leading Organic's international offering which straddles both film and television. The recent recruitment of Account Manager Nida Karnani – formerly Participant Media and Sierra/Affinity – to the LA office, marks the start of a period of growth for the agency in the US with further hires planned for 2021. Senior Account Director Alice Taylor, previously Media Communications Manager at Disney + oversees the London-based team which includes Senior Account Manager, Dheeraj Agnihotri. Organic's International team has in the past six months expanded from a team of three to eight and offers an around-the-clock service to clients from offices in LA and London.
Becky Palmer, who recently celebrated 10 years of service at the agency, has been promoted to 'Head of Film' responsible for leading the UK film publicity business. Working closely with Palmer, Gill Littler will step up into the role of Associate Director and will oversee much of the agency's digital/influencer focussed work.
Other recent changes to Organic's senior team includes the promotions in the UK PR Team of Will Taylor to Senior Account Director; Hannah Golanski to Senior Account Director; Hannah Dowle to Account Director and Chris Boydto Account Director and in the Social Team, Oli Goldman to Account Director. Cook continued: "Our recent promotions have helped to create new pathways for the broader team to develop their careers with Organic whilst providing multiple doorways for new and diverse talent to enter our industry and begin their careers at entry."
Managing Partner, Tristan Woods-Scawen continues working closely with Cook leading on business development and strategic growth. Cook concluded: "In the past 5 years, thanks to the work of our incredible senior team – Tristan, Becky, Kirsty, Gill and more recently Christina – our business has evolved and Organic, which was once almost exclusively comprised of film specialists, is now a much truer reflection of the entertainment landscape, in which the lines between television and film are more blurred than ever. We can offer the deep expertise that is needed to deliver creative, ambitious and innovative PR & social campaigns for entertainment brands and film and television content in all its many genres and formats."
CEO of Havas Media Group, Patrick Affleck, said: "Organic have had a stellar year and continue to go from strength to strength. Bringing in and promoting outstanding talent is key to our ongoing success, growth and investment in Organic and, more broadly, Havas Entertainment."
Organic's recent TV credits include: BAFTA award-winning Peaky Blinders; critically acclaimed BritBox UK Original The Beast Must Die starring Cush Jumbo and Jared Harris; The Edinburgh TV Festival and the hugely successful social media campaign for Caribbean crime drama Death In Paradise. Current projects in production include British remake of the celebrated French hit, Call My Agent! for Bron Studios and the highly anticipated upcoming BBC dramas Chloe by Alice Seabright and Sherwood by James Graham.
Organic's recent film credits include:  Promising Young Woman; Cruella; Army of the Dead; Raya and the Last Dragon; In The Heights; The Father; Minari; Mank; Judas and the Black Messiah; Antebellum; Limbo and Another Round.
Source: Havas Entertainment