British racing driver Jenson Button today swapped the F1 paddock for fried haddock as he took the wheel of Santander's unique scam-busting Phish & Chips van and served fresh fish and chips to the public in exchange for phishing emails and smishing texts. 
As Santander's brand ambassador, Jenson is throwing his weight behind the bank's national campaign to help the public avoid being scammed by phishing emails and smishing messages.
Jenson fired up the friers of the Phish & Chips van as it made its appearance in London, following a month-long nationwide tour visiting Manchester, Liverpool, Birmingham, Leicester, Glasgow, Leeds, Cardiff and Bristol. 
During the tour, the Phish & Chips van, which accepts payment in the form of phishing emails and smishing texts, has handed out over 3,000 portions of fish and chips to the public, along with a side of advice on avoiding the tricks criminals' use in their attempts to steal people's money and identities.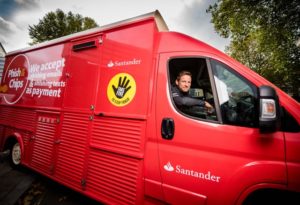 On his honorary new role as a scam fighting, itinerant purveyor of fish and chips Jenson Button said: "Being behind the wheel of the Phish and Chip van around London was certainly a different driving experience! It was a lot of fun being part of the tour and serving fish and chips to the public in exchange for their scam emails. It's been eye opening to see how many people receive these emails every day!"    
The Phish & Chips van was created following research showing how the nation is in the grip of a phishing epidemic, with a staggering three quarters (74 per cent) of Britons targeted by scammers with phishing emails, smishing texts and vishing calls. With each person targeted receiving an average of 16 fraudulent emails, texts or calls last year, this means up to 600 million phishing, smishing and vishing attempts potentially took place in the UK in the last 12 months (the equivalent of over 1.6 million scam messages each day).
While 'phishing' as a term may have entered the mainstream lexicon, Santander's research shows that one in seven people don't know the terms phishing, smishing or vishing at all, while almost three quarters of people are not fully familiar with their meaning5.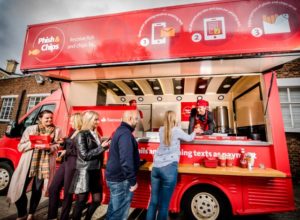 Reza Attar-Zadeh, Head of Customer Experience at Santander UK, commented: "Santander takes the fight against fraud very seriously – we have seen the life changing 
impact it can have on people's lives.  Consumer awareness is absolutely key to tackling what is currently one of the biggest threats to the security of people's finances. 
"Our Phish & Chips van is a way of delivering our three key fraud prevention messages in an engaging way while educating people that both banks and consumers have a role to play in keeping the fraudsters at bay."
 In addition to dishing out fish and chips, Santander UK is serving up its top tips and advice on avoiding becoming a victim of phishing scams:
·       Never share your Santander One Time Passcode (OTP), PIN number or online banking password with another person, not even Santander staff;
·       Never download software or let anyone log on to your computer devices remotely during or after a cold call; and 
·       Never enter your online banking details after clicking on a link in an email or text message.
 Reza Attar-Zadeh added: "Phishing has been around for a number of years, originating with emails that were unsophisticated and obviously fraudulent. However, today phishing emails have evolved. They can appear in inboxes as convincing and genuine communications from consumer brands, but there are signs to look out for such as spelling mistakes, generic greetings rather than your name and suspicious looking email addresses."
Source: Santander