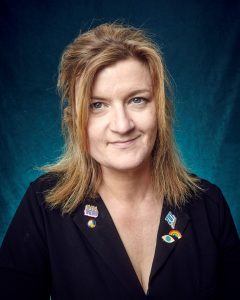 R/GA London announces that it has hired Fern Miller, one of the industry's most exciting & experienced strategic leaders, to lead its strategy department as its new Executive Strategy Director. In her new role, Fern will be responsible for building a team of diverse talent, evolving and leading the vision for the strategy department, and driving both transformational and human-centric work for its clients. Miller previously held the position of Global Chief Strategy Officer at Native Design, before establishing her own consultancy prior to joining R/GA. As a key new member of the agency's executive leadership team, she will report to Rebecca Bezzina, SVP Managing Director R/GA London.
As a senior collaborative and strategic partner for clients, Fern will play a key role in delivering on R/GA's purpose of helping design brands and business for a more human future. With an extensive career in strategy spanning creative, brand, consulting, digital and service design across global markets over the last two decades, Fern brings to R/GA a wealth of experience in leading industry thinking that plays at the intersections of culture, brand and technology. She joins R/GA London at a time of exciting expansion and evolution, with the agency once again back to delivering industry-leading & award-winning innovative work on a global scale.
"Fern has an incredible track record of inspiring culture and leading transformational change for the brands and businesses she partners with – so she is an excellent fit for R/GA" said Rebecca Bezzina, SVP Managing Director R/GA London "She's a natural disruptor, so her experience will play a big part in how we continue to help our clients, and our people, navigate disruptive trends in technology such as the evolution of hybrid-working and rapid acceleration of Web 3"
"After many years of admiring and envying R/GA's work from afar, I'm absolutely delighted to be joining Becs and the amazing team she's assembled there" said Fern Miller, Executive Strategy Director R/GA London "I'm especially excited to be joining at a time when there are so many new and emerging opportunities to enrich people's lives through the creative use of technology"
Prior to joining R/GA, Fern established her own consulting firm, after previously holding the roles of Global Chief Strategy Officer at Native Design and Partner at Grey Consulting respectively. With over 20 years experience in creating growth, Fern has led global brand, advertising and digital design strategies, leading multidisciplinary teams for UNICEF, Astra Zeneca, Costa Coffee, Nestle, Sky, Kelloggs, Comic Relief, Mumsnet and many more. She has been named a BIMA Top 100 digital influencer and one of New Digital Age's "Digital Heroes", while shehas also appeared as a regular commentator in the media, previously being a Campaign Magazine tech columnist, and has been a regular speaker on brand and technology trends at various industry events including DMEXCO, Engage, Silicon Beach and Reuters' Pharma 2021.
Source: R/GA London