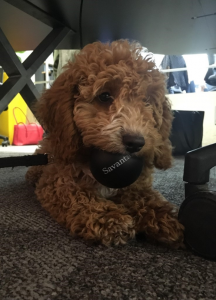 Intelligence specialist, Savanta , is celebrating 12 months in business as it announces a new policy of unlimited holiday for all of its 286 staff. The agency also joins The Walt Disney Company and Legal & General as one of the five Employer Initiative Award finalists in the forthcoming Inside Out Mental Health Awards.
"The biggest achievement of our first year has definitely been developing a brilliant team," comments CEO Roger Perowne. "Our new limitless holiday initiative reflects that. We have an international staff with a shared DNA, and right from the start we've ensured mental wellness is at the heart of everything we do. We set up a Health & Wellbeing Committee at launch and it's been active throughout the year."
Launching in February 2019, Savanta was one of the first agencies to sign up to the MRS CEO Pledge; Perowne, Dr Nick Baker and Vin DeRobertis all added their names ahead of its April launch. The Pledges includes publishing pay statistics annually, working towards government targets at all levels and improving recruitment practice.
Shortly after launch, Savanta also introduced its very first Mental Health First Aid scheme and subsequent resources including: self-help assets available to all global employees and a new Employee Assistance Programme with a 24 hour, 7 days a week helpline.
Savanta sponsored two of its employees to become Mental Health First Aiders (Annie Buchanan Kilbey, HR Advisor and James Eldridge, Director, Data Services and Product Operations) who were trained in March 2019. By April, Savanta launched an organisation-wide campaign to raise awareness.
Over the course of the year, Savanta has also launched a number of committees to support the wellbeing of its employees and a great tool for its mental health first aiders. These include: Health & Wellbeing; Social, Charities & Volunteering and Diversity & Inclusion.
Further initiatives include a Women's Day, held in conjunction with The Women's Association, championing women on all levels from across the business; a Pride Awareness Week, a walking initiative which saw 50+ employees get involved, with the top walkers averaging 20,000 steps a day, and a 'dogs in work' event, as pets have been proven to reduce stress.
Savanta also acknowledges that wellbeing is affected by factors such as diet and physical activity – both of which can go awry whilst at work, especially in a sedentary job – so the company has been working hard to introduce internal initiatives which cover a range of wellbeing areas, including:
Supply of fruits and nuts in the office, available for everyone to eat, free of cost
Clubs hosted internally including yoga, running, football, netball and a book club
Health and Fitness week, where a personal trainer and wellbeing advisor gave some practical classes and tailored stretches for office workers and advice on general wellbeing and diet
Savanta was launched to offer a boutique approach whilst operating at scale. It works out of five offices globally, with clients from over 40 territories. Headcount has grown by 30% to 286 staff over 12 months, and Savanta's Americas presence has doubled in size. In its first year the company has also made three acquisitions – most recently ComRes (now Savanta ComRes) as well as HSR Associates and Wealth-X.
As well as the Inside Out Awards shortlisting, the agency has also received four other award nominations – for Operational Excellence, B2B Research, Breakthrough Business of the Year and Financial Services Research, the last of which it won for its work with RBS. Over the past twelve months it's also been named number one fastest growing individual agency (Market Research Society (MRS) industry report).
Perowne continues: "Our belief is that the best tech should be combined with a pursuit of excellence, and our flat structure means talented people with all levels of experience can shine. Our cornerstone is our suite of proprietary products – like BrandVue and MarketVue – which help to inform and inspire better decision making for businesses, across a range of verticals, such as retail, eating out, finance and charity."
Savanta is part of the Next15 Group.
About Savanta
Savanta provides the intelligence that underpins better decision making.  With five global offices and 286 staff, we bring the benefits of scale.  But with us, it's personal.  Our specialist Practices with their deep expertise and nimble teams built around individual clients make the Savanta experience feel more like working with a smaller, 'boutique' agency. Savanta offers clients a full range of intelligence services, including:  
         Bespoke research – tailored solutions built using specialists from Savanta's Industry and Methodology Practices  
         Data collection and analysis – access to 100 million respondents through a proprietary technology platform  
         Intelligence products – including the BrandVue and MarketVue reputation tracking solutions  
Source: Savanta