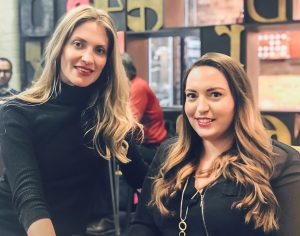 Motivated by regular enquiries for low cost, online profile building from startups and small businesses, Brandlective and Seymour PR have collaborated to launch the Profile Kickstarter package.
Bringing leading digital marketing and public relations expertise to the mix, founders Stacey Kehoe and Carie Barkhuizen are passionate about helping businesses build a profile online, regardless of size.
Carie Barkhuizen, founding director at Seymour PR comments: "It was a lightbulb moment when Stacey and I realised we had the same problem to solve. Collaborating to service the countless enquiries we both experience was a no brainer. "By merging storytelling knowhow and world class digital expertise we were able to create a package which delivers entry level profile, at an entry level price."
Stacey Kehoe, founder at Brandlective comments: "You are who Google says you are. People will decide to meet you, or sign off a deal based on what Google has to say about you. Fact. What's worse than having a negative presence online is having no presence at all. But for startups and small businesses, it takes time and know-how to ensure Google is saying the right thing, to the right people.

"Our new Profile Kickstarter service focuses on placing features with online media outlets, with the objective to dominate Google search results. This is not about being featured on Forbes or the FT. This is about ensuring a search of your name creates an impressive first page of results."
The new service, which launches this week, requires a minimum three month commitment at £795 per month. For more information click here or message us here.
Source: Seymour PR