Studio.co.uk has launched its Christmas brand ad campaign voiced by actor and TV personality, Joe Swash.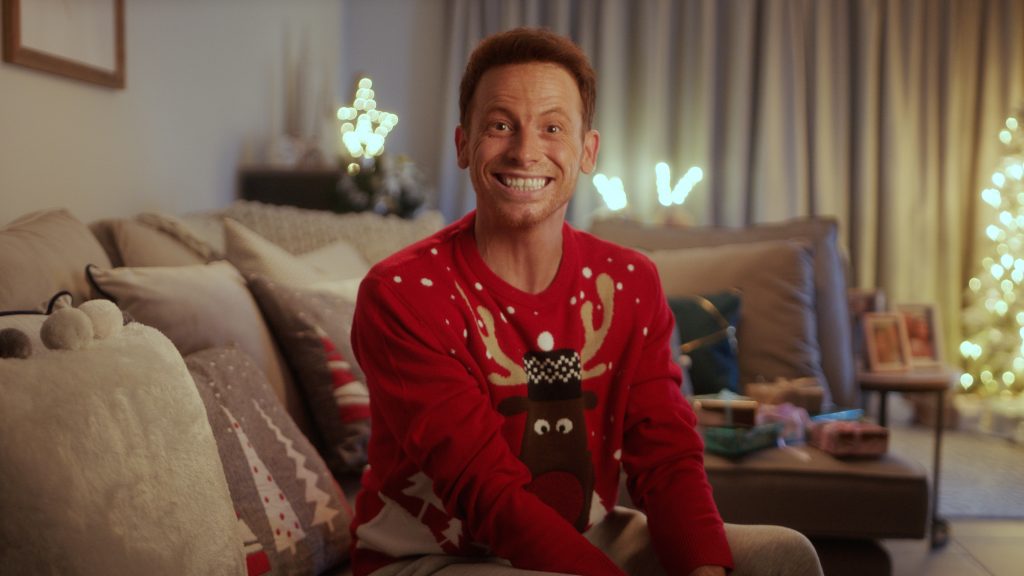 The campaign, developed by the MediaCom North Group, with campaign and partnerships developed by its Creative Systems division and brand ad created by creative agency Cheetham Bell, kicks off with a series of 30" ads across TV, showcasing the brand's Christmas range, including outdoor decorations, homewares, tableware, gifts and fashion. These ads continue up until December, with further content introduced, including a series of ITV co- branded ads showing Joe getting ready for the festivities and being part of the #TeamEarly squad.
The activity will be supported across Digital, Email, Social and a squad of #TeamEarly influencers throughout the season who will support the competition for customers to win £1,000 in Studio.co.uk vouchers at three separate occasions across the season.
Studio.co.uk is also partnering with Global and the UK's biggest commercial radio station, Heart, promoting #teamearly with a series of Christmas promotional activity, social and sponsorship.
The Accrington-based online value retailer's ad is this year championing those who want to get Christmas sorted in good time, by joining #TeamEarly. Studio's customer insights have uncovered a whole army of Christmas fans who are keen to get their shopping done early, so they can celebrate for longer and make up for missing out last Christmas.
Joe Swash said: "I'm really excited to be partnering with Studio.co.uk on the #TeamEarly Christmas campaign. For growing families like mine, starting Christmas preparations early is key so I am becoming a member of #TeamEarly with Studio.co.uk, so we can celebrate longer and have the best Christmas ever!
"We're 100 days away from the big day and Christmas 2021 is going to be a huge deal for us Brits, especially for the families that couldn't get together last year."
Chris Chalmers, Marketing Director of Studio.co.uk, said: "We know that families across the country are really looking forward to Christmas 2021, this year is all about people and families getting together and making up for lost time. We have created our #TeamEarly campaign with families in mind and want to help people get organised early so they can celebrate for longer. 
"Joe Swash is the perfect ambassador for #TeamEarly as he is a fun and relatable family man. We are looking forward to showcasing the content we have created with him and making families Christmas extra special with our £1,000 voucher giveaway."
Charlotte Beech, Head of Creative Systems at MediaCom North, said: "#TeamEarly is a perfect example of a campaign we feel will capture the cultural mood of the nation as we come back together to celebrate Christmas with our families. In developing these partnerships with Joe Swash, ITV and Global we'll see Studio at the heart of the Christmas content, offering inspiration and support to families, as we countdown and bring Christmas that little bit earlier in the environments our audience know and love."
Kay Barratt, Creative Director at Cheetham Bell, said: "The cinematic storytelling approach is a big departure for the brand who often favour more retail-focussed product and price approaches. However, this campaign completely delivers on the brand's strategy, range, prices and credit options making Studio.co.uk the perfect place to start shopping for Christmas early."
Jason Spencer, ITV Business Development Director, said: "We are thrilled that Studio.co.uk is building on the success of its previous partnerships to bring Christmas to ITV earlier than ever before, using ITV to launch its Christmas activity and celebrate team early with Joe Swash."
Studio.co.uk recently announced a yearlong charity partnership with the leading family support charity, Home-Start UK. The online value retailer has committed to supporting more than 500 UK families over the next 12 months and will be driving fundraising activity throughout the campaign.
Source: Studio.co.uk