Ravensbourne University London, the specialist digital design and media university, has appointed seven new members to the board. The new governors succeed long-standing board members who are coming to the end of their terms. They bring diverse experience and backgrounds to the board, particularly in strategic marketing, finance, legal and the creative and digital industries.
Andrew Summers, Chair of the Board of Governors, said "I am delighted to welcome Kion Ahadi, Zaid Al-Zaidy, Shoku Amirani, Kate Gregory, Noeline Sanders, Lee Wilkinson and Stephen Woodford to the board. I look forward to them sharing their varied experience and expertise which will influence and inspire Ravensbourne's future strategy in developing the creative leaders of the future." 
Vice Chancellor, Andy Cook commented, "The new appointments reflect the exciting, ambitious direction of the university. We're thrilled to welcome such diverse and experienced experts and are confident that they'll introduce positive change."
Ravensbourne has appointed the following board members:
Kion Ahadi
Kion is Director of Futures and Insight at the Law Society. He is an expert at using insight, data, research and evaluation to drive evidence-based decision making and continuous improvement. He has previously worked in senior positions at The National Lottery Heritage Fund (Lottery distributor), Nesta (innovation thinktank) and Creative Skillset (the industry-led skills body for the creative industries), where he chaired an expert panel (which included the BBC, Channel 4, BFI and Sky).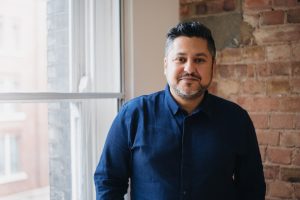 Zaid Al-Zaidy
Zaid is Co-founder and Group Chief Executive Officer of the Beyond Collective, a micro network of specialist agencies spanning strategy, design, advertising, media, social and production. Previously he was CEO of advertising agency, McCann London. He is an elected member of Council of the Chartered Institute of Practitioners in Advertising.
Shoku Amirani
A media producer and radio documentary maker with over 18 years' experience at the BBC, Shoku is an experienced diversity and inclusivity specialist. Shoku started her career at BBC Persia and is currently producer for the BBC World Service Arts Hour. Since 2015 she has run the Global Women in News Network and she is Chair of BBC Embrace, a staff network for ethnic minorities.
Kate Gregory
Kate is a senior commercial lawyer with 25 years' experience across a range of sectors including education, media/publishing, aviation and health. Now pursuing a non-executive career, Kate's last role was as Director of Legal Services at Pearson Education. She is a trustee and non-executive Director at the College of General Dentistry and non-executive Director at the Symphony Group. Kate is also a former NED at the National Air Traffic Service.
Noeline Sanders
Noeline has over 25 years of financial and operational leadership experience and is currently Chief Financial Officer at Digital Catapult, the UK's leading advanced digital technology innovation centre. Having started her career as a Chartered accountant for Ernst & Young, she has since worked with startups and international corporations. Noeline was a former Finance Director for Apple UK and Ireland, where she developed an interest in the Technology sector. Originally from Sri Lanka, Noeline is a trustee of St Ethelburga's Centre for Reconciliation and Peace.
Lee Wilkinson
With over 20 years' experience in the digital/media online environment, Lee is currently Director of Global Product and Design at Conde Nast. His current portfolio includes market leading digital products for the Times, the Sunday Times, the FT, Vogue, Digital Spy, GQ, Cosmopolitan, Esquire and Good Housekeeping. Previously he was Vice-President for Strategy and Product Development and UK Strategy at Hearst Magazines, and was also Director of Product Strategy at News International.
Stephen Woodford
Stephen has worked in advertising for over 40 years and is the CEO of the Advertising Association. He is a former President of the IPA. His NED experience includes Deputy Chair of the Brighton and Sussex University Hospitals NHS Trust, as well as Chairman of youth marketing agency, Livity, in Brixton, which works with young people from mainly BAME backgrounds.
About Ravensbourne University London
We're an innovative, industry-focused university located at the heart of London's newest creative community on the Greenwich Peninsula. We're champions of creativity and collaboration, dedicated to giving our learners the specialist skills and opportunities they need for outstanding careers in digital media and design.
Source: Ravensbourne University London