Callum Reynolds and Travis Usher are some of the industry's youngest stars, thanks to the Ekstasy apprenticeship scheme 

Both Gen-Zers are already managers with 3+ years of in-depth industry experience behind them 

Having Reynolds and Usher on the team benefits clients looking to appeal to younger audiences, adding an extra pop of magic to creative campaigns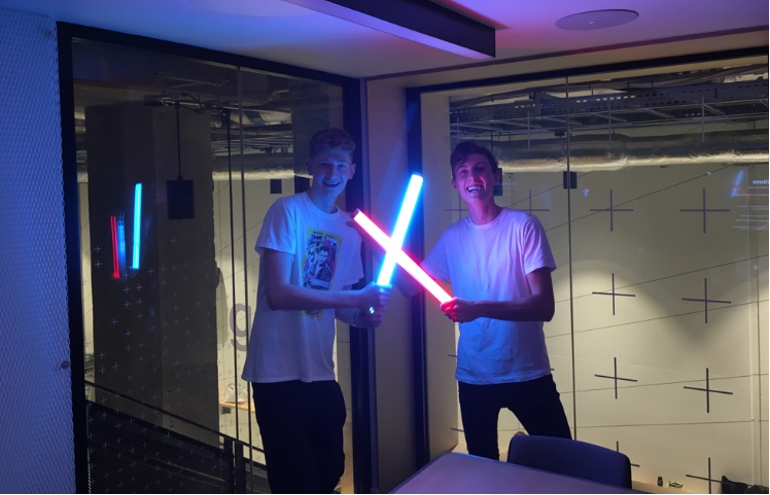 Ekstasy thinks differently. And that also applies to its hiring process. After all, people who consume ad campaigns are all ages and from all backgrounds… So why shouldn't the creators be too? Breaking away from the status quo, some years ago CEO and founder Mike Saraswat spotted two talented teens who weren't interested in the University lifestyle. Fast forward to today, and they are now Ekstasy's most exciting Campaign and Creative Managers. They have exceptional experience, work ethic and what's more… some impressive qualifications. Here's the story of how Callum Reynolds and Travis Usher became two of the industries youngest and brightest stars.
 "Taking on Callum and Travis brought a fresh burst of energy to our agency, and further enhanced creative campaigns", comments CEO and Founder, Mike Saraswat. "I could tell in the first interview that they had something special, and they've turned out to be two of the brightest sparks on the scene".
"Like many other businesses who embrace such programmes, we've benefitted significantly from having apprentices on board", Saraswat continues. "And given two young people an alternative practical and academic route into the workforce, without the worrying debt of university. Many congratulations to both Callum and Travis on their qualifications and subsequent promotions… I'm delighted to say that we have some of the industry's youngest superstars on our team".
From apprentice to Campaign Manager: Callum Reynolds 
"As a 16-year old I wasn't your standard teen, I was a bit of a grandad", Reynolds, Ekstasy's Campaign Manager begins. "I grew up a lot quicker than my friends and I always admired people with more experience in the working world with high motivation to succeed rather than float through school".
Applying to do an apprenticeship at Ekstasy four years ago was a life-changing moment for Reynolds. "I remember sitting at home later on that day and the phone rang, I got the job!", he reflects. "I'm very grateful to Mike for not skimming over my CV and rejecting it because I haven't been to uni nor done my A-levels".
One of the youngest to enter the elusive advertising world, Reynolds quickly picked up impressive industry experience, while studying at the same time. "I did both my NVQ levels 2 & 3 and finished my apprenticeship journey in 2020", he explains. "Ekstasy has been an amazing place for me to do my apprenticeship and couldn't have been any better to kick start my career journey".
Working directly with the likes of Amazon, Starling Bank, SES Satellites and Sumup gave teen Reynolds second-to-none experience. Shortly after his apprenticeship finished, the now 21-year old was promoted to manager, enhancing client campaigns with his vibrant energy and unique Gen-Z viewpoint.
From apprentice to Creative Manager: Travis Usher
For Travis Usher, the journey was similar. He wanted to launch into a career in advertising, but without the hefty price tag and delay of university. "Leaving college, I knew the industry I wanted to get into, and that was advertising", Usher explains. "The way I saw it I could either delay that train for another 3 to 4 years by going to university […] or I could try and get the wheels in motion as soon as possible".
After securing an apprenticeship at Ekstasy, the wheels quickly began spinning and a world of new opportunities opened. "Ekstasy has been an amazing first agency to work at… I've taken responsibility for a number of different roles such as business development, producing, directing, project management but mainly creative, which is where I've discovered my talent and passion lies", he elaborates. "I even worked as a creative on a Team GB Olympic campaign before I was 20, not a lot of people can say that and it's thanks to Ekstasy".
Usher conducted his Ekstasy apprenticeship through Multiverse and soared through both the practical and academic challenges. In August 2021 Usher passed with distinction, he recalls the euphoria. "[It] was a great sense of achievement", Usher explains. "I was proud, my coach was proud, Ekstasy was proud, and my family was proud, it was all pretty great!".
Today, around the same time his peers may be finishing their graduate degrees and dipping their toes into the job market, Usher is already a Creative Manager with over four years' experience… What's more, he's done it all without the £50,000+ student debt burden.
"I feel incredibly excited and passionate about the road ahead", Usher elaborates. "As for the future of Ekstasy we want to keep growing, produce great ads for our clients and be a fulfilling place to work".
Source: Ekstasy