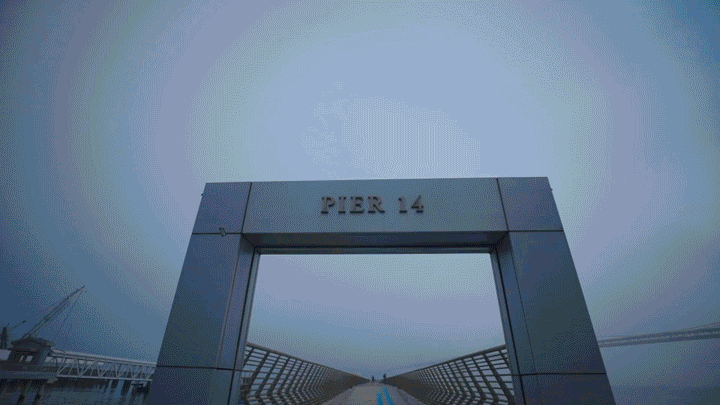 Home co-investing company Unison, which has tapped San Francisco-based agency Cutwater to help them commission a 30-ft art installation at the center of the city's Embarcadero public space, called the Welcome Tower.
The Welcome Tower will exist at the Port of San Francisco for one year, starting with a public unveiling event and dedication ceremony, which took place on November 19, and was led by Mayor London Breed.
Designed by well-known artist Sean Orlando, the installation is a gift to beautify the city and spark conversation. The Welcome Tower is a reconceptualization of one of the most iconic symbols of San Francisco, Coit Tower.
The structure is made from reclaimed wooden front doors that represent multiple architectural styles across San Francisco's historic neighborhoods, from Queen Anne to Art Deco to Craftsman. The structure is painted by world-renowned decorative painter and architectural gilder Tania Seabock.
In addition to doors, the first level features fish-eye peepholes that invite onlookers to gaze into 3-D shadow boxes created by eight individual local artists: Maurice Cavness, Ake Grunditz, Leslie Grunditz, Ubin Li, Olga Lopata, Jody Medich, Tania Seabock, and Imogen Speer. The structure occupies the same Pier 14 spot that Orlando's Raygun Gothic Rocketship filled in 2010-2011.
As the gateway/ front door/ threshold to San Francisco, the port is the perfect location for the Welcome Tower, which represents the diverse neighborhoods found throughout the city. It demonstrates the celebration of San Francisco's community of dreamers, inventors and artists using reclaimed solid wood front doors from residences throughout San Francisco's neighborhoods.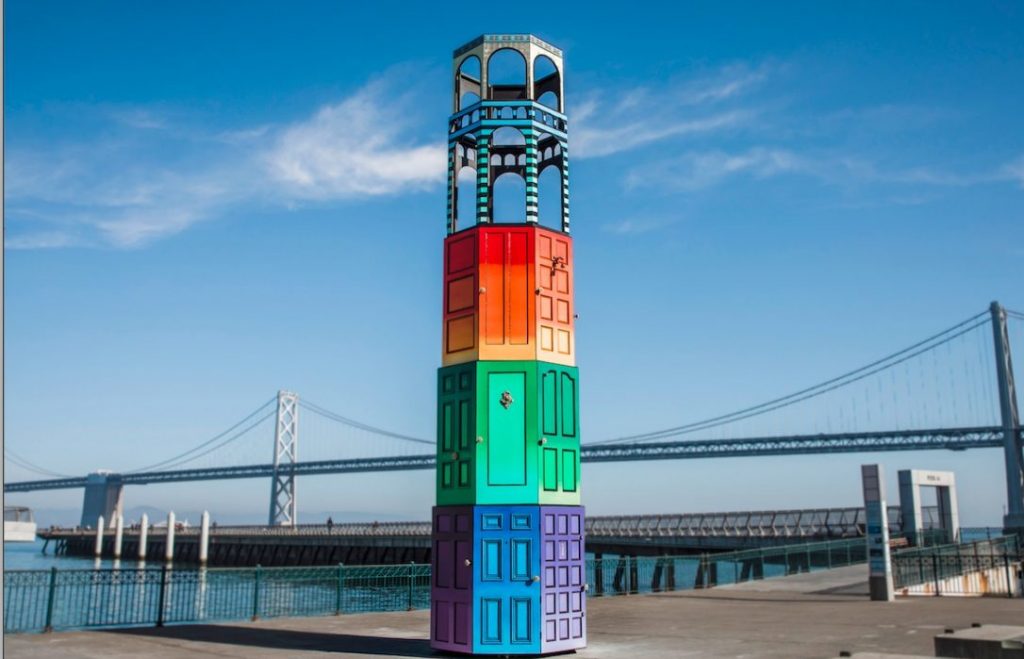 The piece, which explores the relationship between the historic identity of San Francisco as a home to all, and the current challenges of rising living costs, is a statement to inspire how Unison reimagines, rebuilds and reinvents homeownership.
Cutwater and Unison are also working with media partner, NowThis and have created a video that will launch on their platform that showcases the making of the tower as well as interviews from the artists and Unison's founder, Thomas Sponholtz.
"Unison commissioned the Welcome Tower as a gift to the city and people of San Francisco to serve as a symbol of innovation and creativity coming together in order to pioneer new solutions for those who want to make this City home," said Thomas Sponholtz, Unison CEO." 
"We love to call the Bay Area our home. So, the idea to build the Coit Tower out of doors historically designed from neighborhoods in the area seemed like a wonderful thing to actually do." – Chuck McBride, Founder and Chief Creative Office, Cutwater
Source: Cutwater