Volkswagen Commercial Vehicles and Mental Health UK are taking their #DownTools message to the high street with a series of striking shutter art paintings, as part of a campaign created by BBH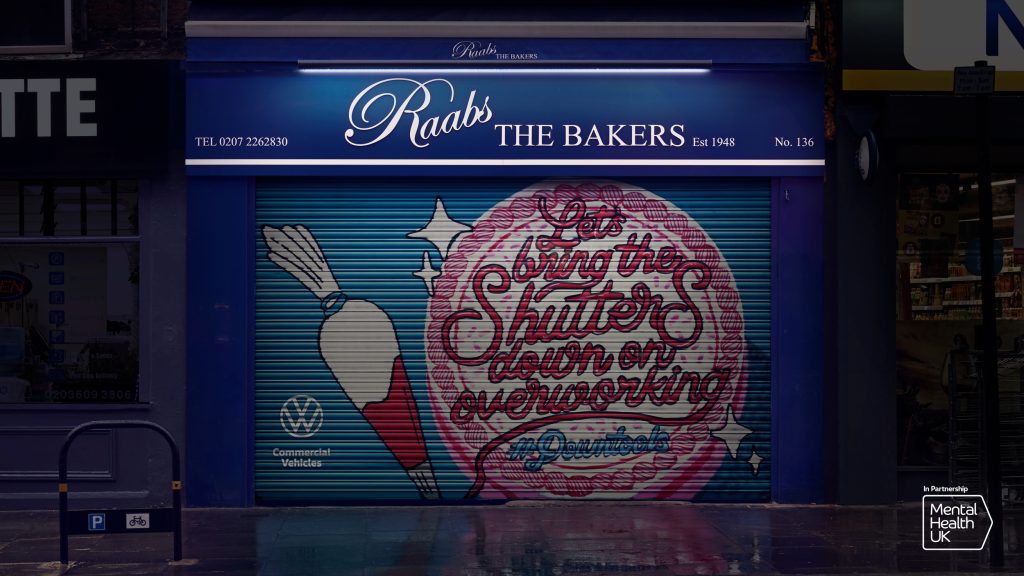 The paintings are by noted mural artist Peter Barber and they appear on the shutters of a dry cleaners, a butcher's shop and a bakery, sharing the message 'Let's bring the shutters down on overworking' along with the hashtag #DownTools.
It is part of a wider campaign which encourages workers to recognise that everyone needs time away from the daily grind, and calls on people to call it a day when the day's done.
Other activity includes a 30-second film running on TV and VOD, social activity and radio ads. Mental Health UK is also offering a number of resources related to the campaign, including tips on good mental health and a service offering practical advice for those with money worries.
The campaign broke on October 25 and runs until the end of November.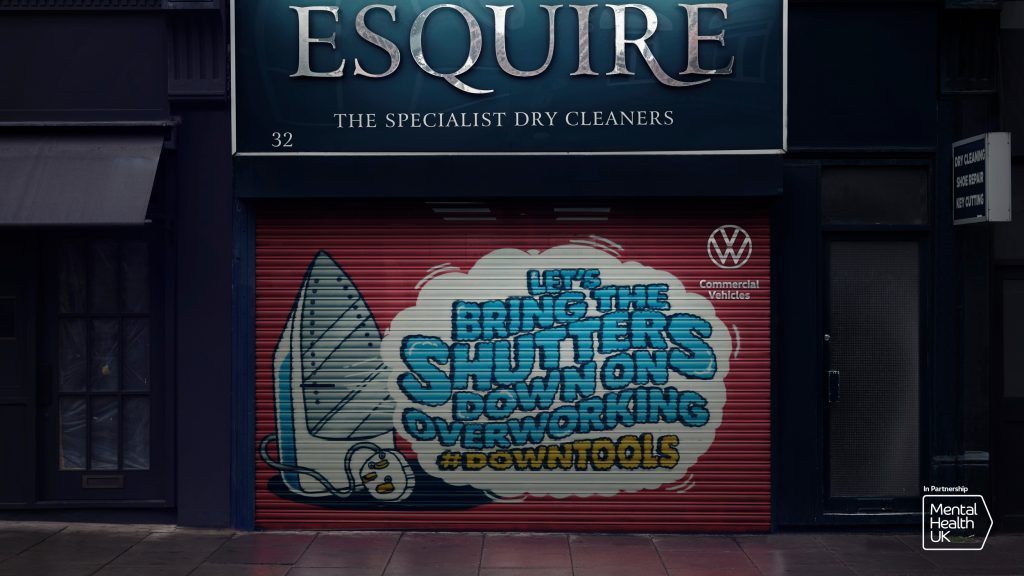 Kate Thompson, Head of Marketing at Volkswagen Commercial Vehicles, said: "It's vital that we allow ourselves enough time to switch off from work. The COVID-19 pandemic has blurred the lines between work and life causing a dangerous imbalance, whether that's struggling to log-off when working from home or battling to keep pace with increased workload. We hope by raising awareness through our #DownTools campaign, we can encourage people to make their mental health a priority, because ultimately we work better when we feel better."
Katie Legg, Director, Strategy and Partnerships at Mental Health UK, said: "It's impossible to do our best work without prioritising our mental health. This campaign is a valuable reminder of the importance of taking time out to focus on our wellbeing and all the benefits that can bring. We're proud to work with Volkswagen Commercial Vehicles to create this set of helpful resources and hope it will empower employees to better understand the relationship between their work and mental health, and the practical steps they can take to help regain that sense of balance."

Creative Credits
Head of Marketing, Press and Public Relations: Kate Thompson
National Communications and PR Manager: Laura Bignall
Communications Manager: Louise Willis
Communications Manager: Matthew Mann
BBH Creative Team: Luke Till and Lawrence Bushell
BBH Creative Director: Remco Graham
BBH Strategist: Thandi Mbire
BBH Strategy Director: Selina Khuu / Aparna Bangur
BBH Senior Account Director: Andrew Connolly
BBH Account Manager: Arabella Johnston / Caitlin Quigley
BBH Account Executive: Amber Sidney-Woollett
Film Credits
BBH Producer: Nikola Oksiutycz
Production Company: Spindle
Director: Spencer MacDonald
Executive Producer: Lou Gagen
Producer: Mike Carr
DoP: Jake Scott
Post Production:
Editor/Editing House: Rich Woolway at Stitch
Post House: Framestore
Post Producer: Jake Saunders
Sound: 750mph
Sound Studio Engineer: Marcin Pwalik
Print Credits
BBH Producer: Beth Mechem
Down Tools Designer: Rob Wilson
Shutters Illustrator: Toby Triumph
Shutters Photographer: Dan Sims
Shutters Install Team: Peter Barber
Media agency: PHD
Source: BBH