Wavemaker has appointed former Lucky Generals CEO Katie Lee as Chief Growth Officer. Lee will sit on the agency's executive leadership team, reporting to Paul Hutchison, Chief Executive Officer and will be responsible for new business and bringing the agency's positive provocation mission to life.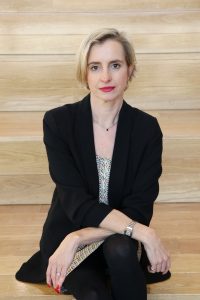 A longstanding and highly-respected leader in the UK advertising industry, Katie brings a wide breadth of experience to the role, having previously held senior positions at a number of the world's most creative agencies, including at Omnicom-owned agency Lucky General, as their first CEO and prior to this as Marketing Director and latterly Managing Director at global creative agency, Leo Burnett.
Katie's long-running advertising career also spans MD roles at tech and content agencies Sunshine and Gravity Road, and earlier posts at BBH and Saatchi & Saatchi. She joins Wavemaker from Clementine, a hypnotherapy app for women, where she was Chief Executive—marking a welcome return to the industry.
Her announcement follows a raft of recent appointments to Wavemaker's senior leadership team, including Hannah Baker as Head of Marketing in October 2021 and the promotion of Managing Partner James Wilde to Head of New Business this month. The two will directly report into Lee, in a move that will see a new team dedicated to driving the growth and reputation of the agency in 2022 and beyond.
As a passionate advocate for diversity, Katie's focus on creating open, inclusive and sustainable work environments will also see her play a central role in Wavemaker's people development and talent attraction, as well as the ongoing development of its agency culture. She is an active member of WACL, and during her time at Lucky Generals, is credited as one of the first leaders to have set up a miscarriage policy at an agency.
Paul Hutchison, CEO, said:
"To have someone of Katie's calibre agree to return to Adland as part of the Wavemaker executive team is a real honour. She has a truly fearless attitude that perfectly reflects Wavemaker's approach to growth. This coupled with her depth of experience across industries and clients, and with the support of our talented new leadership team, will, I have no doubt, deliver us and our clients exceptional growth in the years ahead."
Katie Lee added:
"Right now, clients are looking for partners who can help them achieve long-term sustainable growth in an exceptionally challenging environment. Wavemaker is thinking so progressively about how to transform clients' business and is building a team with the diverse skillset to make that happen. I'm excited to join a business with huge ambition who is not afraid of doing things differently and with a relentless focus on the future."
Source: Wavemaker