Whiskas has launched a new integrated campaign to showcase the great taste and variety of its new range, featuring Tasty Mix, Duo and Pure Delight.
"'Whiskas – Even the Fussy Cats", developed with AMV BBDO and running across TV, radio, and online, brings to life the wonderfully fussy nature of cats by using a mix of live action and CGI to enter the glorious, quixotic mind of a feline pet. The complexity of cats is part of what makes being a cat owner so rewarding and occasionally exasperating. It's a fact that they love one toy one day and are completely disinterested the next, will drink only from the tap, never their new water bowl and eat chicken like it's going out of fashion before suddenly turning their nose up at it.
The hero film, directed by Renee Zhan at BLINKINK, shows viewers the innermost thoughts of a cat, highlighting its fussy nature in full glory, zooming in on a salon (a room full of licking tongues), a maze of cardboard boxes, a kitchen with giant kneading paws 'making biscuits', a wall of taps for those cats who loathe water bowls and the classic laptop bed.
In the centre of all these areas is the Purr Room, complete with a 'purr-o-meter' with its 'Not today' and 'Yes Please' markers. It's in this very room that a cat owner attempts to please their fussy pet, trying to make the cat purr with all manner of various treats, from toys to fish biscuits, all of which are rejected. But when a plate of tasty new Whiskas is offered, the cat rushes to eat, purring with approval and sending the purr-o-meter into overdrive.
In short form social, the new varieties of Whiskas are showcased in short-form, tailored assets featuring our fussy cat hero choosing from a conveyor belt of different Whiskas options or, from a cat's eye view flicking between options before making a selection.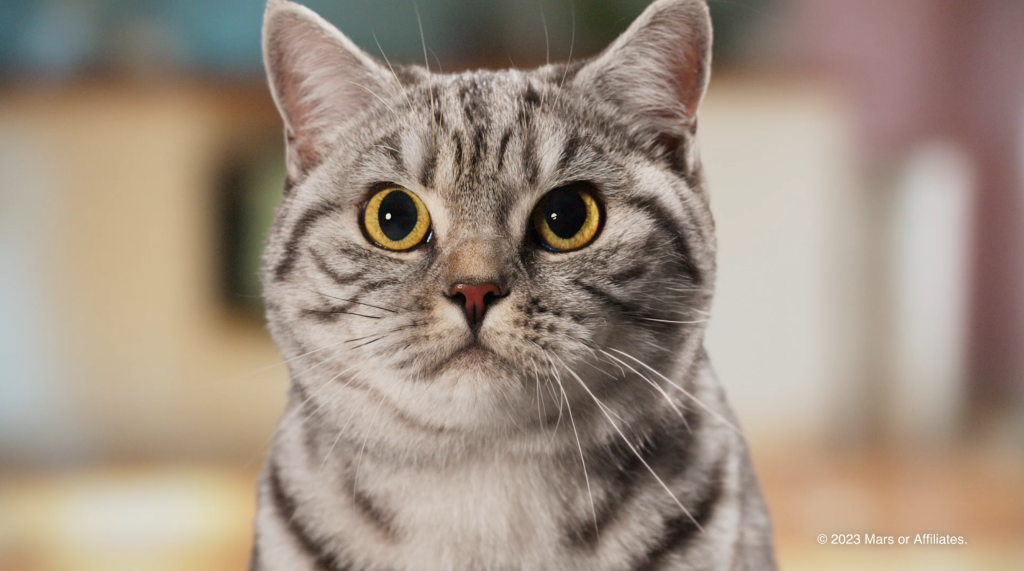 Zoe Zammit, Whiskas European Brand Director, says, "This campaign is a wonderful foray into the mind of a cat, a mystical world that many cat owners often find themselves wondering about as they attempt to evoke that ultimate seal of approval – the purr. Nina and Renee have created a warm and whimsical world, full of the textures and things that cats love, in which they capture the innermost thoughts of our most beloved floofs as we hoomans attempt to meet their discerning standards. The great news? The new Whiskas line up has the range of tastes to satisfy all cats, even the most discerning – Purrrr-fect!".
Lola Neves, Head of Strategy at AMV BBDO, says, "This campaign is all about proving the new Whiskas range can handle the most difficult of customers – fussy cats. Cats' fussy natures are part of why we love them – they aren't going to bow down to us and do what we say. But feeding a fussy cat can be exasperating. Cat parents need options in case today happens to be the fateful day when the cat decides to not eat what it normally does. So pleasing fussy cats is the ultimate test for a cat food brand. By showcasing how the new Whiskas range has the taste and variety guaranteed to make even fussy cats purr more, we are proving that the range will make any cat purr more".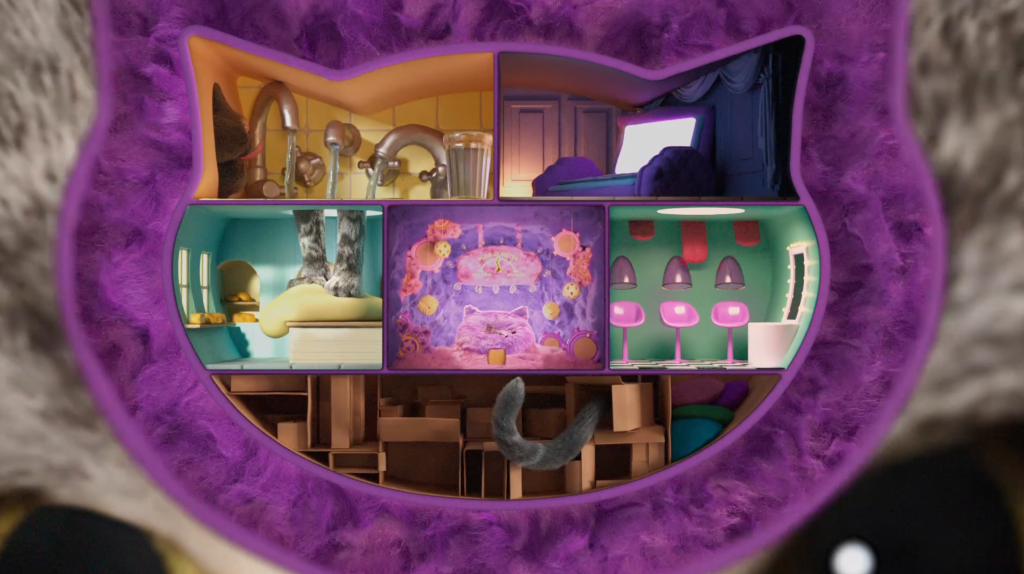 Renee Zhan, film director at BLINKINK, said, "It was my absolute dream job spending all day and night dreaming up the fantastical world inside a cat's mind. We knew it had to be the most fuzzy, furry, and cosy place full of a cat's favourite things. There would be a biscuit bakery room where our cat is hard at work making biscuits. A laptop bed bedroom. A water tap fountain room full of fresh running water. And, most important of all, the PURR ROOM, with a Purr-o-meter which only lands on YES when we finally draw out that elusive purr. I'm a cat lady at heart so I was very excited to get this wonderful brief from Whiskas and AMV, to figure out what makes a pampered, fussy cat purr".
The work follows the launch of Whiskas new global brand platform "Purr More", in 2021, marked by a first of its kind advertising campaign featuring a suite of films from Bafta-winning animator and director Nina Gantz and original Cat music from National Symphony Cellist and "Animal Composer" David Teie created especially for cats.
CREDITS
Client: Mars Pet Nutrition
Brand: Whiskas
Campaign title: Whiskas – Even the Fussy Cats
Client name: Zoe Zammit, Anthony Dean, Lyubov Chumikova, Nailya Aliyeva, Camilla Kimpton, Anna Szpot and Helen Warren-Piper
Creative Agency: AMV BBDO
CCO: Nicholas Hulley and Nadja Lossgot
Creative Director: Polina Zabrodskaya and Andre Sallowicz
Creative Team: Dan Warner and Andy Vassey
Agency Planning Team: Lola Neves and Katherine Oulds
Agency Account Team: Richard Mitchel, Laura Balfour, Hannah Tall, Niamh McCafferty, Louis Batten-Foster and Vicki Lavington
Agency Producer: Lindsay Hughes
Agency Designer: NA
Media Agency: MediaCom
Collaborating agencies: The Mars Agency and The&Partnership
Production Company: BLINKINK
Director: Renee Zhan
Production Co. Creative Director: Nina Gantz
Executive Producer: ​​Bart Yates
Head of Production: Alex Halley
Production Co. Producer: Gareth Owen
Post-production Company: Saurus and Coffee & TV
Sound studio: Jungle Studios
Audio Post-production: Jungle Studios
Source: AMV BBDO