Creative experiential agency XDA has partnered with WarnerMedia Kids & Family to support the launch of the new preschool programming block, Cartoonito. Now available on HBO Max and Cartoon Network, Cartoonito celebrates individuality and originality, while championing creativity, compassion and inclusion.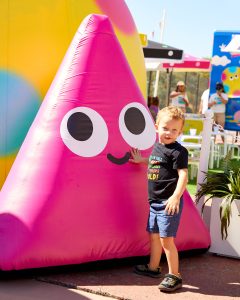 XDA's role has been to "eventize" the Cartoonito launch by planning, designing, and producing a seven-city mobile tour including locations, invite system, backpack creation, tour team and environmental design. The tour featured an ice-cream truck decked out in Cartoonito graphics and a giveaway of branded backpacks with school supplies at schools and key children's museums.
The activation component allowed kids to customize their own backpacks with direction from onsite art teachers creating an experience that was fun for the kids and attractive to parents seeking kid entertainment. Each pop-up event was free to attend and featured fun, interactive activities such as a "Patch Bar" where preschoolers could customize their free Cartoonito-themed backpack, a coloring station where preschoolers were encouraged to draw outside the lines, a photo opportunity where kids and families could take silly photos with giant inflatable Cartoonito characters, and more activations that let preschoolers' wild imaginations soar.
Five thousand backpacks were distributed throughout the tour, and another 5,000 were earmarked for charitable donations.
The Cartoonito Mobile Tour was designed to surprise and delight preschoolers with fun activations that brought to life Cartoonito's mission. Packaging was designed to align with the Cartoonito brand. Backpacks were branded with beloved characters and came with a kit that included a plushy or sensory toy key chain, learning stories featuring Cartoonito characters, a book of knock-knock jokes, stickers to share with friends, a sketch book for drawing, art supplies, mindful coloring pages to help express feelings, hand sanitizer, a magnet book featuring Cartoonito characters and more.
The cross country mobile tour started on the West Coast, then headed east, wrapping October 10.
CREDITS
WarnerMedia Kids & Family:
Aaliyah Copeland – Marketing Manager
Ryan Kilpatrick— VP, Media + Activation
Heather Laird – Senior Director of Production
Petrika Janssen—Art Director
Candice House—Creative Director
Chip Duffey—Creative Director
Eric Nelson—Senior Project Manager
XD Agency:
Amy Williams, Executive Producer
Alex Pfander, Producer
Brooke Southerland, Senior Designer
Kyle Kirkup, Senior Designer
Hannah Snell, Designer
Source: XDA