Campaign kicks off as adidas launches new running collection called FOCUSBREATHEIN
Campaign runs across all media including dedicated meditation 'Mindset Corners' in exclusive adidas retail stores
adidas has launched a new campaign to celebrate how running can help manage the stresses of daily life and improve mental wellbeing.
The campaign focuses on the art of 'mindful' running, where running is approached as a form of meditation or mindfulness, focusing on the breath and clearing the mental clutter. 'Run to Connect' is created by TBWA\London and Amsterdam's TBWA\NEBOKO, who joined forces to concept and execute the creative.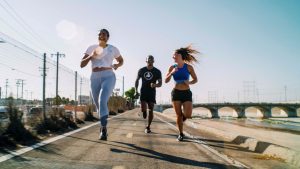 The work showcases personal stories of how running has changed people's lives. It introduces the line 'Run to Reconnect', highlighting running's ability to help people be 'in the moment' and reconnect with themselves. The work was born out of the insight that mental ill-health is now the no.1 cause of serious health problems globally.
'Run to Reconnect' features four very real runners, including London native Georgina Hayf and adidas global ambassador Ally Love, who tell their own personal stories, in documentary style, about the stress they face and how running helps them find clarity amongst the chaos of everyday life.
Georgina Hayf explains why running is so vital to her wellbeing: "I've always been a city girl, but at times it can be quite full on. You always feel like you are working. There's no time to switch off and have some down time".
Peloton instructor and adidas global ambassador, Ally Love, uses mindful running as a break from her busy schedule and to boost her creativity: "I think being overwhelmed naturally occurs in everyone's life. Running was an avenue for me. It was a place that not only did I get away, but I was able to be present."
Each of the runners' stories span social, retail, e-com and make up a 60″ hero film, as well as their own individual films. T
The campaign comes as adidas launches a new collection of apparel and footwear called FOCUSBREATHEIN that is specifically designed to enable the wearer to Run to Reconnect and turn every run into a retreat. With its seamless fit and lightweight material, runners can run with no distractions and focus on reconnecting with themselves.
But it doesn't stop there. The campaign also flows into in-store events, adidas Runners retreats, guided mindful runs on the adidas Running app, mindful meditation on the adidas Spotify channel, as well as digital assets.
Source: TBWA