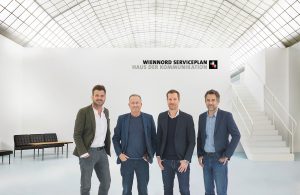 Two of Austria's leading communications agencies have announced that they are joining forces: Serviceplan Group Austria and Wien Nord will merge to form a fully integrated "House of Communication" both sides announced today.
The merged agency group will be managed by a joint holding with shareholders of both agency groups. The holding will be managed by Markus Noder, Managing Director of Serviceplan International, and Wien Nord Managing Directors Eduard Böhler, Edmund Hochleitner and Markus Mazuran. Serviceplan holds 51 percent of the shares, while 49 percent are held by the previous Wien Nord shareholders, which also include Andreas Lierzer. The group is thus positioning itself as a stream-lined, owner-managed counter-model to the large international networks – with full access to all areas of competence of the Serviceplan Group worldwide. The merger is still subject to approval by the cartel authorities.
Holistic solutions versus insular thinking
Florian Haller, CEO of the Serviceplan Group explains: "With the combined power of Wien Nord and Serviceplan in our new Austrian 'House of Communication', we intend to become the leading agency group in the Austrian market in the long term. Digitalisation, globalisation and the fragmentation of markets are increasingly presenting clients with the challenge of coordinating different disciplines and specialist service providers. However, an integrated and stringent communication strategy can only be developed from a single source."
Markus Noder, Managing Director of Serviceplan International, adds: "Our Houses of Communication combine creation and content, media and data, as well as technology and strategy under one roof – worldwide, integrated and owner-managed. We are very much looking forward to expanding the 'House of Communication' in Vienna together with Wien Nord, and to implementing our common vision of creating Austria's agency of the future with the most exciting range of services on the market".
Wien Nord Managing Director Markus Mazuran added: "In Austria especially, this offer to customers to assume genuine overall responsibility at the highest level of quality is unique. Independence is also part of our DNA, that's what unites us both".
"The clear commitment to independence and owner management guarantees our customers entrepreneurial thinking and lean structures, and consequently enables fast processes. The new group will be Austria's most broadly based and at the same time integrated communications agency," say Wien Nord Managing Directors Eduard Böhler and Edmund Hochleitner.
The new House of Communication Austria
The future headquarters of the agency group will be the iconic Wien Nord Industriehalle in Gumpendorferstrasse in Vienna's 6th district. The full legal merger is on track to be completed by the middle of 2020 after the necessary approvals have been obtained. The agencies Wien Nord and Serviceplan will in future appear as Wien Nord Serviceplan. They will be joined by Mediaplus Austria, managed by the managing directors and co-partners Ronald Hochmayer and Bernhard Redl. The media agency stands for innovative and creative media management across all disciplines such as strategy, planning, consulting and research.
The Wien Nord subsidiary Now, which has successfully established itself on the market since its foundation in 2017, will in future, under the leadership of co-owner Kurt Kaiser, focus even more on the topics of brand partnerships and brand activation and will service the entire European region from Vienna.
The Serviceplan subsidiary Plan.Net bundles technology and digital topics, where, depending on the project, the implementation power of the international production units can be called upon. "Our declared common goal is to develop the new 'House of Communication' into the leading agency group in the market", explain the Serviceplan and Wien North spokespeople. This includes the development of a serious, cross-channel range of services for the Austrian market with which we not only convince our customers but also attract the best minds in the industry. After all, it is the people behind successful communication."
Source: Serviceplan