WLM (West London Mission) – a charity empowering people affected by homelessness poverty and trauma to make positive changes in their lives – is launching a new campaign to raise awareness of their work and the people they help.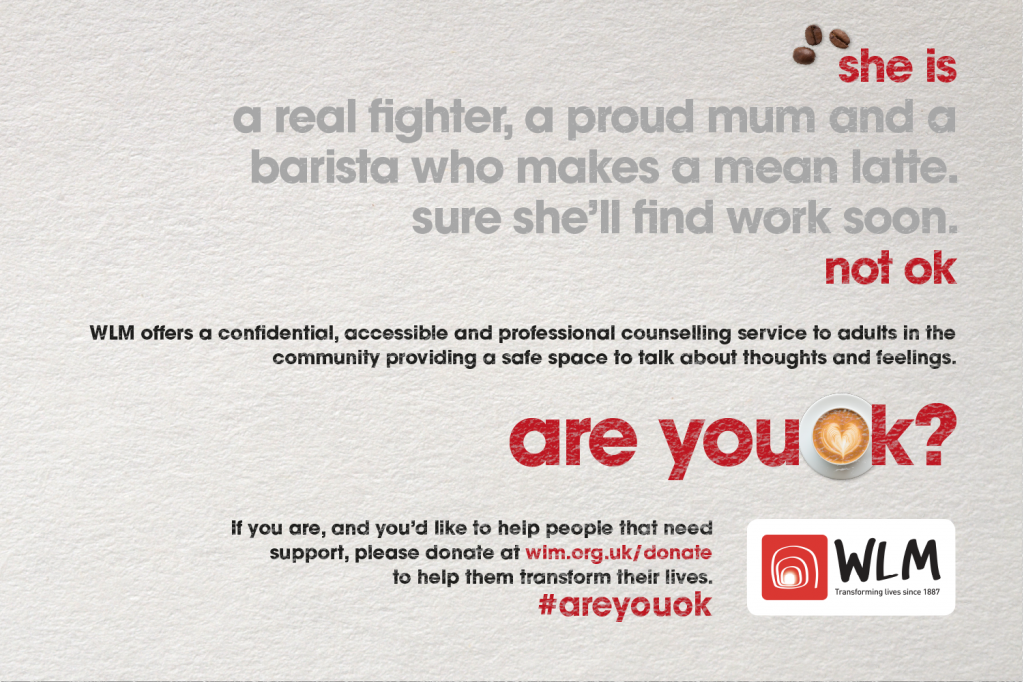 In a series of banner ads, the new awareness campaign, which is being launched in partnership with Akiko Design, tells the stories of people who are struggling and not ok. These include a proud mum who currently is out of work; a drummer who is sleeping rough; a dad battling alcoholism whilst still coaching his son's football team and a veteran who has suffered significant trauma whilst serving in the British Military. 
The campaign will be launched over the Christmas period on the WLM social channels (Facebook, Twitter, Instagramand LinkedIn) and banner advertising will run across wlm.org.uk and a range of other websites and publications.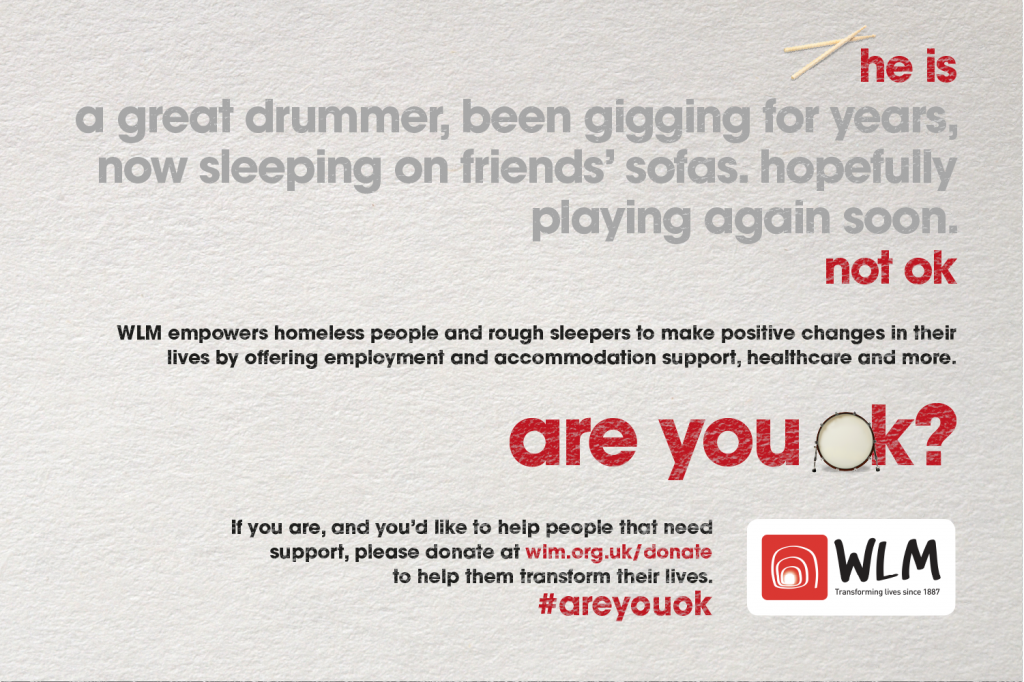 Roger Clark, CEO of WLM said about the campaign:
"I am incredibly grateful to Akiko Design for their amazing work on this campaign. They have captured the heart of what we are trying to achieve at WLM. We are striving that all our services are asset based when helping people. That means that everything we try to do celebrates the strengths and achievements of those we serve. In 2020 the most important question you can ask anyone is "Are you ok?". For WLM, this starts a conversation on how we can fulfil our mission to Empower Positive Change. We sincerely appreciate anyone who wants to join us on that journey and are very grateful for the public's support this most difficult of Christmases."
The coronavirus crisis has already had a devastating impact on the most vulnerable in our society with rising levels of unemployment and financial hardship still to come. Therefore, it is not surprising that the pandemic has triggered a wave of mental health issues including depression, social isolation, loneliness and addiction.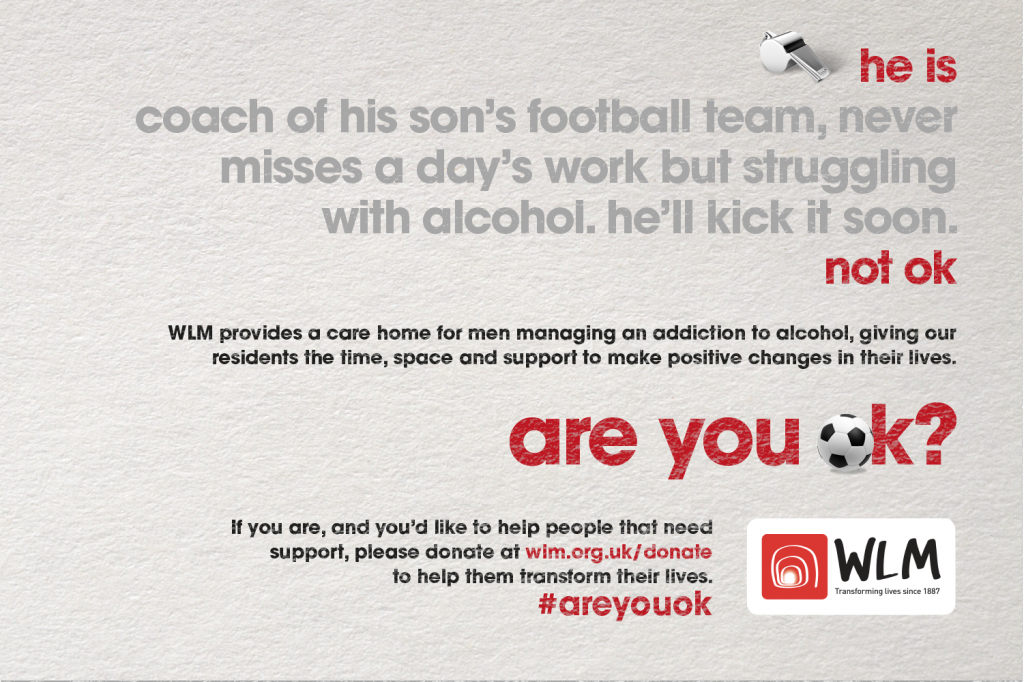 But there is hope. Having adopted the asset-based approach, WLM offers a range of services to help people deal with the different issues they are facing in their everyday lives and especially at this difficult time. This approach, places power and control in the hands of the people, with the hope they find a way to build internal motivation based on their strengths and abilities. It is the internal motivation that is fundamental in creating lasting and resilient positive transitions. The charity works with individuals who are already in the midst of a crisis and whose situations have now been compounded by COVID-19, leaving them very vulnerable and often deeply anxious.
For some individuals, the opportunity to talk to a professional counsellor, providing a safe space to talk about thoughts and feelings, is enough. However, people battling with physical and mental health issues, alcohol addiction and/or substance abuse need healthcare and specialist support to help them make positive changes to their lives. Financial insecurity is a widespread issue at the moment which WLM are attempting to tackle with a range of finance, budgeting and IT workshops. The charity also works with homeless people and rough sleepers offering accommodation, employment and health support in order to come off the streets permanently. In addition, via an ex-military supported housing project, WLM offers routes to stable accommodation and employment to men and women who have served in the British Military.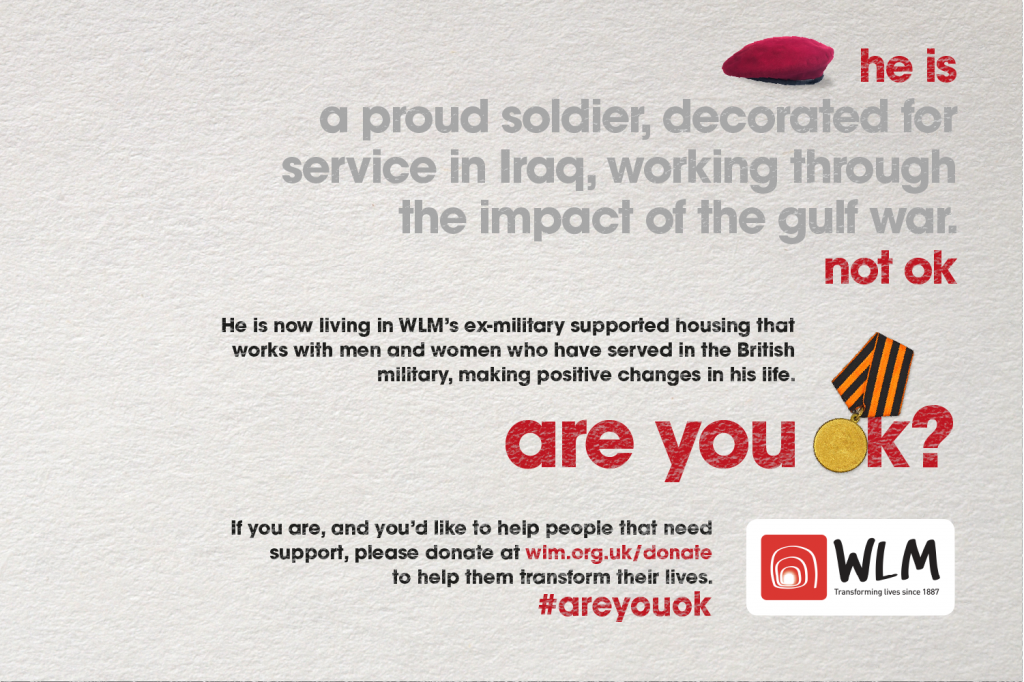 David Evans, Managing Director of Akiko Design said, "We are grateful that the creative team at Akiko could contribute to the WLM's efforts by devising a campaign to show that, for whatever reason, there are vulnerable people out there who need our help."
In addition to raising awareness of its work, WLM is appealing to the public to help vulnerable people who are suffering now, more than ever. Make a donation today via the website at wlm.org.uk/donate to help someone who, right now, is not ok.
Source: Akiko Design