Royal Ascot is the subject of a new cinematic, Netflix-style brand campaign which aims to further build its position as the 'must-attend event' of the 2020 British summer.
With a history as rich as it is long, Royal Ascot sits proudly as the jewel in the crown of the British Flat racing season. Five days of unparalleled racing, high fashion, fine dining and pageantry, the Royal Meeting is renowned across the globe and delivers an unforgettable experience in a unique setting.
From Tuesday 16th to Saturday 20th June 2020, Royal Ascot will be broadcast to audiences around the world while welcoming almost 300,000 racegoers, in their finery, through its gates. A day at Royal Ascot is like being part of the greatest, and possibly the longest running, costume drama on the planet.
Created by independent creative agency isobel, as if it were launching the latest must-see drama, the video-led campaign captures the audience's imagination through beautiful cinematography, powerful music and images of world-class Flat racing. Viewers are taken through the story of two racegoers who meet at one of the highlight events in the annual social calendar. The campaign invites us all to 'Be Part Of The Drama'.
Ascot and isobel worked in partnership with production company Chief and director Yoni Weisberg to develop the concept and create the campaign. Video content takes on a film trailer feel while the still shots used across traditional media shows different aspects of a day at Royal Ascot – from world-class racing and pageantry to high fashion and fine dining – in a series of dramatic film poster style visuals. A key hero image of the campaign features jockey Hayley Turner, who in 2019 became the second female ever to ride a Royal Ascot winner and the first since 1987.
Juliet Slot, Chief Commercial Officer, Ascot Racecourse, commented: "We wanted to launch a very different campaign for Royal Ascot 2020 to appeal to an audience that is increasingly turning to online platforms, such as Netflix, to enjoy the latest drama series and cinematography. I hope that people agree we have delivered a campaign that embodies the excitement and atmosphere that Royal Ascot has been delivering to racegoers for some 250 years. We look forward to welcoming regulars of the Royal Meeting again this year, alongside newcomers who are yet to experience the spectacle in person."
Paul Houlding, Founder & Chief Executive, isobel, added: "Royal Ascot is world-class and we wanted to create a campaign that would do it justice. We are quietly confident we have done this, and Royal Ascot will continue to be seen as the must-attend event of the summer."
Royal Ascot will be held from Tuesday 16th – Saturday 20th June 2020. Early Bird Tickets available until 31st March 2020, starting from £32 per person. Fine Dining Packages starting from £277+VAT per person and Private Box Packages from £745+VAT per person.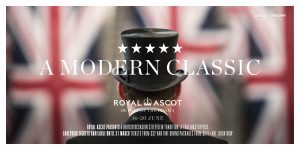 To book tickets visit www.ascot.co.uk/royalascot or call 0344 346 3000.
Source: Isobel