In a Year of Celebrating SG Women as designated by the Ministry of Social and Family Development, BBH Singapore has joined hands with gender advocacy group AWARE to celebrate and honour admirable Singapore women by turning them into literal 'social' icons on social media.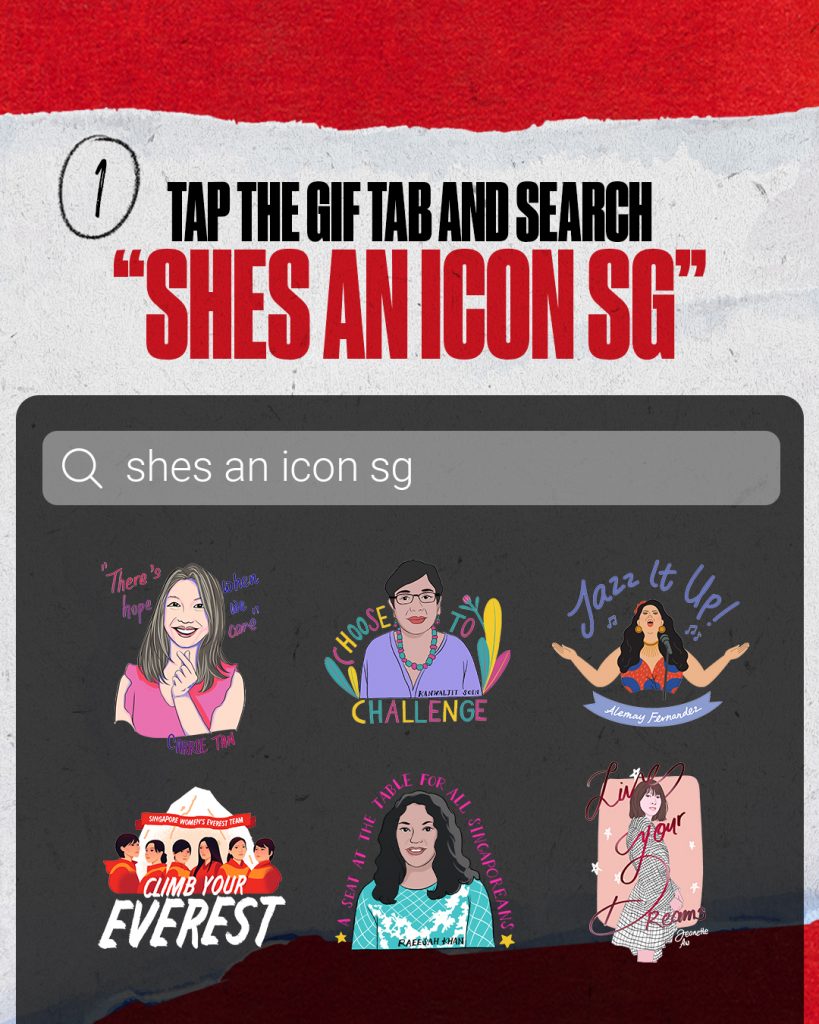 The campaign #ShesAnIcon will see the two organisations collaborating with locally-based women illustrators to launch a series of online GIF stickers that seek to elevate Singapore women role models.
The women icons who will be featured as part of this campaign include Farzana Abdul Razak who has triumphed over a plane crash tragedy and gone on to live her life to the fullest, Jeanette Aw who has made a mark in the male dominated film making industry, Kanwaljit Soin who was Singapore's first female nominated Member of Parliament, Alemay Fernandez who is the only Asian singer to have performed with 3 of the top Jazz Orchestras in the world and the Singapore Women Everest Team who pushed themselves through the toughest physical conditions to make it to the top of the world. Each illustration will feature an inspirational phrase or quote spotlighting the achievements of each icon.
The campaign is inspired by a research conducted by BBH Singapore that revealed that only one in ten Singapore women have a Singapore woman icon. The ongoing research that has amassed 600 responses so far from women between the ages 16 to 54 (and above) has shown that the vast majority of Singapore women would pick a celebrity from the West including Michelle Obama, Gal Gadot and Ariana Grande.  
Commenting on this initiative, Amanda Lim, Senior Strategist, BBH Singapore said: "Stickers and memes are very much vehicles for culture today. Iconic illustration stickers featuring women role models such as Kamala Harris have amassed upwards of 22.5M views each, demonstrating the immense power of stickers in inspiring the next generation of women. As an agency that believes in using creativity to make a difference, we wanted to honour admirable women in Singapore by giving them a well-deserved place in popular culture. The greater goal is for women in our country to feel represented and be able to see themselves in these role models.
We are thankful to AWARE for extending their support to this initiative. As an authority on gender equality they were natural partners for this initiative."
Kelly Leow, Communications Manager, AWARE said: "We are excited to partner with BBH on this meaningful initiative that puts a spotlight on women role models in Singapore and celebrates them in a fun yet culturally impactful way. For too long, stories of Singapore women have been out of the mainstream limelight. Our hope is that these stickers would inspire fellow Singapore women to continue making strides and telling their stories."  
To be launched on International Women's Day, the stickers will be available on GIPHY, Instagram and personal messaging apps like Telegram and WhatsApp, with stickers on new role models being introduced throughout the month of March to honour Women's History Month. BBH and AWARE will also use their social media platforms to tell the stories of each of the role models as well as the illustrators.
PLATFORMS WHERE YOU CAN ACCESS THE STICKERS:
Instagram
To discover the stickers on Instagram Stories, tap the GIF tab and search "shes an icon sg".
GIPHY
To discover the stickers on GIPHY, go to GIPHY website or app and search "shes an icon sg".
Whatsapp:
Download the Whatsapp sticker pack at: http://sticker.ly/s/L3ETPB
Telegram:
Download the Telegram sticker pack at: https://t.me/addstickers/shesanicon
LINK TO DOWNLOAD THE FOLLOWING ASSETS:
ShesAnIcon KV
Stickers:
Kanwaljit, Farzana, Alemay, Singapore Women's Everest Team
Gifs:
Kanwaljit, Farzana, Alemay, Singapore Women's Everest Team
Source: BBH Singapore