After years since the launch of the first "Share a Coke" successful campaign in Latin America, with names on the cans, Coca-Cola and Wunderman Thompson Brazildecided to go further and bet once again on creativity applied to packaging.
With the aim of spurring a movement where teenagers mainly will be able to use the cans or bottles as their modern way of expressing themselves via digital platforms, the brand brings a new version with the letters of the alphabet on its cans and PET bottles to form positive words and phrases and share them with the world. An idea that reinforces the Open For Better* movement and inspires people to express their best feelings, thoughts, wishes.
"Few brands in the world have a legacy of staying connected with new generations through pop culture like Coca-Cola. And that is the result of a constant innovation and relevant communication, too. Now the brand surprises once again and launches single serve packaging with the letters of the alphabet, opening even more possibilities. An initiative that will reach more than 40 countries in Latin America and invites people to express themselves and share messages saying what they are open to in 2021, a year that comes with so many hopes and expectations", commented Javier Meza, Marketing Vice-President for The Coca-Cola Company Latin America.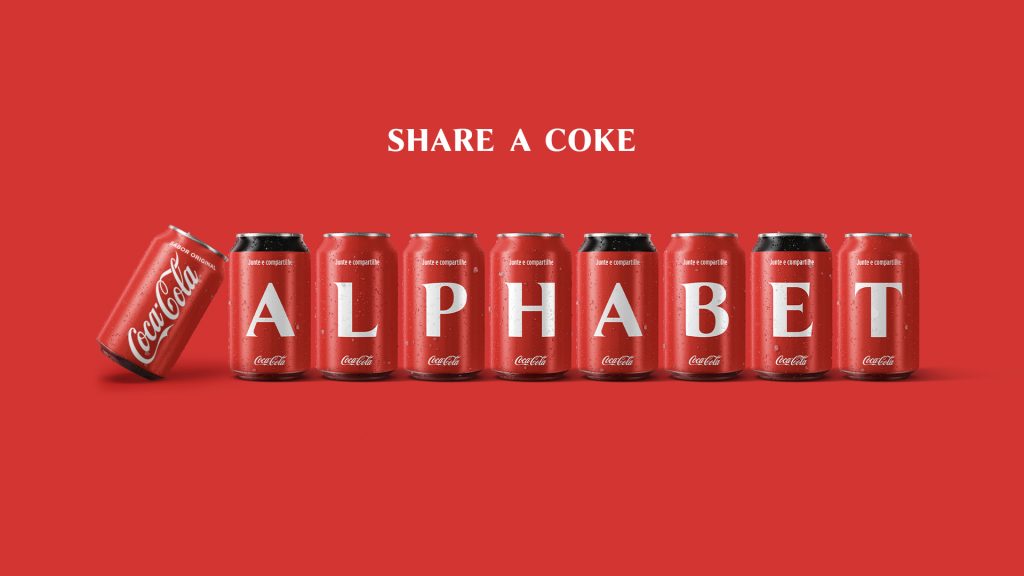 The campaign is aimed at Latin America and involves a series of digital content, with the presence and effective participation of the brand's influencers activating and presenting the new packaging to the public. In addition, a film was also produced and adapted for each region, out of home media, actions on social networks and other fronts with the brand's partners.
"No brand has been more present in pop culture as long as Coca-Cola. Music, entertainment, sport, the hits are countless. And it is a privilege for Wunderman Thompson Brazil to be responsible for a genuine content idea that has co-creation with teens as its central point and is so connected with the world today. Share a Coke – Alphabet, invites people to express their best intentions and bring all the optimism that 2021 deserves." said Keka Morelle – CCO Wunderman Thompson Brasil.
Creative Credits
Client: Coca-Cola
Campaign: Open for Better – Share a Coke
Agency: Wunderman Thompson Brazil
CCO: Keka Morelle
Creative Direction: Murilo Melo, Gabriel Sotero
Writing: Yannis Theodori, Kiko Borger
Art Direction: Hugo Luquetti, João Mendes, Arthur Borges
Head of Production: Maisa Delgado
Head of Planning: Stella Pirani
Planning: Gisele Bambace, Guilherme Pádua
Head of Media: Stella Lopes
Media: Vanessa Pupato, Aline Castro, Ingrid Guimarães, Larissa Isabelle, Ludymila Lopes and Israel Bastos
Executive Account Director: Stefano Paduan
Service / Projects: Ricardo Montezuma, Mariana Guma, Fabiana Santana, Andressa Moro and Eduarda Esteter
VIDEO
Developer: AliceFilmes
Direction: Daniel Cirati & Marina Vancini, Felipe Mansur
Producer: Wal Tamagno
Director of Photography: Diego Rosenblatt
Art Direction: Daniel Miragem
Executive Production: Fernanda Laignier / Victor Alloza
Executive production assistance: Bruna Nogueira
Direction Assistance: Alê Casagrande / Bruno Capelleti
Creative Assistance: Henrique Barretto, Thayna Pacheco
Production Team: Fernando Lira / Gabriela Alcântara / Gisele Nunes / MarianaBortolotti
Rental Production: Alê Rocha
Cast Production: Equipe Alice Filmes / Claudia Secaff / D'angelo Vidal
Costume Design: Betinha Magalhães / Larissa Martins / Gustavo Souza / Virgíniode Oliveira / Vitória Grassi / Juliana Yoshie
Object Production: Samir Scherer
Makeup: Fabiana Mizukami
Editor: Felipe Mansur / Rodolpho Ponzio, AMC / Daniel Cirati & Marina Vancini
Post-production coordinator: Carol Rye
Post-Production: Voodoo House
AUDIO
Sound Production: A9 Audio
Musical direction: Apollo Nove
Production: Apollo Nove and Douglas Couto
Service: Guta Lima
Coordination: Renata Rodriguez
Source: Wunderman Thompson Brazil